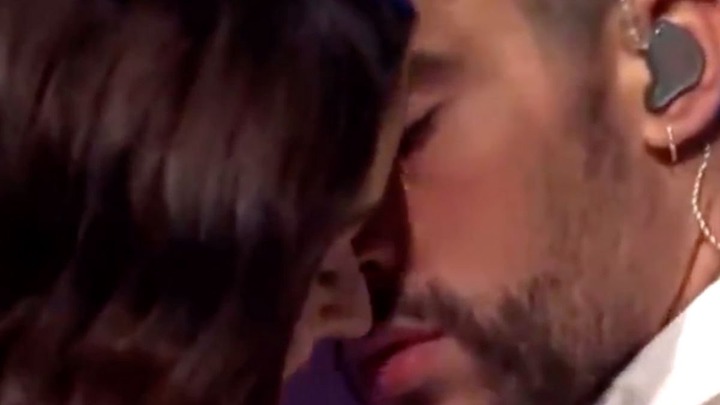 Last night did not leave any of the millions of followers that both Rosalía and Bad Bunny accumulate in their social networks indifferent. In these, the video of their performance in the successful North American program 'Saturday Night Live' quickly circulated, where they unleashed their good relationship, something that even aroused the illusions - more than the rumors - that both could be together and share something more than songs.
A very commented moment in networks
 The most followed moment of the night was possibly in which both coincided on the stage of the program that Adele now presents, and they brought their faces closer to the point of being very close to kissing. The smile of the Catalan singer could not be a better example of the tense moment they were living and that she knew that she was going to talk on social networks.
 The video has become viral and in fact many of the millions of followers of both took advantage of the lyrics of their song to refer to the moment they were witnessing on the big American screen. "Something that I cannot explain" was one of the messages that could be read on social networks that includes the lyrics of the song and that perfectly defines the almost kiss of Rosalía and Bad Bunny.
 The performance of both came after they also set social networks on fire with two virtually identical publications. Social networks did not take long to make viral the rumor that both could have started a relationship, although nothing is further from the reality that supposes that they are sharing a good professional moment, which has given rise to a friendship of which they have displayed on their respective profiles.
 The Catalan's message could not be shorter, and it is that she only mentioned the Puerto Rican singer and shared a heart, which added to the image in which both appear embraced before entering 'Saturday Night Live' gave rise to a possibly wrong interpretation. This moment comes just a few days after the video clip of her song was published, just on Valentine's Day.
Content created and supplied by: Filipe17 (via Opera News )