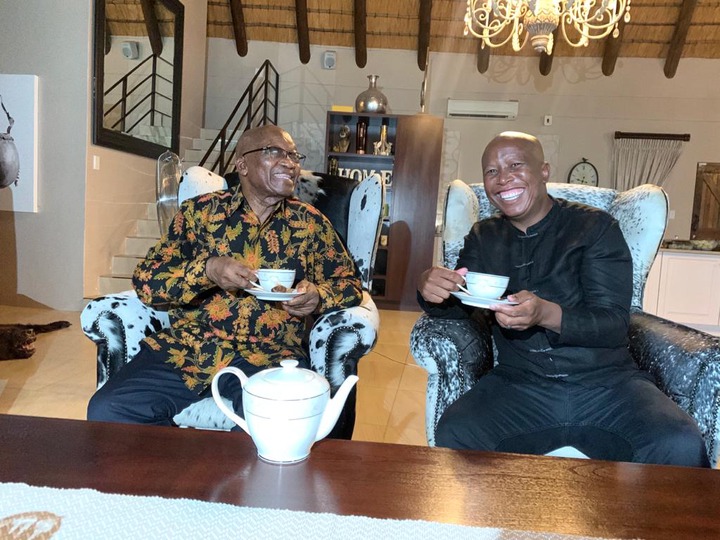 (Source: Twitter.com - @kgmkhwanazi)
The former President of South Africa Jacob Zuma has been making waves recently online for his "Tea Meetings" with well-known people. Zuma was in office from 2009 until 2018 and he's 78 years old. After having a meeting with the Economic Freedom Fighter founder Julius Malema, South African Minister of Police Bheki Cele and even the Hip Hip artist Cassper Nyovest. However, what stole the show was Zuma's same attire on all the meetings, especially the shirt that has been highlighted by others as a 'lucky shirt'.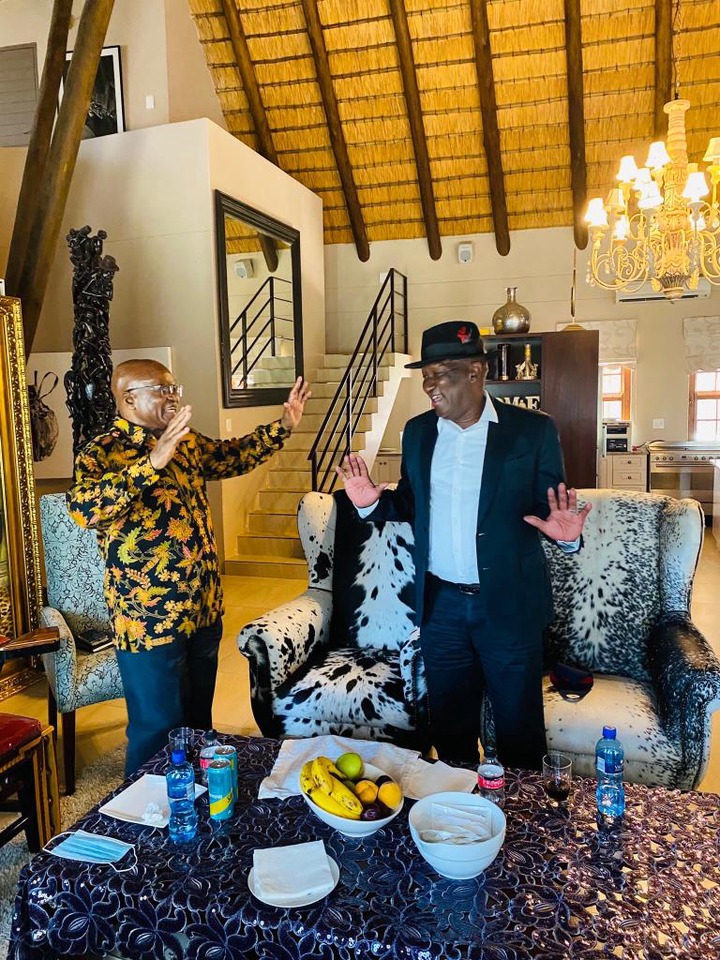 Now, a user on Twitter KG has applauded Zuma for wearing the same attire at his tea meetings. Even advised people to learn from Msholozi, especially poor people to use their money sparingly and not buy unnecessary clothes for every situation.
"A whole former President of Mzansi Jacob Zuma uba-enterisha bonke (Malema, Nyovest & Bheki Cele) with just one shirt and wena you want a new outfit for every occasion," wrote @kgmakwanazi on his Twitter account.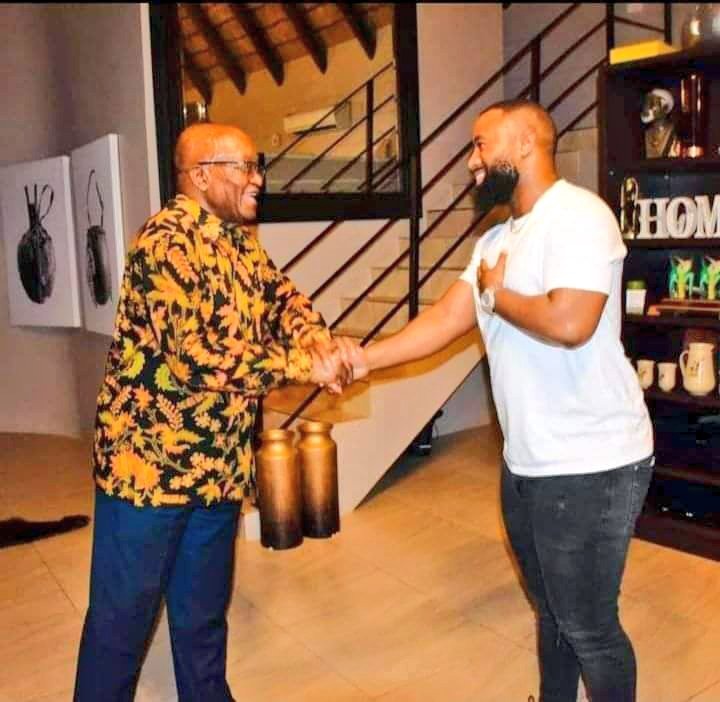 The Twitter community felt that Zuma is a great example of don't let your clothes determine your worth. As he has that "I don't about what people say about my dress code", even though it has been educational for people who wanted to learn. Also, tweeps stated that Zuma is showing people that their appearance doesn't matter, even if they can wear the same clothes.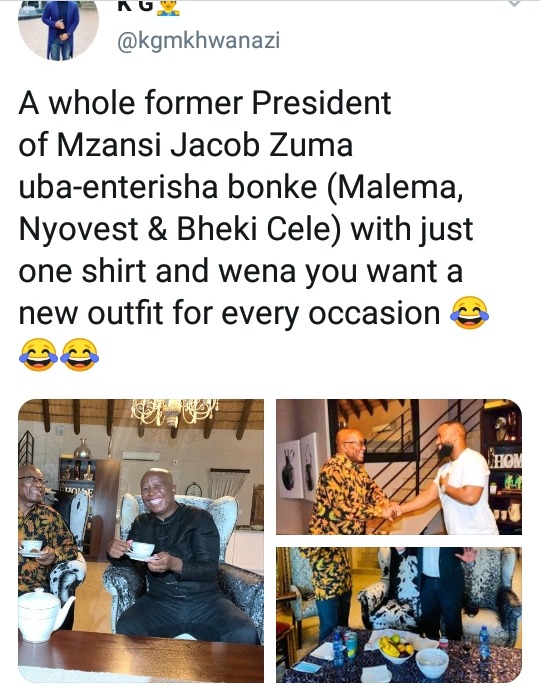 @TumiRSA said, "The one advice that I always have for university students, it's either you repeat your outfits for 3 consecutive days or you will repeat your modules."
@va_nyama said, "Truly this is a lesson, it might seem a joke but sometimes we poor because we see the plan for today. Also, today must be planned from yesterday."
@mikemlamboM said, "Poor people focus too much on wrong stuff like fashion."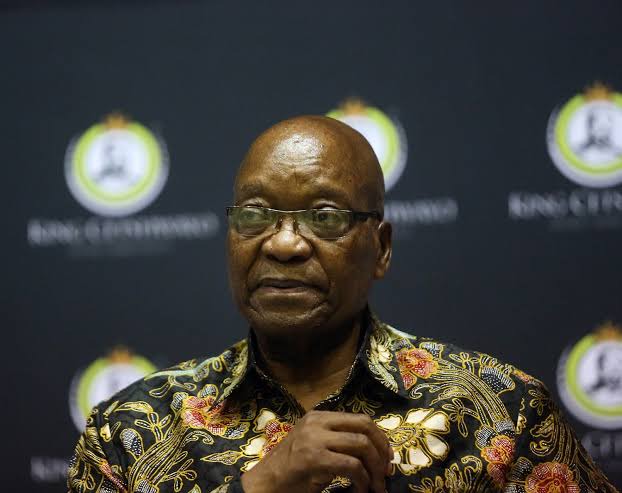 Some people made fun of Zuma's shirt as they felt that its a "Tea Shirt", meanwhile others felt that he has a standard uniform at these meetings. Also, some felt that Zuma was wearing a shirt of power or a lucky shirt that will make his meetings successful.
@lesiba_johnny said, "Tea uniform."
@NO_DEVICE_FOUND said, "It's called lucky shirt baba you know nothing wena."
@pmjazzgp said, "That's Tee Shirt."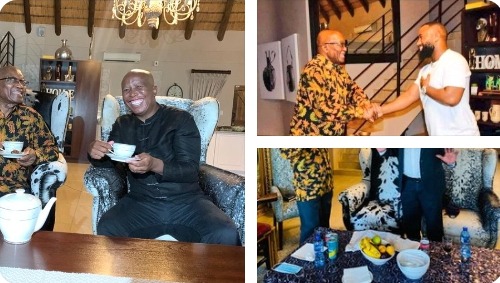 Source link:
https://twitter.com/kgmkhwanazi/status/1362378334588571651?s=19
https://www.google.com/amp/s/www.timeslive.co.za/amp/politics/2021-02-19-from-lucky-shirt-to-questions-of-arrest-mzansi-weighs-in-on-zuma-celes-nkandla-meeting/
What's your opinion on this? Let's talk about it.  
(The pictures are used for illustrative purposes only.) 
Date: 19/02/2021
Thank you so much for taking the time to read our articles. 
Please don't forget to like, share, comment and follow us for more groundbreaking articles.
Content created and supplied by: ScarcityNews (via Opera News )