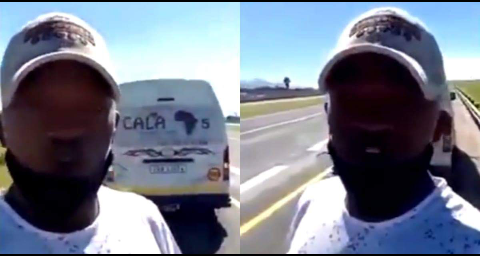 A taxi driver from Cape town was unhappy after counting the money he received from and discovering that it is short of R50.
According to briefly news report a hilarious incident occurred in Cape town when a taxi driver received money that is short of R50 from passengers, it is alleged that the taxi counted the money and discovered that it's R130 instead of the usual R180, the money was short of R50.
The young taxi driver was unpleasant about this and decided to pull over the taxi next to the road and demanded that whoever did not pay should pay, on the video which can be found on the briefly news page the taxi driver revealed that the journey will not continue until he is paid his R50.
It is unknown how the situation was resolved the video ended before there was any solution to the incident, usually in that type of situation the taxi driver takes people back to the taxi rank if there isn't any solution to the matter or it's either someone who is in a rush pays the money to resolve the situation.
Situations like this happen as a result of some people mixing up money unintentionally or when someone counting money at the front seat gave someone extra change without being aware, it's often just confusion not that someone intentionally didn't pay although that could happen too.
Source:https://briefly.co.za/95147-eish-taxi-drama-driver-pulls-over-after-passengers-short-paid-him.html
Content created and supplied by: TshiamoMbiza (via Opera News )