Another President Takes Over From President Cyril Ramaphosa

President Cyril Ramaphosa has officially relinquished the position of the chair of the African Union having completed his terms in office as the chairperson of the Africa apex body. President Felix Tshisekedi of the Democratic Republic of Congo has assumed the position of AU Chair as Congo became new country elected to hold the post.
President Ramaphosa handed over the chairpersonship to his successor at the virtual 34th Ordinary Session of the Assembly of Heads of State and Government on Saturday 6 February 2021.
South Africa assumed the Chairpersonship of the AU in February 2020.
The African Union has chosen "Arts, Culture and Heritage: Levers for Building the Africa We Want" as the organisation's theme for 2021.

https://www.thepresidency.gov.za/newsletters/
It is reported that that the African Union made notable achievements during South Africa's candidacy as the Chairperson of the Union. One of such achievements is the historic establishment of free trade within the African Continental Free Trade Area- AFCTA. The economic integration initiative was launched on 1 January 2021.
South Africa leadership of the AU also put up a good fight against the COVID-19 pandemic in providing an African response to the virus as well as inspiring concerted efforts in procuring COVID-19 vaccines.
In his handover statement, President Ramaphosa promised that South Africa will continue to support the new chair- President Tshisekedi.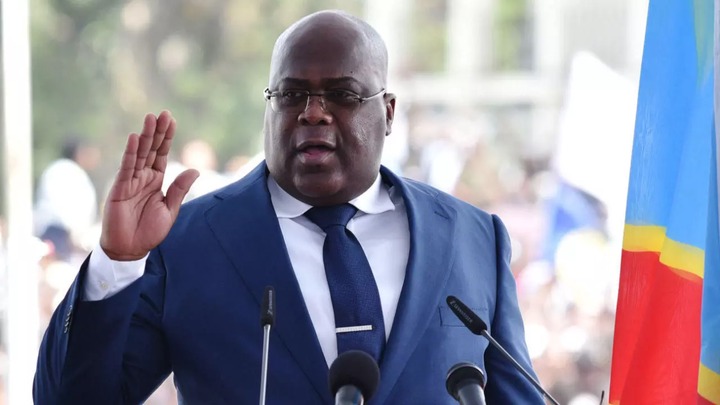 New AU Chairperson, President Felix Tshisekedi of Congo
"As South Africa hands over the baton to the Democratic Republic of Congo, we are determined to continue working with President Tshisekedi to ensure that Africa becomes an integrated continent that is politically united, based on the ideals of Pan-Africanism and the vision of African renaissance,"said Ramaphosa.
Speaking further the outgoing chair expressed his gratitude for the honour of leading the continental body and also thanked his fellow presidents for their support;
"Your Excellencies, it has been an honour to serve alongside you during this period, and as I hand over to His Excellency President Felix Tshisekedi, I hand over with joy knowing that the work that I took over under President el-Sisi will indeed be continued under the leadership of President Tshisekedi," President Ramaphosa said.
During the 34th Ordinary Session of the AU Assembly, the Assembly considered some of the Continent's pertinent issues related to the selection of the senior leadership of the African Union Commission. 
The Assembly also expected consider a among others, the report of 38th Ordinary Session of the Executive Council; a report on the institutional reform process of the AU; a progress report on the AU's response to COVID-19 pandemic in line with the Continental Strategy on COVID-19, as well as the outcomes of the 2nd Mid-Year Coordination Meeting.
Credit:
https://www.thepresidency.gov.za/newsletters/handover-statement-president-cyril-ramaphosa-occasion-34th-ordinary-session-assembly-heads-state-and-government-african-union
https://newsaf.cgtn.com/news/2021-02-06/
Content created and supplied by: Daily-Godly (via Opera News )