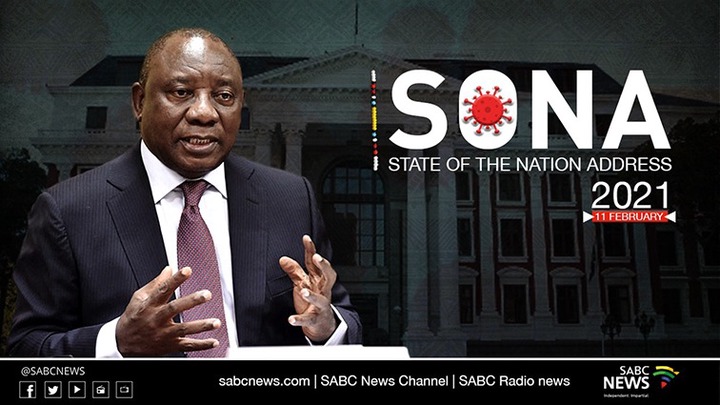 Ramaphosa spoke about Black empowerment as an important thing to be done in this country in order to redress inequality in this country. He spoke about the AstraZeneca saga that is ineffective to the variant and said the government for now, it will roll out coronavirus vaccine from other companies. 
He said, the government is going to roll about 9 million of Johnson and Johnson coronavirus vaccine. It have secured about 12 million doses from the Covax through the African Union.
The government is continuing securing the vaccine that will be suitable for South African new variant and they will monitored by South African health authorities.
The budget that was crafted in the last SONA could not be full filed because the budget was repurposed and have to be deferred and redirected towards this coronavirus pandemic. He acknowledged the high unemployment but he blames the coronavirus. He said a lot of cash was directed to the poor and money was given to struggling business. Millions of of people recieved grant. The government have lifted more that 5 million people from hunger and distress. 4.5 million workers benefited from the relief schemes. Around 18 million loans have being approved to be given to businesses. He said this evening, he was not here to make promises and but to table the plan of the government. 
The dream of building a smart cities which many thought was a pipe dream have already realised. 
The Lanseria smart city. Is now a reality in the making with 350,000 to half a million house units completed in November 2020. 
Progress is being made of water projects, rehabilitation of the major roads like N1, N2. 
The government have committed 100 billion funds for developments projects like student housing infrastructures, SA connect which will roll out internet government facilities, 
He says the government is committed to helping local made goods, more workers will be employed if we do that. He says the government is committed to reduce imports. 
Ramaphosa said, companies should transform their wealth to black workers. The public sector will focus on social economy. He said the private sector is the one that will create more jobs. National Youth Development Agency will help to fund youth business and provide support for them. He said Eskom is making intensive process and the government is working with Eskom so that it doesn't burden the government fiscal. There is massive measures put in place by Eskom that will stop load shedding. He said the municipality can now buy power from independent producers. 
He is rolling out eVisas to skilled people from China, Nigeria and the rest of the world but the home affairs is working on those required skills that is needed in the country. He said, cable theft, land evasion, attacks on trucks, and he said we will deal with these decisively. He said the government have put measures in place to stop illegal border crossing. The grant of R350 will be extended to 3 months. 
https://www.sabcnews.com/sabcnews/live-president-ramaphosa-delivers-2021-state-of-the-nation-address/
Content created and supplied by: Manamela (via Opera News )