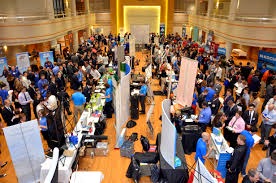 Before talking to Microsoft at the career fairs, students in the know would watch the line for a few minutes. Each employee had his own system. Some would put a little mark (which was at times as obvious as a smiley face) to indicate his invite/don't invite decision.
Others separated resumes into good and bad piles. Either way, an observant person could learn the system. It didn't do the student any good, of course, but it sure was nice to know the decision earlier.
Some candidates walk up with their elevator pitch all prepared: here's who I am, here's what I've done, here's what I'm good at, and here's what I'd like to do.
Other candidates walk up, hand a recruiter their resume, and just wait for the recruiter to ask them questions. When asked what they want to do, they shrug.
"Well, what kind of jobs do you have for my major?" "When a candidate can't tell me what they want to do, or what they even like doing, that's when there's not a good fit," Raquel Garcia, a senior Microsoft recruiter, says.
"Basically it's like I'm giving you a ticket to go anywhere in the world, and you can't even tell me what continent you want to go to." To maximize your chances of getting an interview invitation, follow these suggestions:
Do your homework
Research the companies you're interested in and know which roles you'd be a good fit for. What do they look for in candidates? How can you address those skills in your conversation with a recruiter?
Prepare questions
Part of your job at a career fair is to show your passion for the company and the job. You should prepare a few open ended questions to ask the company. This will facilitate conversation, as well as offer both you and the recruiter the chance to discover if there's a good fit.
Prepare answers
A company might ask you basic questions about your background. You should be able to talk intelligently about your biggest accomplishments and challenges.
Practice your elevator pitch
The first 30 seconds with the staff at a career fair is your opportunity to impress. A strong candidate will be able to succinctly communicate her value-add.
Tailor your resume
There's no rule that says you can bring only one copy of your resume to a career fair. If you're applying for different types of positions, create tailored resumes for each position.
Dress appropriately
The tech world is generally not into suits and ties, but being extremely sloppy is also bad. Jeans and a nice top are generally appropriate for most techie roles. For very businessy roles, slacks might be safest. Your attire at a career fair should be more or less the same as what you would wear to an interview.
Follow up
If possible, get the business card or e-mail address from the person you talk to, and follow up immediately after the career fair. You should reiterate your interest in the company, explain what you'd bring to the company, and attach a copy of your resume.
After speaking with hundreds of candidates at career fairs, recruiters find that most blend together in a giant mix of resumes.
Sometimes, however, one candidate stands out: in this case, Alex, a precocious sophomore who brought a portfolio of his project work with him.
On two additional sheets of paper, he provided screenshots of his four biggest projects, with lengthier explanations that would head off some of the recruiters' questions: How did he build it? What did he enjoy?
What did he learn? What was the hardest part? Raquel Garcia loves it when younger students like Alex approach her. "Whenever a freshman comes up to talk to me, I always thank them for doing so.
They showed guts in talking to me, and I appreciate that. And they get early feedback on how they can start shaping their career so that, in a year or two, they're ready for Microsoft."
Content created and supplied by: ClementLifestyle (via Opera News )