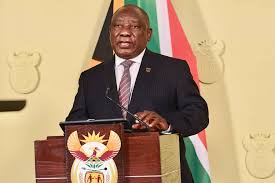 People are now happy because they are now back in normal because President Cyril Ramaphosa eased lockdown level 3's rules. President eased lockdown rules and allowed alcohol sales from Monday to Thursday, beaches are now opened, Events and Entertainments are now allowed but our youth must not forget that if they don't follow the rules then we might go back to lockdown level 3 with tough rules again. The reason why our government took us in that lockdown level 3 in December is because of people who were busy partying and attending events.
People who drink alcohol should buy alcohol and drink at home because in taverns there's no way they can manage social distancing because when people are drunk they are uncontrollable. Government allowed allowed sales to save people's jobs because there are people who work at breweries, taverns and bars.
People should report to police stations when they see people in crowded events. Our beloved South Africans must not that easing lockdown rules does not mean that we found cure or vaccines to minimise the spread of this corona virus. People who don't follow the rules they end up making life difficult for some people because government will end up closing some things. 
Content created and supplied by: South_African[NEWS] (via Opera News )