Extremists with ties to Islamic State (IS) are thought to be taking over SA's smaller financial services to fund terror attacks across Africa. They do this by moving billions of rand through spaza shops and other stores in the informal sector. A TimesLIVE investigation has found that different groups in South Africa are working independently of each other to fund terrorism in different parts of Africa.
People from Somalia, Kenya, and the Democratic Republic of the Congo (DRC) send money to the Horn of Africa through third-party payment providers (TPPPs). Some of the money is thought to have been used in an attack on the Westlands office retail park in Kenya in 2019 that killed 22 people, including South African Luke Potter; and local crime profits from ransom kidnappings, robberies, and gold smuggling to fund terror activities in Mozambique.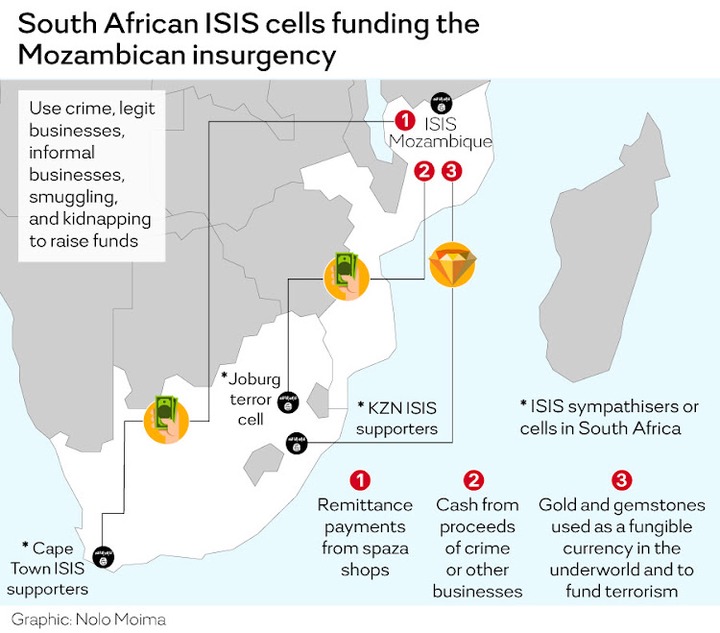 As part of an international investigation, Kenyan financial and security authorities are working with the Hawks and the Financial Intelligence Centre (FIC) to find out how the money was smuggled from South Africa to Kenya, the Democratic Republic of the Congo, and Mozambique since 2018. The money was used by both foreign and local organized crime and terrorism networks in Kenya, the Democratic Republic of the Congo, and Mozambique.
"TPPPs don't have good rules, so terror groups are using their systems. Their systems were taken over by organized crime networks and terrorists. "SA is losing a lot of money that can't be found," said a detective who knew about the investigation. In February, the FIC said that terror financing was a direct threat to SA's national security.
In an assessment of terrorism financing from SA, the FIC said that it is still hard to find out who is collecting cash and sending it across borders using "alternative remittance systems" to conflict zones abroad. "There are worries that these funds could be given to IS supporters in the region, especially in the DRC, Kenya, or Mozambique, which could help fund terrorism. Allegations that attacks in Mozambique and Kenya were paid for by money from South Africa are very worrying. The claims are being looked into to see if they are true or not.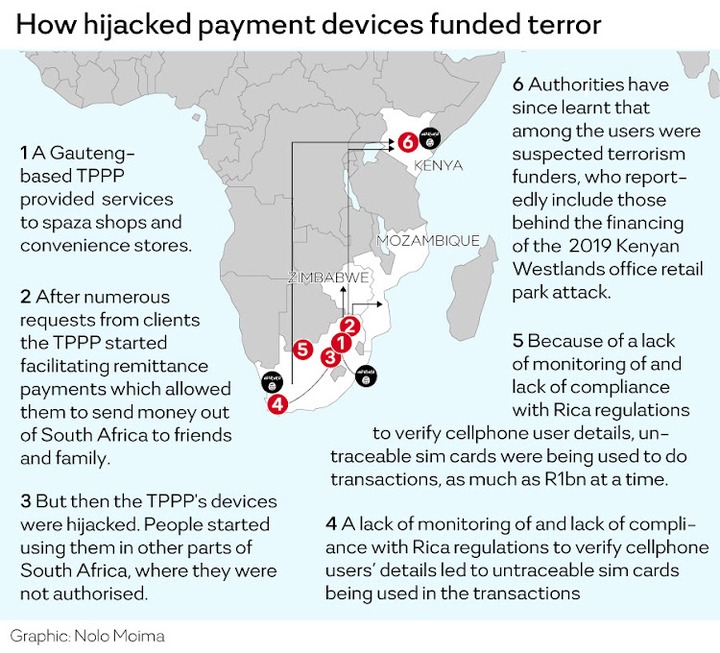 "In SA, low-income groups and communities of people who have left the country often use unregulated and alternative remittance services and mobile money payments." It is hard to tell the difference between legitimate diaspora remittances sent to help families in countries of origin and money that is taken and used to fund terrorism.
Terrorist groups and heads of organized crime may have used the payment systems of TPPPs, which are usually used by spaza shops and retailers in the informal sector, to move money out of the country. In one case, a TPPP operator said that his system was hacked, which led to the transfer of more than R6 billion in a series of transactions between January 2020 and March 2021.
Counterterrorism sources from the Hawks and the SAPS Crime Intelligence Unit, who knew about terror financing investigations like the international one that started in 2021, confirmed that the R6 billion was sent to East Africa by a suspected network of Somali organized crime and terrorists through just one South African company. At least one of the people being looked into is a Somali asylum seeker who is said to have sent money to Kenya through a Gauteng TPPP to help pay for the 2019 attack.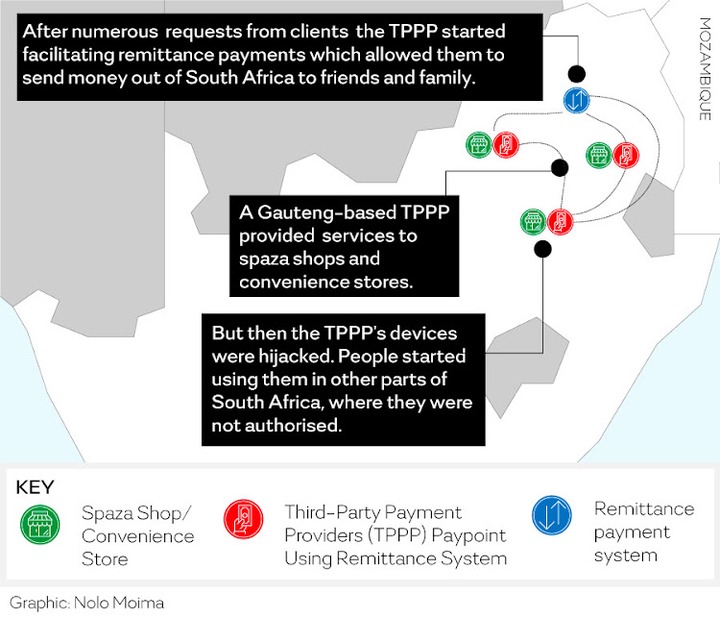 TimesLIVE was able to confirm on its own that a Gauteng-based company's TPPP system was hacked, which led to R6 billion in shady international transfers. Sources in the police department who know about the international investigation say that based on the transactions from this company and four others being looked into, the total value of the transactions being looked into could be much higher, and the movement of money could go on past 2018.
Sources say that in addition to the transfer of R6 billion on one TPPP system, several other TPPPs are also being looked into. It is thought that their systems were used to send between R4 million and R500 million in a number of smaller transactions. The TPPPs that are being looked at work with people who send money from East and Central Africa. Remitters help people around the world send money to each other for personal reasons.
SA's TPPPs, which are overseen by the Payments Association of SA, offer payment services, such as taking money from the public to pay bills later. They can take money from the public, which goes into their bank account and can be used to pay bills or buy vouchers, airtime, or SIM cards. Among the other services, you can use electronic wallets to deposit and withdraw money from anywhere in the world.
Investigators told TimesLIVE that they are currently looking into five SA TPPPs and plan to look into at least 15 more. One TPPP director who didn't want to be named said, "You can't see whose money it is, where it comes from, who deposits it, or who takes it out. "The only people who really know who we are are the store owners who use our pay-point systems and equipment," she said. He said that they changed the system to allow remittances because their clients asked them to do so over and over again.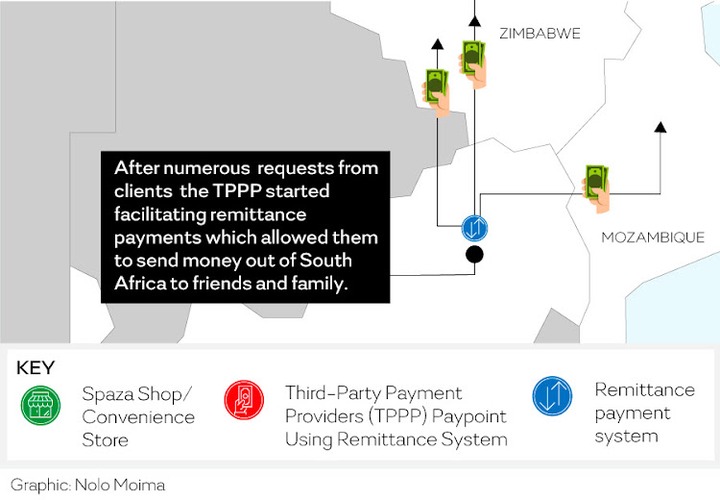 "That was one of the worst things we did. We worked with well-known companies that do business in Africa. Some bad guys, on the other hand, saw us as a way to move money without being seen. He said that they started to worry when they suddenly saw big transfers being made "on a large scale" by clients who had hardly ever done transactions before. "At the peak, some of our clients' accounts were doing more than R1 billion in transactions every month. In November 2020, there were the most suspicious transactions from about 500 shops.
He said that he only did business in Gauteng, but his employees found their pay-point devices, which let customers pay up to R4,999 per transaction, in the Western Cape, Eastern Cape, Northern Cape, Free State, and Mpumalanga. "They were with people who weren't in my database," she said. He said that their investigations showed that their clients had made thousands of fake profiles of South Africans to do these financial transactions.
"These gangs gave R200 to random people to take a picture of themselves and have their IDs taken. For the transfers, these were used to make fake profiles. "Our checks showed that almost 60,000 SIM cards were used to send the money from South Africa. In 26,000 transactions, nearly 300 SIM cards were used to move R300 million. Investigators and our own sources have told us that one of the people who sent huge amounts of money may have had something to do with the 2019 attack on a Kenyan mall.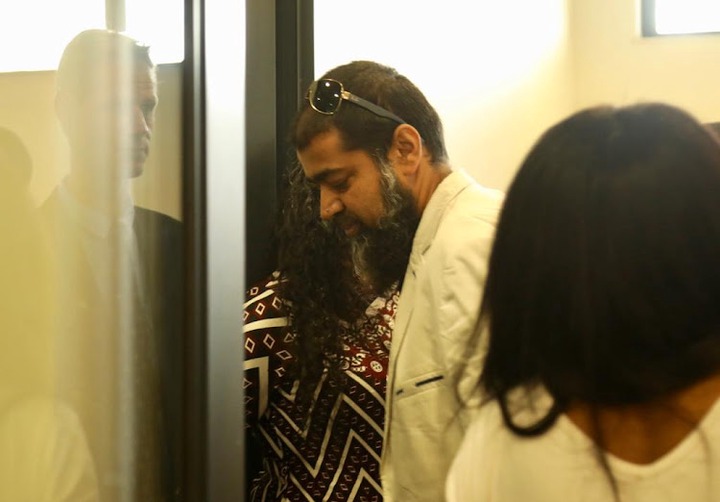 "This was nothing but a wide-scale use of our systems in the wrong way." "This is probably our biggest single case of funding terrorism," a source in criminal intelligence said. "The amounts are mind-boggling. These deals go on after 2018." Wallace Kentai, a spokesman for the Central Bank of Kenya, which is thought to have been the first to tell SA authorities about the investigation, did not answer questions about it. Detectives who know about the Kenyan investigation say that the complicated way TPPPs work makes it impossible for official financial regulators to figure out where the money that goes through their systems comes from or who owns it.
The Kenyan investigation is thought to have started after that country's financial and security authorities, working with their international counterparts, were made aware of large amounts of suspicious payments coming into their country through SA-based TPPPs and several popular African-based remitters.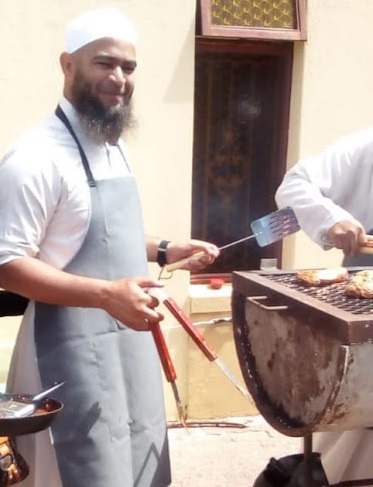 Mozambique is getting money from local crime.
The FIC assessment also said that local IS supporters might be involved in organized crime. This showed that big businesses might be behind terrorism financing. "Legitimate businesses and front companies are used to send or receive money through normal financial channels. IS supporters, some of whom run large, diverse businesses with an international reach, can act freely because they have access to cash.
The Hawks are looking into how money is used to fund terrorism and organized crime in East Africa. They are also looking for evidence that IS operations in Mozambique were funded by people in KZN. TimesLIVE saw WhatsApp messages between the leader of an alleged organized crime group in KZN with ties to IS and an IS figure in the DRC. They talked about money. The messages tell the KZN leader that he is doing something wrong by directly "financing the brothers in Mozambique."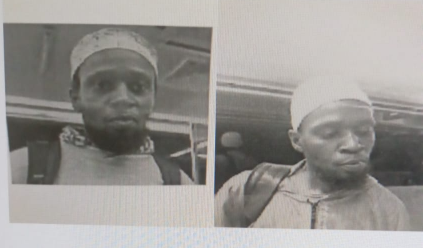 "We have to do all the coordinating ourselves," says the leader of the DRC. Other messages show that the IS KZN group allegedly did things like kidnappings for ransom, robberies, and gold smuggling. The leader of the group told its members and other people in Cape Town how to get money from organized crime. Even though it has been thought for a long time that groups in South Africa were helping to fund the Mozambican insurgency, no clear proof of this has been found until now. The messages are the clearest proof yet that South Africans are paying for the rebellion that South African troops have been fighting for months.
The messages show how important that funding is in terms of how loyal people might be to the insurgents. In March, the US Treasury's office of foreign asset controls put sanctions on South Africans Siraaj Miller and Farhad Hoomer, Ethiopian Abdella Hussein Abadigga, and Ugandan Peter Charles Mbaga for allegedly funding IS in Mozambique.
"Definite reason to worry."
Expert on terrorism Jasmine Opperman said that SA's funding of terrorism was small compared to that of other countries, but that "there is definitely cause for concern" whether R1 million or R100 million is moved. "Money is moving from South Africa. It's hard to figure out what happened in these crimes. It is hard to say for sure what happens to these funds and where they go.
"Financing can be done in many ways, from virtual payments made online informally to systems used by organized crime gangs. Extremists and organized crime gangs work well together, and extremists use money laundering systems that are already in place. Olwethu Majola, a researcher on transnational organized crime at the Centre for Criminology at the University of Cape Town, said that terrorism was not a security priority for South African authorities.
In October, an intergovernmental organization called the Financial Action Task Force (FATF) released a damning report saying that SA authorities had only seized assets worth R6m that were used to fund terrorism. The FATF assessment says, "SA has not shown that it is good at identifying the specific roles that terrorist financiers play, and it has little experience prosecuting terrorism financing crimes."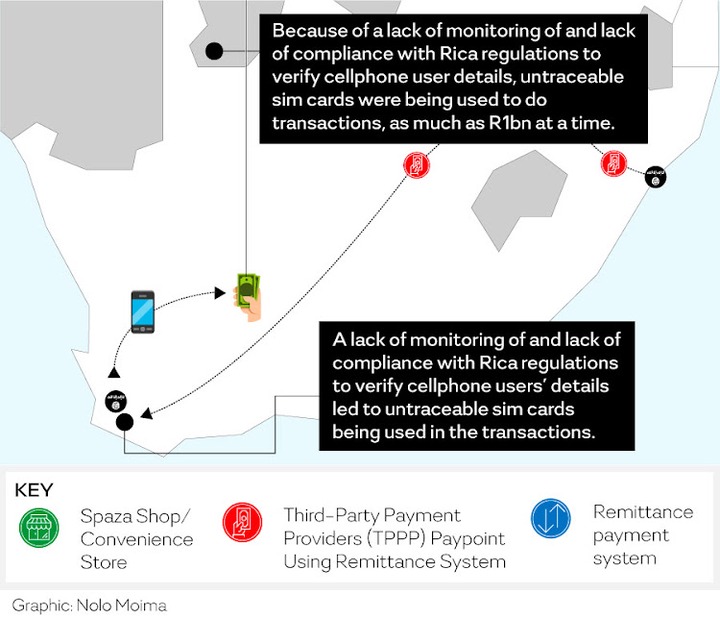 Majola said, "There is a strong lack of political will and reluctance to call groups or people terrorists." In their report, FATF pointed out SA's reluctance and serious flaws in the way it enforces laws against money laundering. For example, investigators don't look at money laundering, organized and financial crimes from the point of view of funding terrorism. "We can't tell ourselves that attacks like the bombings in Kenya's malls haven't hurt us because we haven't felt the effects of them yet.
"We need to realize that we are a serious financial target and put in place laws to make sure that terrorism financing is looked at along with organized crime when investigations and prosecutions. She said that people were going after the smaller financial sectors. "We move money across our borders with the help of virtual money transfer service providers that are not well regulated and mostly work in the informal sector. Here, money is moved for a lot of people who aren't FICAed, which could cause a lot of trouble.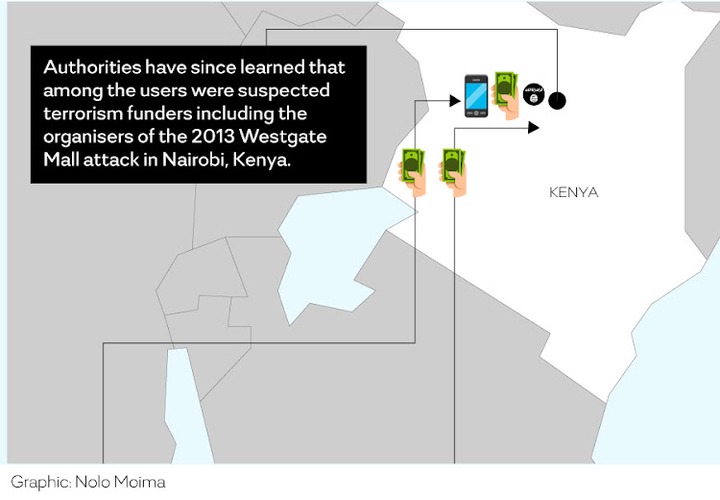 Piers Pigou, a senior consultant for Crisis Group in Southern Africa, said that there were signs that people were sending money from South Africa to extremists in the DRC and Kenya. "Mobile money networks are a key way for extremist individuals and small groups to get money." Brig. Thandi Mbambo, a spokesman for the Hawks, said that the Kenyan government and the Hawks Counter Terrorism Unit were investigating, but he wouldn't say more. She said it was true that the Hawks, SAPS, FIC, and "other SA intelligence divisions" were working together to find terrorists.
Rosa-Mari le Roux, a spokesperson for PASA, said that while they helped stop fraud and abuse in all formal payment systems, it was the FIC's job to stop money laundering and fund terrorism. The FIC doesn't have anything to say about investigations.
Share
SA'S IS CRISIS | How R6bn got from spaza shops to African terrorists (timeslive.co.za)
Content created and supplied by: Sphithiphithi_Evaluator (via Opera News )
Opera News is a free to use platform and the views and opinions expressed herein are solely those of the author and do not represent, reflect or express the views of Opera News. Any/all written content and images displayed are provided by the blogger/author, appear herein as submitted by the blogger/author and are unedited by Opera News. Opera News does not consent to nor does it condone the posting of any content that violates the rights (including the copyrights) of any third party, nor content that may malign, inter alia, any religion, ethnic group, organization, gender, company, or individual. Opera News furthermore does not condone the use of our platform for the purposes encouraging/endorsing hate speech, violation of human rights and/or utterances of a defamatory nature. If the content contained herein violates any of your rights, including those of copyright, and/or violates any the above mentioned factors, you are requested to immediately notify us using via the following email address operanews-external(at)opera.com and/or report the article using the available reporting functionality built into our Platform See More