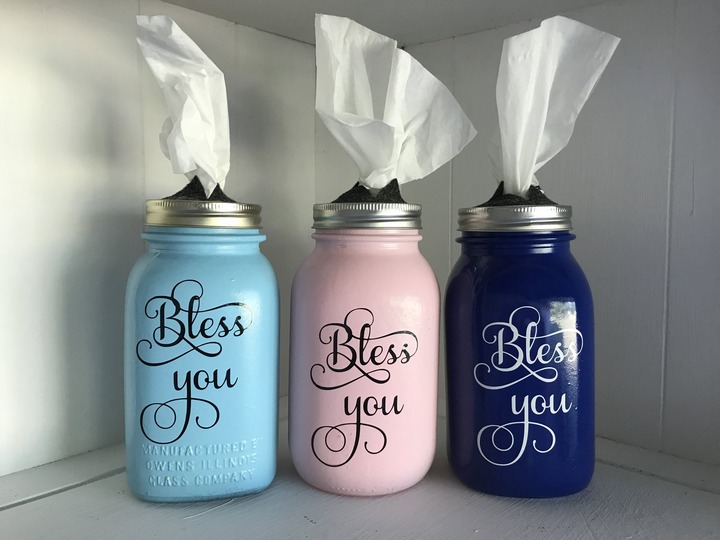 SUPPLIES NEEDED FOR MASON JAR TISSUE HOLDER
Smooth-sided quart Mason Jars or a jar about that size (like spaghetti sauce jars)
Spray paint or chalk paint--I like to use matte or satin finish
Newspaper or cardboard to protect your surface
Foam Brush
Spouncer or sponge makeup wedge
Waterbased clear matte Polycrylic
Silhouette or Cricut cutting machine
Transfer Tape
Oracal 651 vinyl
Glue gun
Craft Felt
OLFA Rotary Circle Cutter
Kleenex Facial Tissues Perfect Fit
Bless You Decal OR Bless You digital SVG cutting file to use on your Cricut or Silhouette.
INSTRUCTIONS
Clean your jars. I just wiped mine clean but you could wipe them with alcohol.
Use the foam brush to "paint" a layer of Polycrylic on the jar. Let it dry 30 minutes.
Paint your jars. IMPORTANT!!! If using spray paint, be sure to shake your can REALLY well and hold the can 10-12 inches away from the jar so you don't get too heavy of a coat which might make it drip. 2-3 LIGHT coats will prevent the paint from running or dripping on your jar.
If you want to use chalk paint, then use the spouncer or sponge to avoid the brush marks in your paint. 2-3 light coats works best.
I prefer the spray paint because it goes a lot faster! I also like the finish of the spray paint as well but chalk paint looks great too! Let the paint completely dry.
Apply the decal to your jar using Transfer Tape.
Cut a 2.5 inch circle of felt and then cut an X in the center of the circle. Using a glue gun attach the felt circle to a metal lid.
Fill your jar with Kleenex (Kleenex Perfect Fit Tissues work great for this) while holding out the center tissue. Pull the tissue through the cut in the felt and screw on the lid.
Content created and supplied by: Shanelize (via Opera News )