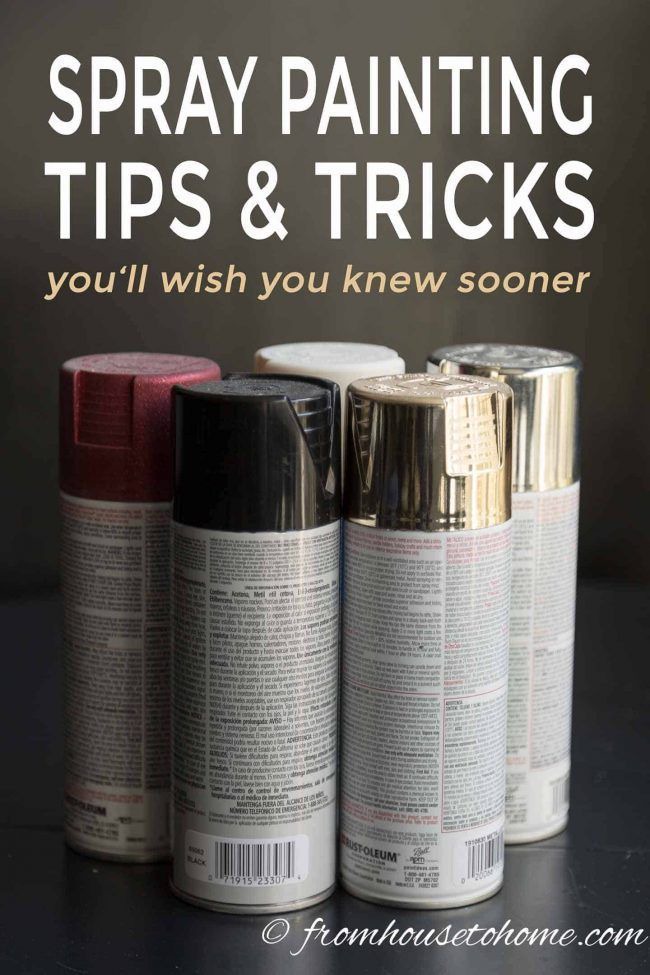 1. PREVENT DRIPS: DON'T SPRAY PAINT VERTICALLY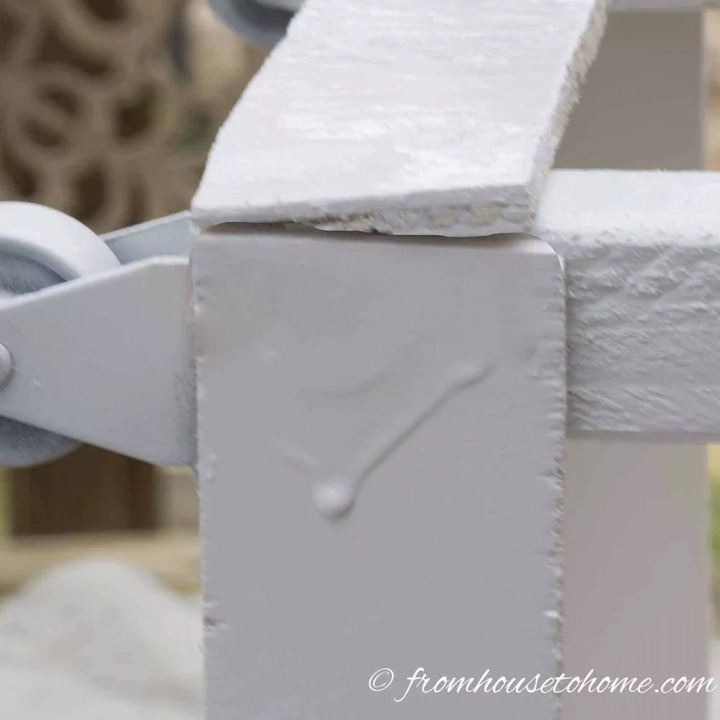 Generally speaking, spray paint drips like this one mean that you've put on too much paint.
However, I find it's almost impossible to avoid them when you are spray painting vertically.
It is much easier to get an even finish when you only spray paint surfaces that are facing up.
That way, even if you spray a little too much, the paint will even itself out.
On the other hand, as soon as you spray a little too much paint on a vertical surface, you will get drips that are very hard to get rid of! (There's lots of sanding involved.)
2. ELIMINATE BLOBS: BE CAREFUL WHEN YOU TURN PIECES OVER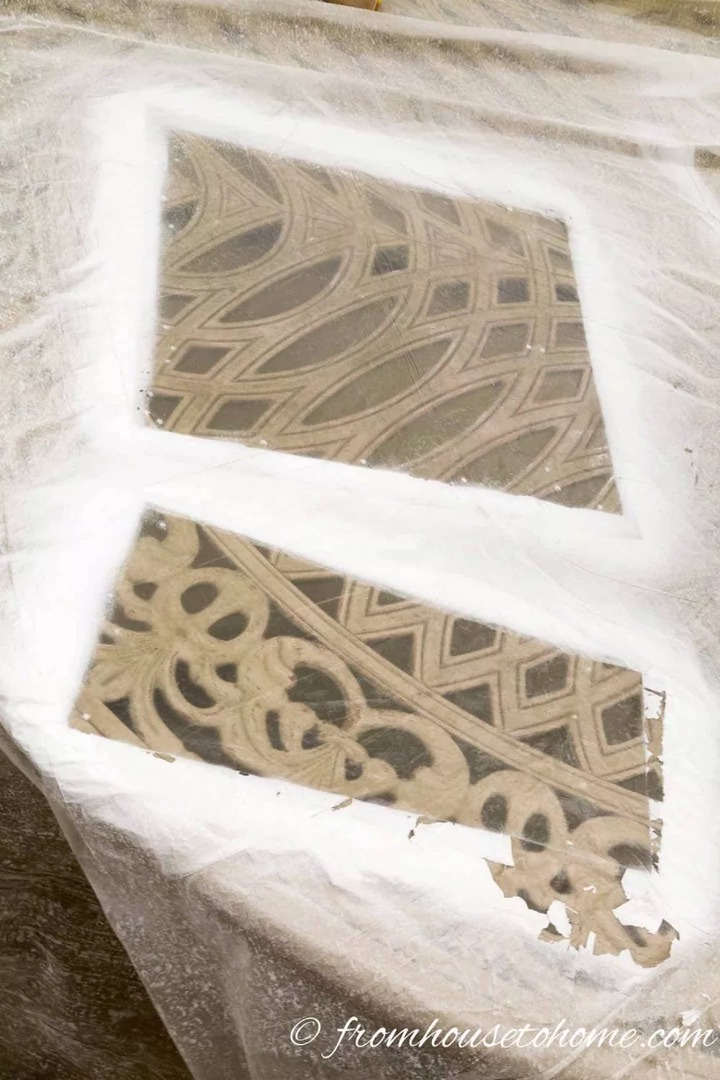 When you are flipping boards over to paint the other side, or setting the boards out for round 2 of painting, be careful where you put them down.
3. AVOID CRACKS: DON'T SPRAY TOO THICK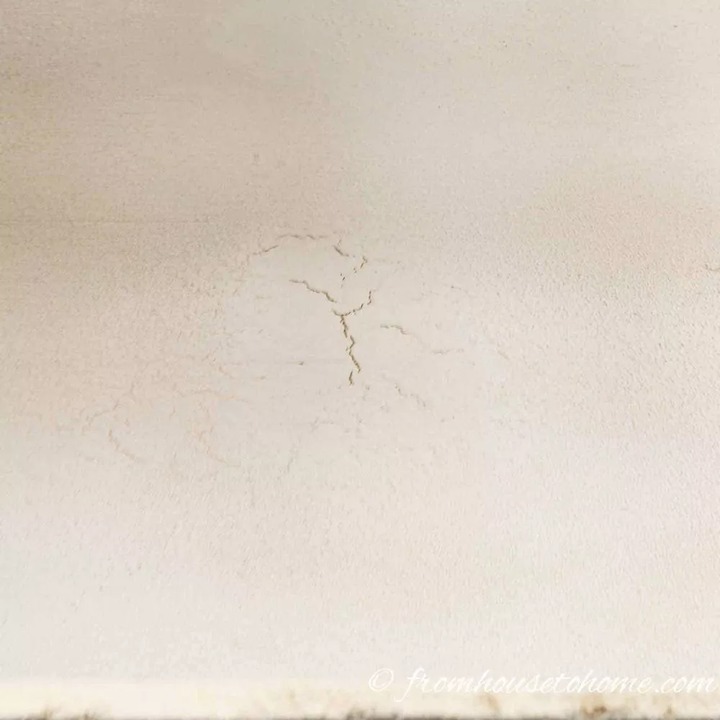 If you spray the paint on too thick, you might start seeing some cracks in the paint like this one. Take it from me…they are really hard to get rid of!
So the lesson learned is to do at least 2 thin coats of paint (and 3 is even better).
Since you can re-coat spray paint in a few minutes, doing a few passes on it doesn't take that much more time.
4. PREVENT BUMPS: DON'T SPRAY PAINT IN DIRECT SUN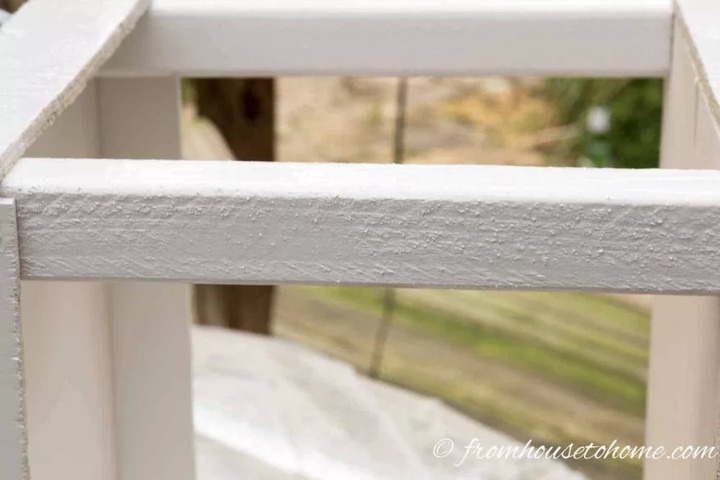 If you read the instructions on most spray paint cans, they will actually tell you not to spray paint in direct sunlight.
But I have never paid that much attention, until I started getting this really rough finish in the paint.
Apparently if it's too hot, the paint dries in the air before it hits the surface and causes these little bumps.
Sanding is definitely required to fix this issue!
5. GET EVEN COLOR: SHAKE THE CAN WELL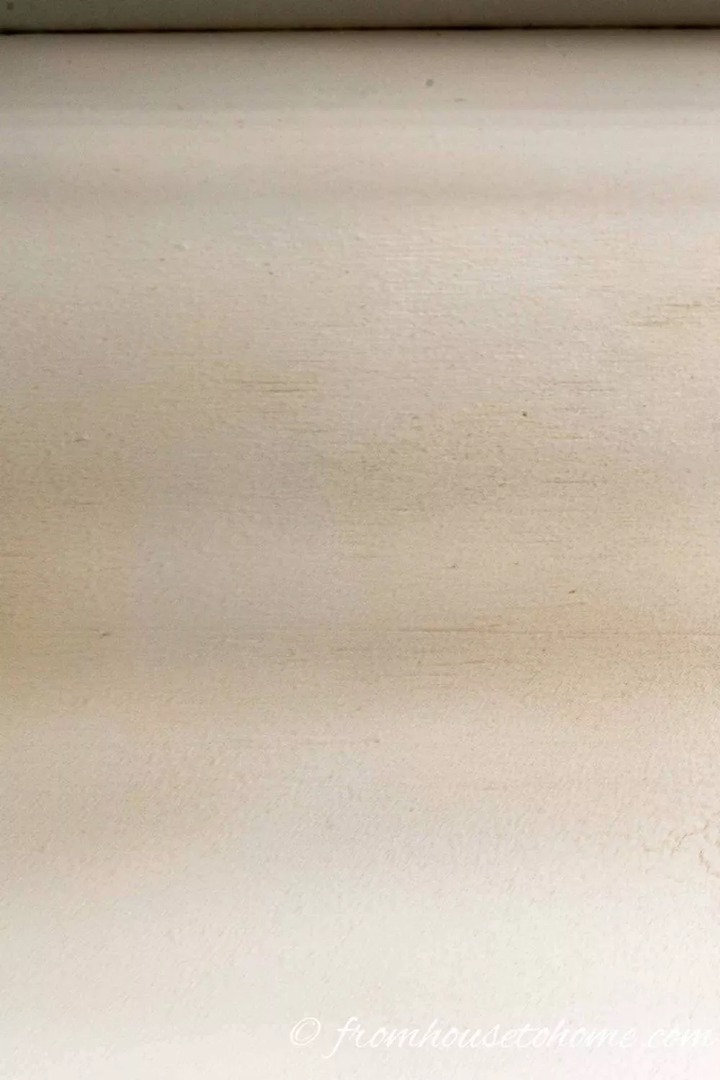 This is another one of those "follow the directions" things.
I had never really noticed that much difference between shaking the can a lot and shaking it a little…until I went to use this Antique White spray paint.
All of a sudden I started to get streaks of off white (the color I was going for), mixed with streaks of light brown (definitely not the color I was going for).
Shaking the can for at least a minute gets rid of the problem…and taught me that the instructions are right!
6. STOP FINGER FATIGUE: USE A SPRAY TRIGGER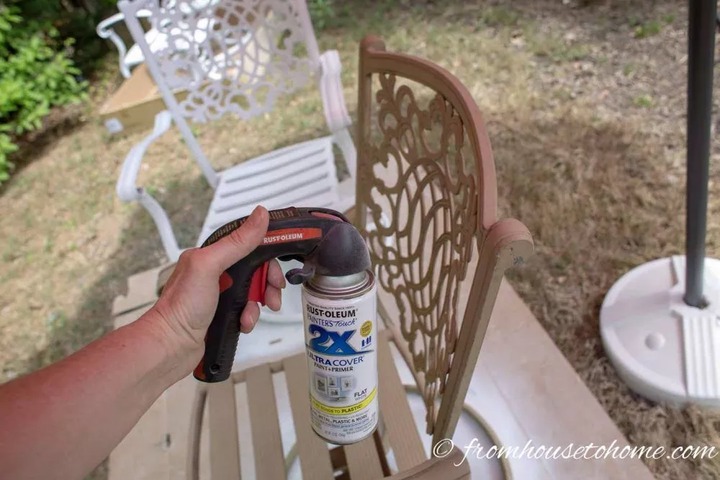 If you're going to be doing a fair amount of spray painting, spending a few dollars on a spray trigger* is definitely worth the investment.
Trying to hold down that little spray paint button gets tiring really fast!
The spray trigger make the job a lot easier, and saves on finger fatigue!
7. SPEED UP THE PROCESS: BUY MORE PAINT THAN YOU THINK YOU NEED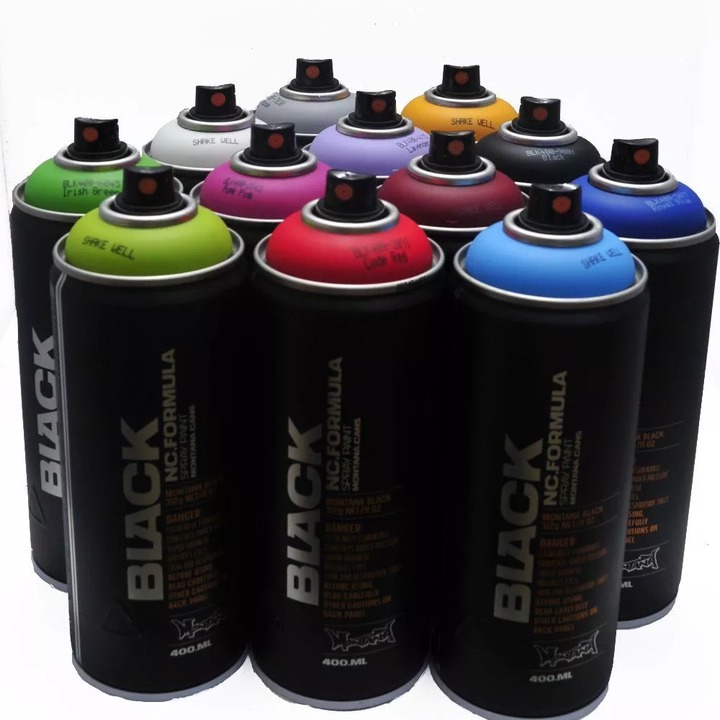 This is one area where I find the instructions on the can aren't usually right.
I never seem to get as much covered area out of one can as they say you should…which could be related to all that over spray…a lot of my paint ends up on the drop cloth 🙂
In any case, most spray paint instructions will tell you that you can re-coat within a few minutes.
But if you leave it to dry for more than an hour then you need to wait 24 hours.
So, if you don't get enough paint, you'll have to make a run to the store, and chances are you won't be back in time to meet that 1 hour time limit.
Which means waiting another day to finish the project.
So buy more cans than you think you need. You can always take them back if you don't use them.
8. SAVE YOUR ENERGY: DON'T USE SPRAY PAINT FOR PLYWOOD EDGES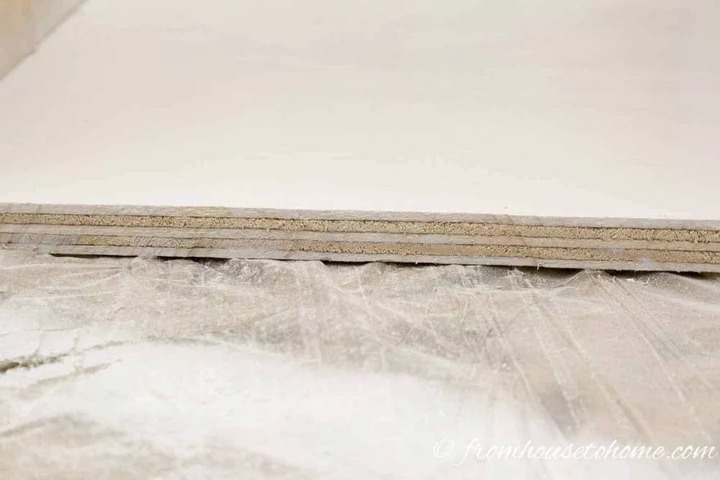 If you're trying to paint the edges of plywood boards…don't use spray paint.
Because the layers of paint are so light, it doesn't fill in any of the rough bits and the surface ends up looking like it wasn't painted.
It doesn't seem to matter how much spray paint you put on it, it doesn't get much better.
And you'll probably end up with excess paint on the surfaces around the edge.
A brush with some regular latex paint works much better.
9. GET AN EVEN FINISH: USE A NEW CAN FOR THE LAST COAT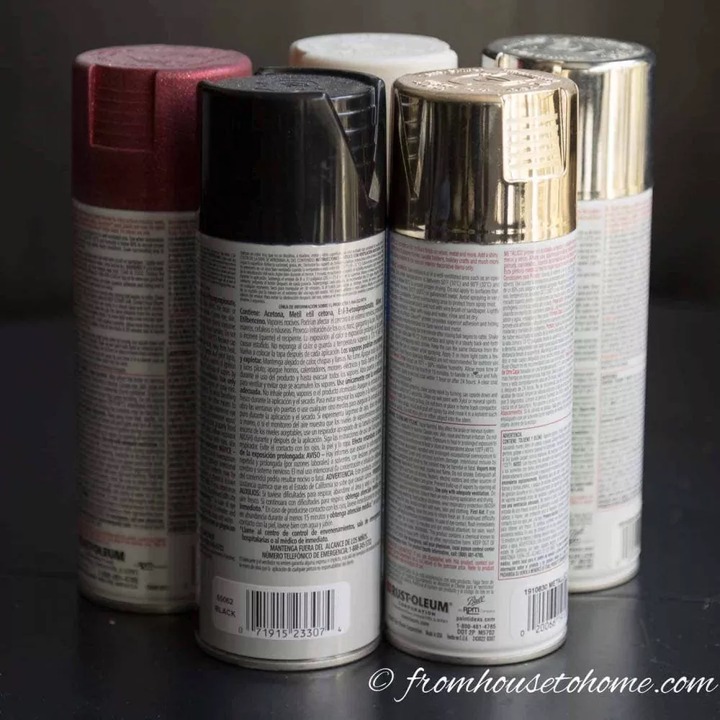 When you're about to put on the last coat of paint, it pays to open a new can.
The paint spray from a new can is usually more uniform and easier to apply evenly (just make sure to shake it well).
Once you get down to the bottom, the nozzle may be getting blocked, and the paint is less likely to come out evenly.
10. AVOID THE MESS: USE A SPRAY SHELTER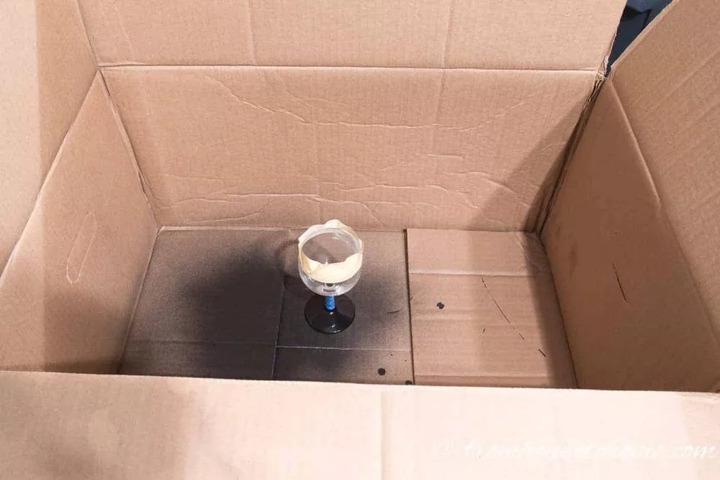 I usually try to do spray painting outside…the fumes are really strong!
But if you do have to spray paint indoors and you don't want paint everywhere, use a box to contain the over spray.
Obviously, you'll need a box that is big enough to surround whatever you're painting…so the larger the item, the bigger the box will need to be.
Content created and supplied by: Shanelize (via Opera News )