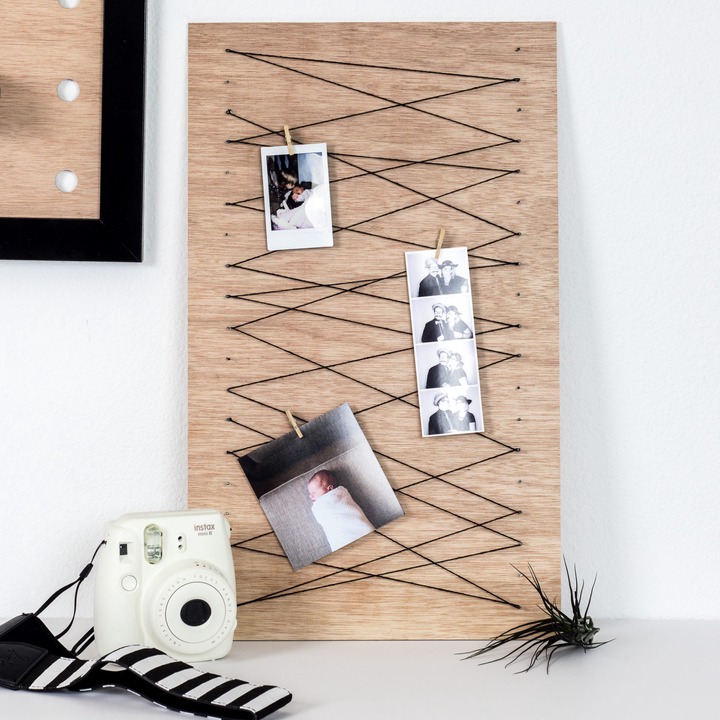 Create a simple clothespin memo board to keep important notes or display your favorite pictures with this easy DIY idea.
Materials to make your clothespin memo board:
Board
Sandpaper
Ruler
Thumbtack
Nails
Black paint optional
Hammer
Embroidery floss
Mini clothespins
1. Cut Board
First, you need to cut your board down to size. 12″x20″.
2. Nails
Take a thumbtack and ruler and mark where each nail goes. I found this is much easier and precise than trying to hammer in those teeney tiny nails. Just push the thumbtack in about halfway down. I put my nails starting at every inch.
I chose to paint my nails black to match the raw wood and matte black theme I'm going for in my office, but you can totally leave them plain if you want. If you to want to paint them, throw a handful in an old Amazon box we all have laying around in our garage and spray paint them while lightly shaking the box. I've found that's the best way to evenly coat small objects.
Once you have all your nail spots marked, hammer in your nails so there is about a 1/2 inch sticking out from the board.
3. String
Now, tie one end of your embroidery floss onto a nail and start stringing your thread between nails in whatever pattern you like. Once you're done, just tie it off, cut off the extras on each end, and you're done!
Attach notes or your favorite pictures with mini clothespins and set on your desk. You could add a command strip or sawtooth hanger to the back if you want to attach it to your wall. Personally, I'd suggest a command strip just so you don't risk your sawtooth hanger nails splitting the wood. (Learn from my experience.) :)
Content created and supplied by: Shanelize (via Opera News )