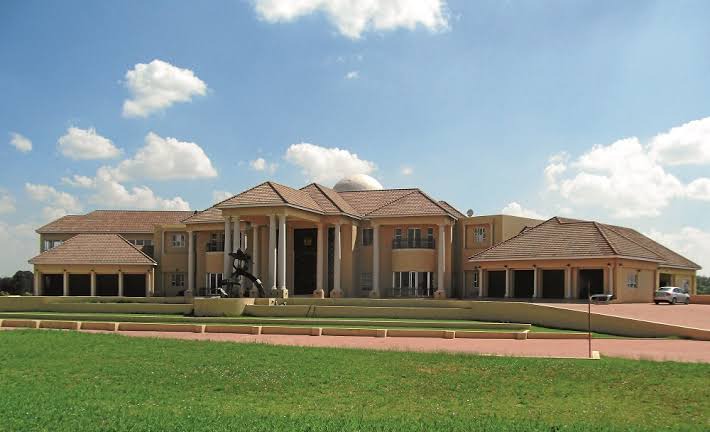 Many South African think Mam Mkhize's house is the biggest house in South Africa but little do they know that there is a bigger house.
Located in Vanderbijlpark , southwest outside of Johannesburg. The vaal Mansion Belonged to the former Executive Of Absa.
The house is near the vaal River. With a Land size of 6,240m²   , the house is considers the biggest House in South Africa With 6 Bedrooms (all en-suite), Indoor and outdoor pools and golf course, dam and boathouse, amphitheatre, regal fixtures and fittings, lift to all floors and a basement car garage.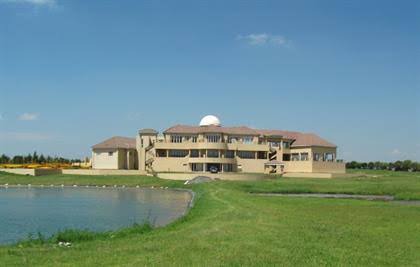 Within the past 7 years an entrance gate had been built to the north of the Suikerbosrand River and a steel bridge with a guard hut added to give more convenient access to Vereeniging, reducing approximately 5km off a trip. The dirt roads were also tarred in the not too distant past.
The property Has a 9 Hole Golf Course including an amphitheatre .A big boma fire pit and it has a big boat house at the river and it has its own Dam.
The home itself is effectively made up of three floors – including a ground floor, first floor and basement area. Alongside stairs, these areas are connected by a lift inside of the house. According to the listing the house has regal features and fittings.
The rooms have views of the Vaal River. Featuring an out door Swimming pool . A heated Indoor pool. Steam Room. And a personal Gym.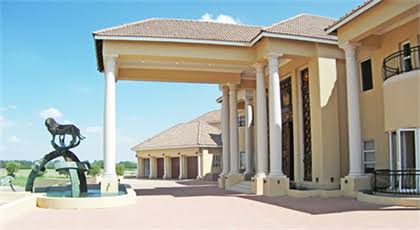 The house has a massive dining hall (with chairs embroidered with a "B".presumably for Bungane) The Owner of the house
The French-inspired kitchen has a scullery plus "walk-in cold room". And the main suite has its own kitchen, lounge and its own dining area.
 The massive basement has a four entertainment or conference venues, as well as "the structural framework for a generously proportioned home cinema
According to the house agents, the house can be used as "multi-generational family villa, corporate retreat or exclusive conference venue
Content created and supplied by: User_Thando (via Opera News )