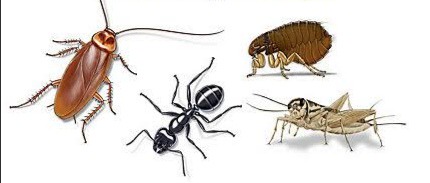 1. Salt
A layer of salt will dehydrate and kill the fleas living in your carpet. Use finely ground salt, and sprinkle a generous layer over your entire carpet. Leave it for one to two days or as long as you can, and then thoroughly vacuum.
2. Water 
Roaches need water, so they'll go to great lengths to get it. Partially fill a jar with water and place it where you've seen frequent roaches. They'll climb in for the water and won't be able to get back out.
3. Use dishwashing detergent
Try washing your pet with detergent, which will clean its fur and kill any fleas. It's best to use a natural formula and test a small area first, as some animals have sensitive skin
4. Light candles
Light up the candles, this will scare flies, ants and roaches away.
5. Wash and vacuum
To get rid of fleas, you need to get rid of their eggs and larvae, so spend a day washing everything in the house where they might live. Throw all your bedding, bathroom mats, clothes and soft rugs into the washing machine, paying special attention to your pet's favorite blankets or cushions.
Content created and supplied by: Victorkd (via Opera News )