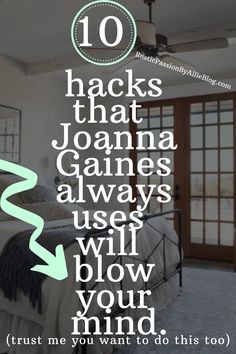 You ready?
In EVERY SINGLE fixer upper master bedroom you will find… the following items.
1 – So first of all you'll notice a big gorgeous headboard in every room. The bed is the main focal point in every room. So you'll see she really makes sure your eye is drawn to a unique bed.
2 – Benches look great at the end of the bed. They are great for sitting to put your shoes on in the morning, but they also look gorgeous as a small piece of furniture in your room.
3 – Vintage antique books are Joanna's go to decoration. She uses them in all her fixer upper bedrooms she designs. Vintage books are so gorgeous right now stacked up or turned backwards so you see the old pages of the books.
4 – Throw pillows are ALWAYS used on every bed. The pillows are usually laid out like a triangle. This is the most common way to display throw pillows. Layers are a good thing. You'll notice she puts a throw blanket on the end of every bed.
5 – While decorating the wall over the bed Joanna uses an even number of decorations. You'll notice that she has two identical shutters, two large vintage prints, four antique photo frames. This is something I saw over and over again with her decorating when it comes to designing above the bed.
6 – Faux plants, real plants, flowers, or some type of greenery is a must. I actually love the look of faux plants and the best part is you can't kill them. I am the absolute worst at remembering to water my plants. So fake plants are my best friend when it comes to bringing color into my home.
7 – Joanna loves unique accent chairs. They are always put in the corner to make a fun reading nook. You can't go wrong with a pretty chair to fill up some space in your room.
Content created and supplied by: Shanelize (via Opera News )