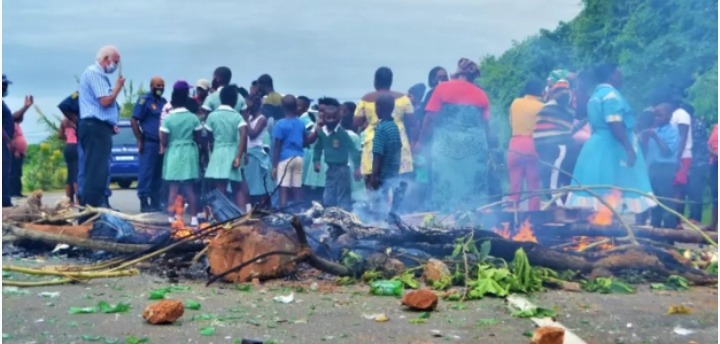 Parents are reported to have decided to take action against the local taxis who are alleged to be intimidating the scholar buses by blocking the M4 as a way of showing dissatisfaction and disappointment.
Report say the the blockade led to the diversion of traffic to the M2 free was and its heard that the M4 is still closed.
The raging parents blocked the M4 between Umdloti and Ballito protesting against the alleged act by the taxi association of blocking learners against to use of scholar transport .
Fanzeni Zondi , who is the chairperson of the Isiqalukuhle Taxi Association is reported to have refuted the claims and said that they did not have problems with scholar buses.
Its reported that more than 300 learners from the informal settlements such as Pholani, Thuthukani and Lungelani failed to make it to school as taxis allegedly blocked the scholar buses which take them to school.
It's alleged that the taxi association want the learners to use their buses whilst the government has made provision of the buses.
https://citizen.co.za/news/south-africa/protests/2444964/watch-parents-close-m4-accuse-taxis-of-intimidating-scholar-buses/
Content created and supplied by: Kukizi (via Opera News )