2 Years ago this Twitter user tweeted this message and earlier this week at the exact same spot, 4 children were killed after they fell into a hole.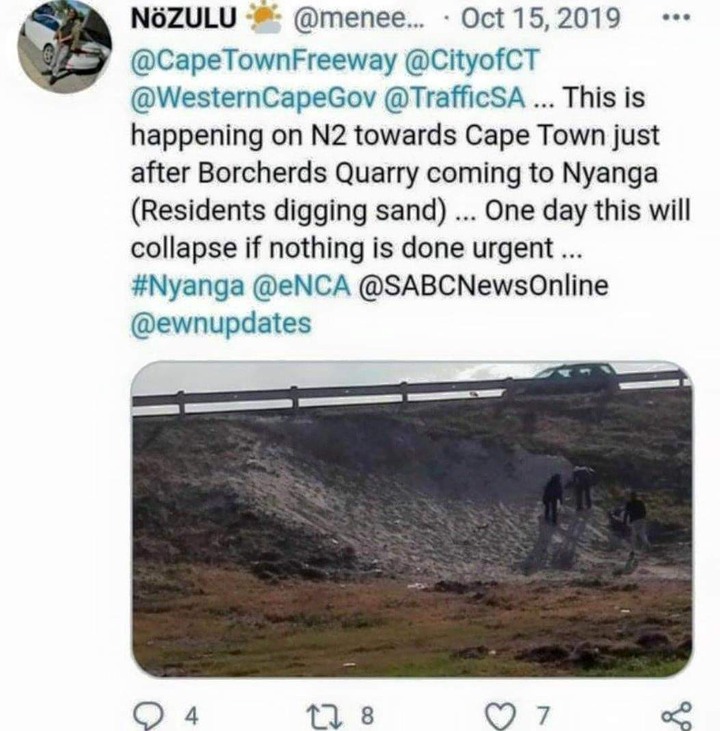 The community members are also to be blamed because they're so quick and efficient to organize protests, but can't organize themselves to fight the bad people who are vandalizing their own infrastructure....ow the innocent kids are dead. Another thing parents must keep their children off the roads, children should be kept safely at home as it's level 3 Lockdown.
When we come to the government it's worse cause they do not prevent these accidents from happening by fixing the infrastructure on time or whatsoever. They wait till it happens then the media puts them in spotlight and then start showing a bit of sign of taking action. Another problem is the small dams along the R300/N2 where the children are swimming. To avoid such incidents for now parents must stop their children from going to main roads, dams etc because come to think of it that is also part of following the safety precautions for Covid-19.
Make sure that infrastructure is fixed and there is no damaging of roads during protests, then everything will be fine. If that is not done on time then parents will end up having no one but themselves to blame, as a nation we can all see that a lot of things are not being done despite the fact that we were promised that they will be done. As long as nothing is done and power has not changed hands, let's try and be responsible for our safety and children's safety.  
https://www.iol.co.za/capeargus/news/family-mourns-death-of-four-nyanga-boys-who-fell-into-sinkhole-under-n2-bridge-a2990b44-6721-4c8e-ab1f-11593d74b298
Content created and supplied by: Busiey (via Opera News )