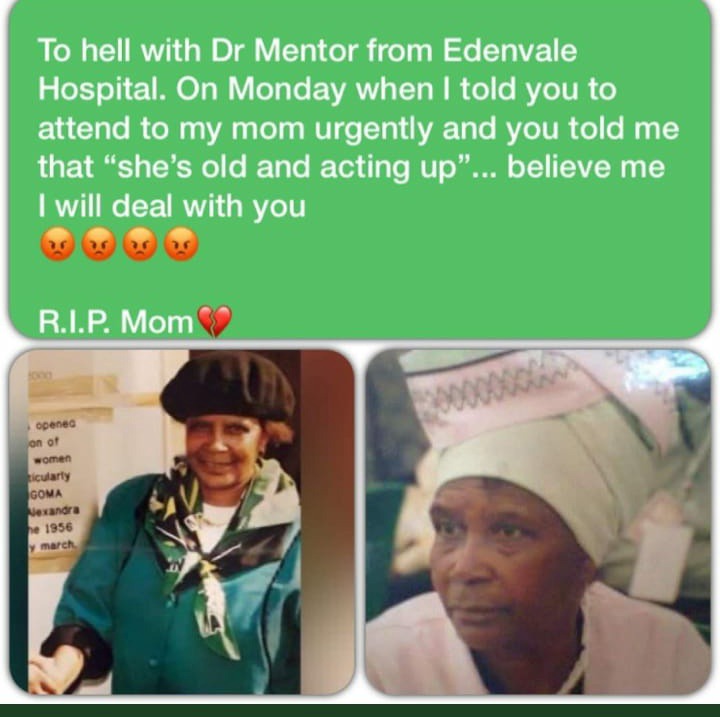 Dr Mentor from Edenvale is being blamed for the death of a young woman's mother. This was because of the post that has been circulating on social media. Apparently the woman said that she is not through with him and also she will deal with him. 
The woman has explained that she is not happy on how the doctor had treated Her mother. Many people have been complaining about the very same hospital, and they are are complaining about the service offered. The doctor or even the hospital has not yet issued a statement or also explain on how the incident happened and also on how they are responding to the matter. 
This has been the most sad story and also was discovered after the story about Maya was discovered. The woman who has revealed such opened up after they have found out about what happened to Maya. Mzansi had to seek justice for Maya.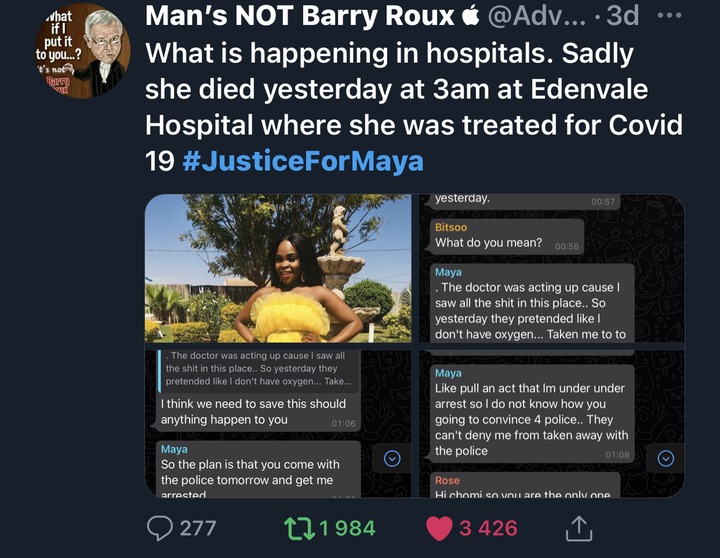 A glimpse of the Maya story was that she was at a hospital. She was also admitted for coronavirus and she opened a group chat at the am's. Which was around 1am. She explained to her friends that she needs to go and also that the doctors are acting funny. Maya was planning that they should plan her arrest so that she can escape. Unfortunately it was announced that she passed away around 3am and also this has caused twitter fans to complain and also demand answers. 
Here is the link to the full post and also comments- https://twitter.com/baleseng_more/status/1355447616226656257?s=21
@Enos, "And then you will ask yourself why so many people die whom they got affected and seek hospital treatment, compared to those who also sick but survived at their house. Home or Hospital = I choose home, bcs many people die hospitals."
@Apolo, "Those who are admitted in hospitals are those Corona severe cases, usually unable to breathe or with Corona related pneumonia. Those cases unfortunately can't be treated from home, they need hospitalization. And chances of death are higher, it is not a conspiracy."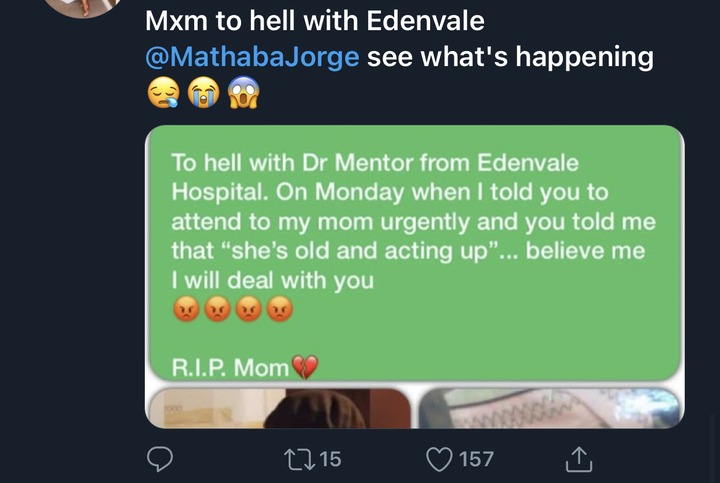 @ameria, "The moment you say something u will be called a conspiracy theorist in the early stages of this so-called virus l saw a video of this African American guys warning black ppl his message was stay away from hospitals only go if it really urgent and don't take the vaccines"
@nako, "Having said that I work for a particular healthcare group and I know the number of laws we not not abide to. No doctor or nurse will intentionally ham a patient. The issue in our public hospitals is negligence , understaffed and no proper medical equipment."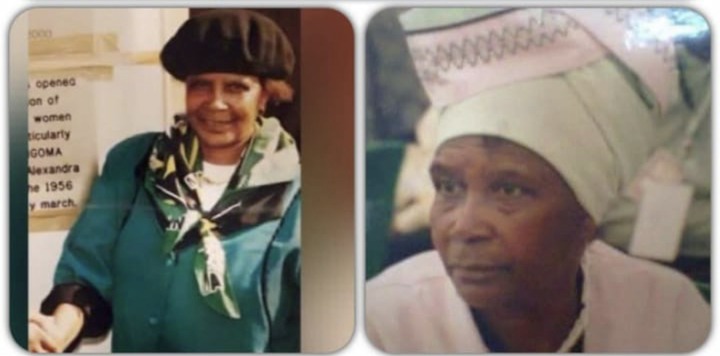 On the other side good news have been revealed. Unfortunately the worst is over as vaccines have been revealed and also they have arrived yesterday. This will help people to heal and also the struggle to the coronavirus is over. Last night the President Cyril Ramaphosa has announced that the vaccines are here and also people will be able to be assisted and lives will be saved. 
SOURCE: SOCIAL MEDIA TWITTER 
Content created and supplied by: TumiMore (via Opera News )