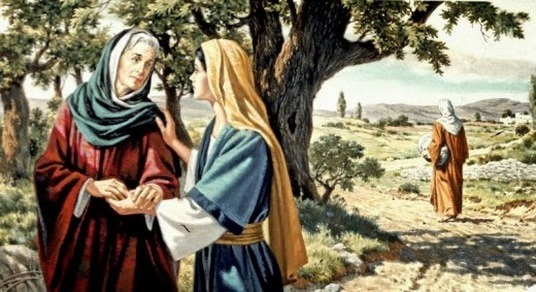 The logical thing for Ruth to do when her husband died was to go home to her own family and look for a new husband. Naomi suggested she do that. And Ruth's sister-in-law Orpah followed that advice.
Ruth could have allowed her questions and doubt to influence her to leave Naomi. But instead her heart came to grips with what she believed. She moved from the agony of questions she could not answer to the reality of answers she could not escape. She felt a deep conviction that she was to stay with Naomi. And she followed that conviction.
As leaders we need to remember that. Strong convictions precede great actions. When we know something is right—and that conviction is bolstered by the knowledge that our motives are pure, as Ruth's were—we need to follow through. Others may second-guess our thinking and our decision-making. But when we know what's right, we can't let those things throw us off. We need to stand by our convictions. As Albert Mohler, president of the Southern Baptist Theological Seminary, said, "Convictions are not merely beliefs we hold; they are those beliefs that hold us in their grip."
2. Following Your Heart with Integrity Can Increase Your Influence with Others
Because Ruth followed her heart and went with Naomi to Bethlehem, her influence on others increased. Instead of looking down on her as a foreigner, the Hebrews noticed her and admired her. She gained the favor of Boaz, who told her, "I've heard all about you—heard about the way you treated your mother-in-law after the death of her husband, and how you left your father and mother and the land of your birth and have come to live among a bunch of total strangers. GOD reward you well for what you've done—and with a generous bonus besides from GOD, to whom you've come seeking protection under his wings."
When Ruth followed her heart and made her decision, she stood out from the beige lives of others. She impressed the people of an entire town, including the elders, who blessed her, declaring,
May GOD make this woman who is coming into your household like Rachel and Leah, the two women who built the family of Israel. May GOD make you a pillar in Ephrathah and famous in Bethlehem! With the children GOD gives you from this young woman, may your family rival the family of Perez, the son Tamar bore to Judah.
By following her heart and doing what she knew was right, Ruth went from being a foreigner to being someone who was respected, blessed, and honored.
When you follow your heart and do the right thing, your leadership potential increases. Leadership is influence, so anything that increases your influence and favor with others makes it easier for you to lead.
Content created and supplied by: S.M-News (via Opera News )