Moving from rural Bushbuckridge to the city of gold at 12 certainly played a huge role in her success. Only a percent of Bushbuckridge women are independent, the odds would have been against her. The beautiful and media mogul was born in 1976 25 December. She was once an inspiration and a symbol of hope to millions of women all over the country till she became bitter and hiding behind the outspoken label.
Seriously where do we draw the line? And how sad is she to spend all her energy fighting every single day? Just when we are beginning to doubt ourselves she finds a way to convince us of her emotional instability.
Lately she has become a pathetic 44 year old who fights with ama2000 on twitter. She completely disregarded the wisdom in the words that goes "ignore a fool so that people may tell the difference". Never mind the lack of emotional intelligence in arguing with kids on social media.
She always manages to involve herself in issues that has absolutely nothing to do with her. In the earliest of the lockdown last year she "defended" Dj Shimza when black twitter decided that he must fall! Not so long ago she again shamelessly threw herself in Somizi's business. It's like she wakes up every day waiting for a celebrity to trend so she can raid in their parade.
One popular Facebook user claimed that Penny Lebyane is undoing her GBV work by defending a man (Somizi when he published private numbers of a female journalist who asked about his troubled marriage and the alleged cancelation of his show, Dinner with Somizi). This earned her an invite to Sabc 3 show: Trending SA, much to her "surprise".
On Hustler's corner SA (Dj Sbu's podcast) she revealed that she never took medication despite being diagnosed with depression and admitted at a psychiatric ward for 14 days. 'I didn't want to be reliant on them. I'd rather know my triggers` clearly she's not managing her mental health as much as she likes to assume. And the danger of ignoring doctor's orders is evident in behavior.
When last did she go for an interview to talk about her work? You mean she can't even think of a little project to do and start trending for the right reason?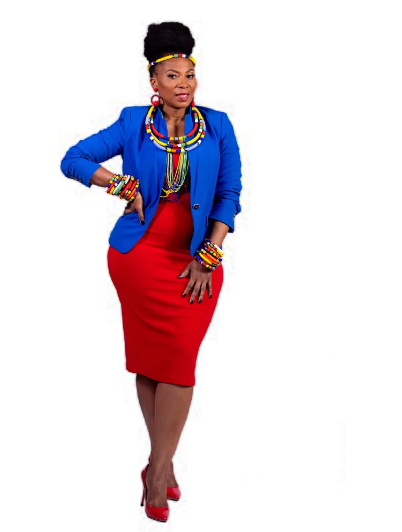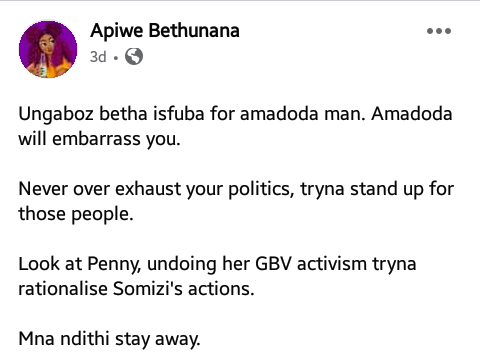 Content created and supplied by: @mpumalanga (via Opera News )