We all know exercise is the key to looking fit and sexy. There are many types of exercise out here and all promise to give us the body we want. However, there is a perception most women; if they exercise they will lose weight or they are already slim why should they exercise? Depending on your body goals exercise is the best remedy. But not all body goals have the same approach. If you want a well toned and curvy body this is the approach you need to take
STRENGTH TRAINING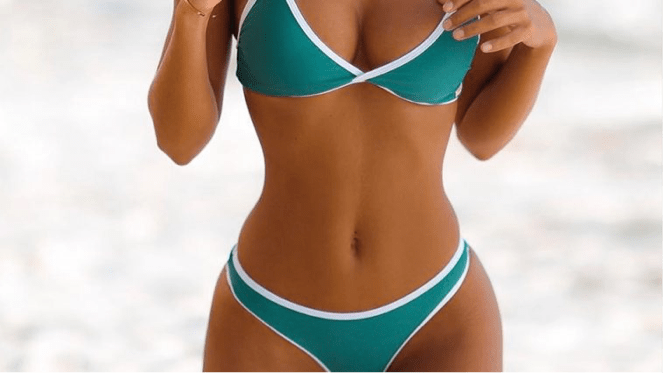 I know what you are thinking; I don't want to gain muscles. I don't want to look masculine. I get that, but what you don't know is that strength training which includes using weights helps builds muscle. Muscle adds dimension and definition to areas like the hips, butt, thighs, and chest. You need to focus your energy more on strength training than cardio workouts. Cardio is good for heart health but it won't change the way your body looks. Strength training will change your flabby curves into toned, shapely curves and help to strengthen your core and tone your abs. This, in turn, adds curves in the right places. For some reason, a lot of women avoid working out their upper body. If you want to get a curvy body your upper also body must be in good shape.
Strengthening exercise include:-
Push ups
1)Lie flat on the ground with your palm touching the floor. Your arms should form 4 degrees angle
2)Ensure your back and legs are straight
3)With the support of your hands push yourself slightly up and down. Your body should not touch the ground. This completes one rep
Squats
1)Stand as tall as you can with your feet spread shoulder-width apart.
2)Lower your body as far as you can by pushing your hips back and bending your knees.
3)Push yourself back to the starting position while squeezing your glutes. That's one rep. Do 20 – 40 reps
Lunges
1)Stand tall with feet hip-width apart. Take a big step forward with right leg and start to shift weight forward so heel hits the floor first.
2)Lower body until right thigh is parallel to the floor and right shin is vertical If mobility allows, lightly tap left knee to the ground while keeping weight in the right heel.
3)Slowly move back up to starting position. Repeat on the other side. That completes one rep, do 20 – 30 reps
Triceps dips
1)Place your hands shoulder-width apart on a secured bench or stable chair.
2)Move your butt off the bench, your legs extended out in front of you and arms straight
3)Slowly lower your body toward the floor until your elbows are bent at about a 90-degree angle. Be sure to keep your back close to the bench.
4)Once you reach the bottom, slowly move upwards pressing down into the bench to straighten your elbows, returning to the beginning position. This completes one rep.
5)You can do it with your legs straight or slightly knees bent. Repeat 20 – 30 reps
Side lunges
1)Stand with your with legs slightly apart wider than shoulder-distance. Toes pointed forward.
2)Shift your body weight to one side (right) causing your right knee to bend until it reaches a 90-degree angle and the other leg is straight. Glutes are pressing back behind you. Return to center and switch sides.
Please don't forget to like comment share and follow for more content.
Content created and supplied by: Unlimited2021 (via Opera News )