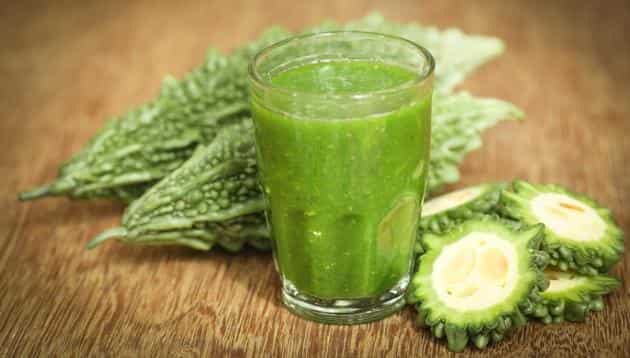 This green gourd may be bitter in taste, but is packed with so many benefits, people who use it swear by it. Whether it is diabetes or asthma, the green bitter gourd has helped in many ways. Read on to know some of the health benefits of this wonder gourd. Hope that makes you learn to relish it beyond its bitter taste.
Boosts Immunity
Bitter Gourd is a powerhouse of antioxidants and it helps in fighting several infections in the body. These antioxidants scout the body for free radicals and other dangerous compounds released during metabolism and destroy them preventing from causing any illness.
Adding Bitter Gourd in your diet enhances your chances of fighting against various diseases, including heart disease, kidney damage and liver problem.
Lower cholesterol
Help lower dangerous cholesterol levels with bitter melon. Reducing cholesterol significantly reduces heart attack, heart disease, and stroke. The added benefit is that bitter melon is completely natural in working with the body to prevent these health risks. High cholesterol can only be diagnosed with a blood test.
Aids digestion
It is an excellent source of dietary fiber. Regular consumption of bitter gourd contributes to relieving constipation and indigestion. It supports healthy gut bacteria, which favours digestion and nutrient absorption.
Blood purifier
It is an excellent blood purifier and juice consumed in the morning is one of the best ways to detox the body.
Anti-Aging
Bitter melon also contains vitamin C, a powerful antioxidant that fights against damaging ultraviolet (UV) light exposure and major risk factor in skin cancer development. Keeping cells undamaged can further slow down the aging process. Vitamin C also plays a role in collagen production. Collagen is a protein that helps maintain the structure of bone, tendon, skin, cartilage and all other connective tissue. Several studies conclude a high intake of vitamin C contributes to better skin appearance and decreases in skin wrinkling.




Prevents cellular damage
Bitter melon contains several antioxidant compounds that have been proven effective against free radicals. Multiple studies have found that both the leaves and fruit of bitter melon are beneficial phenolic compounds with the ability to reduce harmful oxidants.Although this has not yet been proven to prevent or treat disease, it suggests the need for further investigation into areas including aging and cancer prevention
Content created and supplied by: Giiven (via Opera News )