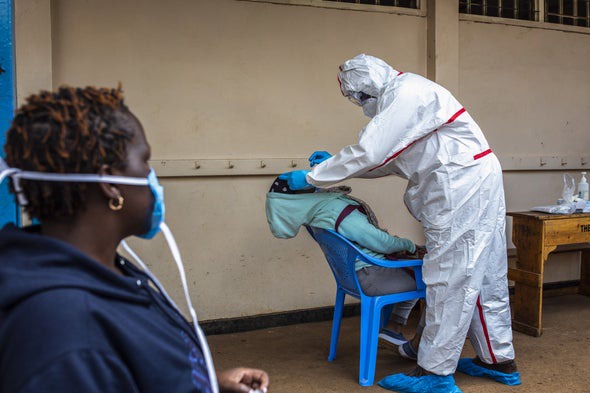 The coronavirus pandemic has affected our ways of life and it cannot be denied that this is truly a global crisis.
It has affected all the continents on the planet earth and more bad news is being shared almost daily regarding the virus.
A report was published today which left many shocked as it claimed that about 20% of Nigerian nationals in Lagos have been hit hard by the virus.
A message was shared by the SAfm news which echoed the same sentiments which have sent many having shivers.
African leaders have been notoriously known for understating statistics and these statistics exposed some flaws in a previous reports.
The message read, "Findings of a survey in Nigeria suggest that the country's coronavirus infection rate is much higher than previously reported. The results indicate that 1 in 5 people of those tested in the state of Lagos has been infected"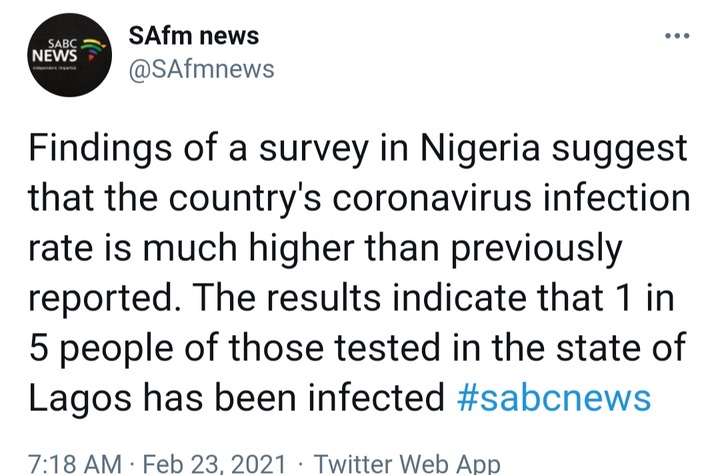 Governments across the continent have been putting in place various measures to fight the virus and it is not yet clear which policy the Nigerian government will implement.
Some countries have opted to procure the vaccine from overseas while others have opted to turn to the natural remedies as Tanzania and Madagascar.
On the other hand, other countries like Zimbabwe and Malawi will be looking for donations from other countries of the vaccine which they are set to use on their citizens.
Gone are the days when European countries were the epicenter of the virus. It is widely feared that if the coronavirus pandemic hits the African continent with it's full might will lead to many deaths.
Countries on the African continent are not prepared to face a global pandemic as most of them have health systems which are in shambles.
It is feared that Lagos may soon turn out to be the next epicenter of the virus in Africa and it is yet to be known how prepared the Buhari administration is for the virus.
No update has yet been given by President Buhari on what he plans to do to address the current situation.
World leaders are battling to fight the virus and bring it to an end as it has brought the global economy to its knees.
Many have always said that African leaders most of them do not have solutions to bring the virus it's end. It is not yet known when the global economy will get functioning once again.
Content created and supplied by: AfricanChannelNews (via Opera News )