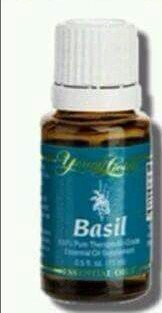 Basil is said to be a natural muscle relaxant. Meaning you can use this as an natural process. To make sure that your stiff muscles make sure that it relaxes. Get rid of all muscle spasms.
So this basil I'm taking about is not the one that you put in your food. This sort of basil I'm talking about is the essential oil. Where you can easily use it in it's oil form.
Just make sure that you dilute the basil oil. Yet you can apply it to various symptoms. As well use it for various symptoms that you might want to alleviate.
So you can use basil oil as an insect repellent. As well of course as a muscle relaxer.
You can apply some to your temples for a headache or a migraine.
You can use it for anxiety as well.
It has antiviral and antibacterial properties.
It helps to relieve from colds and bronchitis applied to chest or inhaled.
Assist in digestion and intenstinal problems.
A great decongestant.
Also helps to improve mental clarity when applied to brain stem spine.
So I hope you will try this out.
Stay safe and healthy.
Sources: Google and Pinterest.
Content created and supplied by: Julliesjennilee (via Opera News )