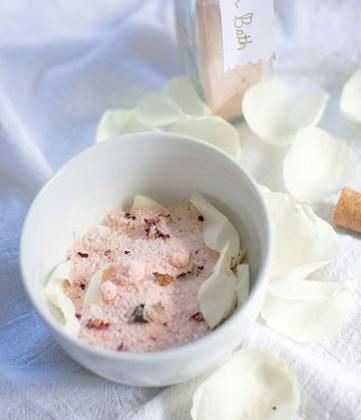 We does not want to bath in milk. Which will leave your skin radiant and smooth. It will leave your skin looking good and smelling good.
Plus it's a easy recipe to follow. Also the other the thing is if you use to buying these things it will be easy for you to follow this recipe.
It must healing and relaxing to be bathing in rose milk bath salt. Get rid of all the toxicity in your body. As well as let your muscles relax.
So you will need the following ingredients?
1. A half cup of powered milk.
2. A half cup of epsom salt.
3. A quarter cup of dried rose petals.
Some red food colouring.
Some rose essential oil.
Mix the powdered milk, epsom salt and a few drops of food colouring together. Until the mixture is evenly pink.
Then you will add the rose petals and the essential oils.
A great smelling relaxing bath salt.
I hope you like it.
Stay safe and healthy.
Sources: Google and Pinterest.
Content created and supplied by: Julliesjennilee (via Opera News )