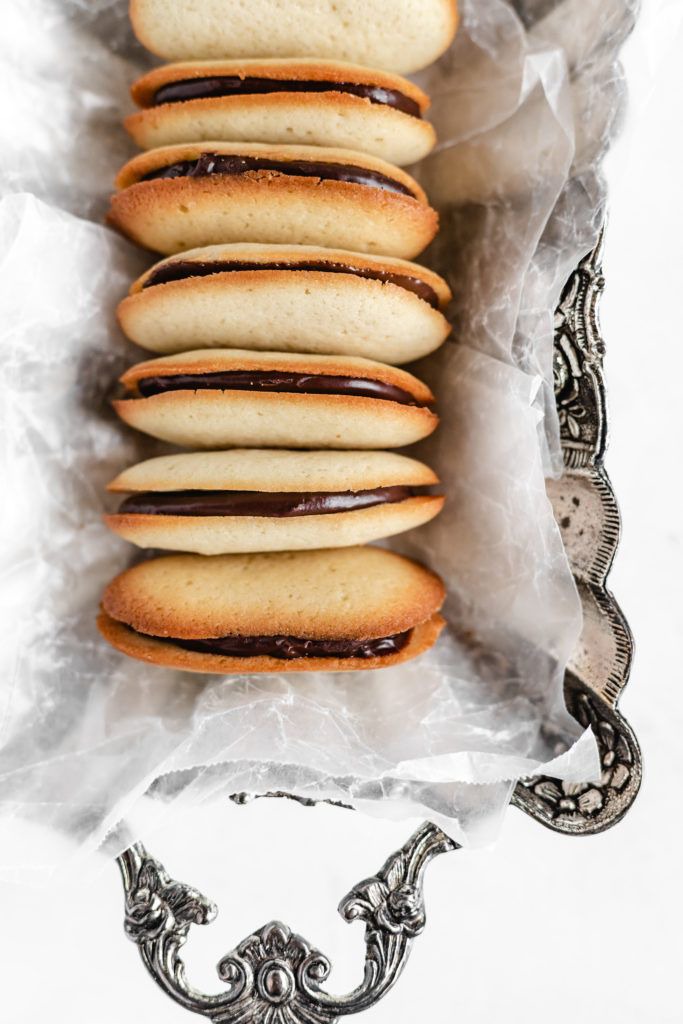 Impress your friends and family with these easy Homemade Milano Cookies - buttery, crispy vanilla cookies sandwiched between dark chocolate ganache.
Milano cookies are oval-shaped butter cookies that are sandwiched between a layer of chocolate. Making the dough is easier than you think, and the ganache center takes only a few minutes.
INGREDIENTS 
1 ½ cups butter room temperature
¾ cup sugar
1 ⅓ cup confectioner's sugar
1 cup egg whites about 8
1 ½ tsp vanilla
2 ⅔ cups flour
Ganache
1 cup heavy cream
8 ounces bittersweet chocolate chopped
INSTRUCTIONS 
Preheat oven to 400 degree F. Cut 2 pieces of parchment paper and using a ruler draw 12, 2 ½ inch lines spaced about 3 inches apart. Place the papers written side down onto 2 baking sheets and set aside.
In the bowl of an electric mixer, beat butter, sugar, and confectioner's sugar with the paddle attachment until light and fluffy, about 3-5 minutes. Add egg whites and vanilla and mix until combined. Mix in flour.
Transfer the batter to a large piping bag fitted with a ½ inch round tip. Pipe the batter onto the lined baking sheets using the guides you marked earlier.
Bake in preheated oven for 10 minutes. Remove from oven and let cool 5 minutes before transferring to a cooling rack. Repeat with remaining batter.
To make the ganache, place chopped chocolate in a medium size bowl. Heat heavy cream in a saucepan until it begins to simmer (do not let it boil!). Pour over chocolate and let sit 2-3 minutes. Gently stir until combined and chocolate has completely melted. Allow to cool and thicken until spreadable consistency.
To assemble the cookies, spread the ganache onto the flat side of one cookie and sandwich with the flat side of another cookie. Repeat with remaining cookies.
NOTES
Cookies will stay fresh at room temperature in an airtight container for 3 days or in the refrigerator for up to 1 week.
Content created and supplied by: Shanelize (via Opera News )