Information distributed by the World Health Organization shows that South African purchasers of liquor are probably the heaviest consumers internationally, notwithstanding moderately significant degrees of restraint in the populace. 
The WHO's latest information followed levels of liquor utilization in 2016, showing that an expected 31% of the populace matured 15 and more seasoned devour liquor, with the lion's share (69%) going without drinking for in any event a year. 
While most of the grown-up populace are not enthusiastic about liquor, the third of the populace who are consumers, do so vigorously. 
As per the WHO's information, South Africa's drinking populace shoppers 28.9 liters of unadulterated liquor – per capita – a year, the fifth most noteworthy utilization rate on the planet, underneath Namibia (31.3 liters), Eswatini (32.7 liters), Cook Islands (32.9 liters) and Tunisia (33.4 liters). 
Spread across the whole populace, South Africa tumbles to 52nd generally speaking, with utilization per capita of 9.3 liters. 
Alarmingly, most of South African liquor purchasers are likewise named weighty, or gorge consumers, with 59% of the drinking populace devouring in excess of 60 grams or a greater amount of unadulterated liquor on at any rate one event over a multi day time frame. 
Regarding liquor burned-through, South Africa is a lager drinking country taking up 56% of all liquor devoured. This is trailed by wine and spirits with an equivalent 18% offer. 
Liquor misuse is featured by the WHO as the reason for some social and wellbeing inconveniences, remembering an expansion for liver cirrhosis, street passings, and disease among others. 
For South Africa, the gathering credited more than 9,750 passings in 2016 to liquor in these cases, just as a 7% pervasiveness of liquor related issues, and a pace of 2.4% in liquor reliance in the country over the audit time frame.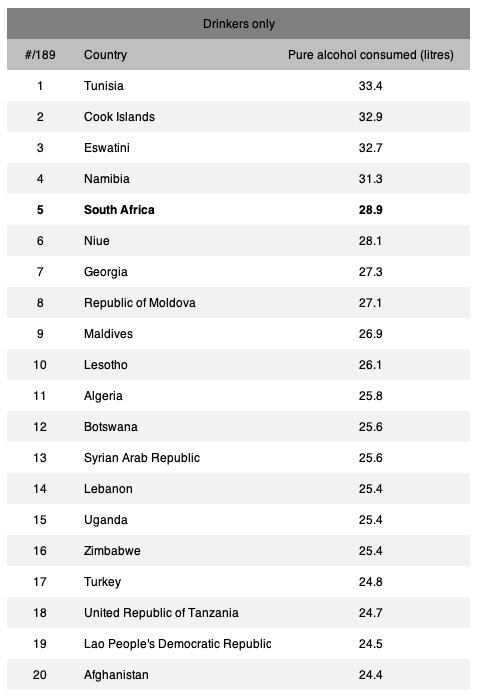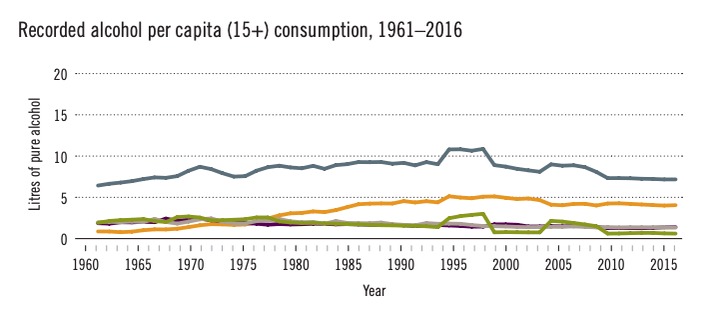 Content created and supplied by: Lėthabo12 (via Opera News )