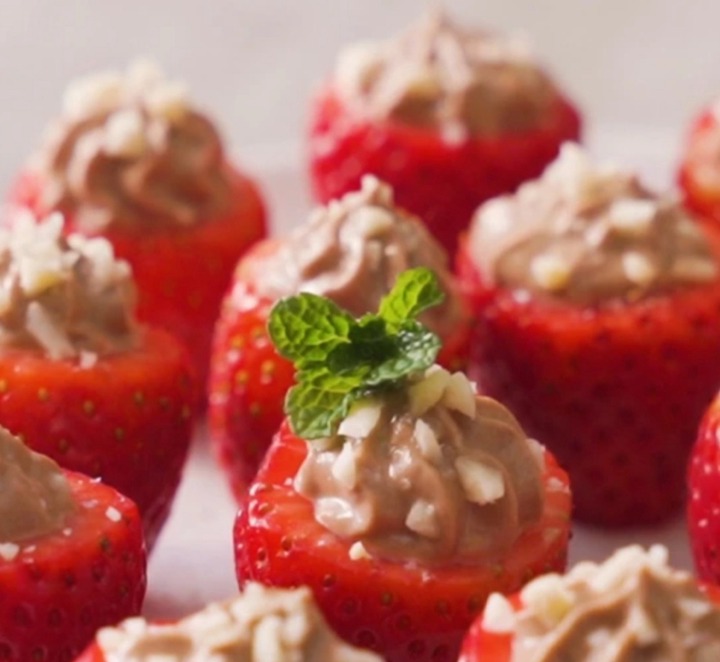 Ingredients
½ cup milk 
½ tsp vanilla essence 
1 slab Nestlé Aero Dark 85g
1 tbsp honey 
2 cups Double Cream yoghurt
Serving Suggestion
32 Fresh strawberries 
Chopped almonds (blanched, no skin)
Makes: 32
Recipe
1. In a medium pot, on a medium/low heat, bring the milk and vanilla essence to a simmer.
2. Break the Nestlé Aero Dark into chunks and add to the milk. On a low heat, stir until smooth and the chocolate is melted.
3. Add the honey, stir well and remove from the heat. 
4. Add the yoghurt into a large bowl. 
5. Carefully, fold the chocolate milk into the yoghurt until well combined. 
6. Spoon the mousse mixture into a piping bag and refrigerate for 2-3 hours or until firm.
7. Hollow out some strawberries by cutting off the stems and cutting around the inside of the strawberry.
8. Pipe the mousse into the hollowed out strawberries.
9. Top with chopped almonds & some fresh mint and ENJOY!
Content created and supplied by: Shanelize (via Opera News )