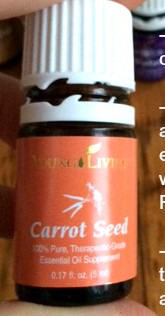 Carrot seed is known for its healing and regenerative properties. It helps reduce the appearance of aging and is great for reducing fine lines and wrinkles.
It will work like magic when you add it to your favourite cream or facial toner. So that your skin can be beautiful. Showing no signs of aging and wrinkles.
It's quite simple for you to use.
Add it to your favourite face cream. You can combine with jojoba oil and rosehip seed oil for an easy face oil.
It also works well with geranium and frankincense as well.
You can combine three drops with one tablespoon of jojoba oil and two teaspoon aloe vera gel for facial moisturiser.
So you see it's easy for you add this to your beauty regime. It's kind of weird to be using carrot seed oil. Yet do not what wonders it can do for your face.
Stay safe and healthy.
Sources: Google and Pinterest.
Content created and supplied by: Julliesjennilee (via Opera News )