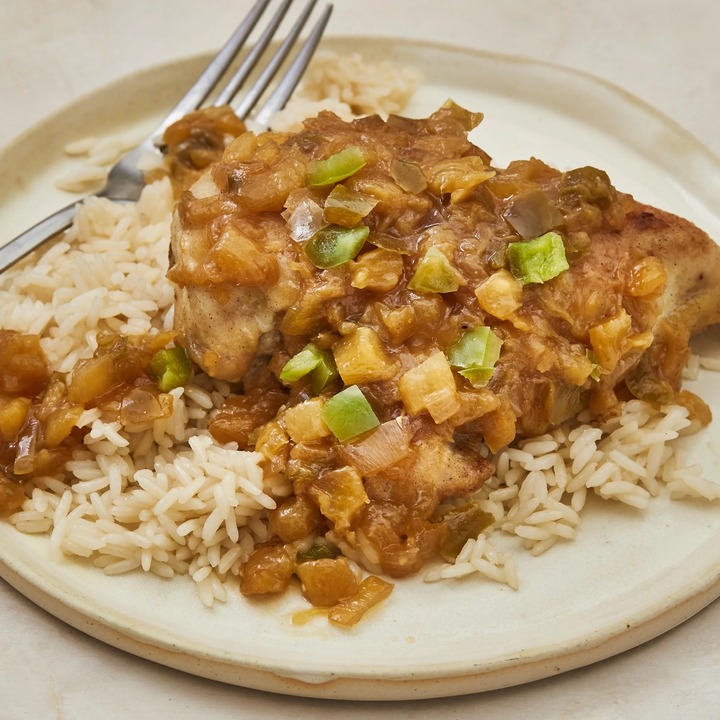 Baked chicken pieces with a pineapple soy sauce, for a delicious taste of the islands! Can serve this over rice or, better yet, chow mein noodles. Aloha!
Ingredients
1 (2 to 3 pound) whole chicken, cut into pieces
1 tablespoon all-purpose flour
2 teaspoons salt
1 pinch ground white pepper
4 tablespoons vegetable oil
½ onion, thinly sliced
1 green bell pepper, thinly sliced
1 (8 ounce) can crushed pineapple with juice
2 teaspoons soy sauce
2 teaspoons brown sugar
2 teaspoons cornstarch
2 teaspoons chicken stock
Directions
 Step 1
Preheat oven to 350 degrees F (175 degrees C).
Step 2
Mix flour, salt and pepper in a resealable plastic bag. One at a time, put chicken pieces in bag, seal and shake to coat. In a large skillet, heat oil over medium heat and saute chicken pieces until brown on all sides. Place chicken in a lightly greased 9x13 inch baking dish and bake covered in the preheated oven for 45 minutes.
 Step 3
To Make Sauce (while chicken bakes): In the same large skillet, saute onion and green bell pepper for about 5 minutes, until translucent. Add the pineapple, soy sauce and brown sugar. Mix together cornstarch and chicken stock and add to skillet. Stir all together and let simmer for 3 minutes until thick and clear. Pour sauce over chicken and bake 10 more minutes until tender.
Nutrition Facts
Per Serving: 640 calories; protein 43.1g; carbohydrates 13.5g; fat 45.3g; cholesterol 170.3mg; sodium 1216.2mg. 
Content created and supplied by: Shanelize (via Opera News )