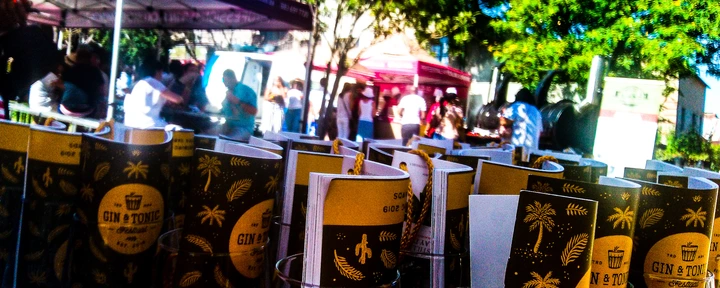 Picture this, you're cruising on the inters of the web craving a quality, full-bodied, cheek-puckering soft (yet hard) beverage, and the algorithms of the 'net answer and lead you to a sponsored gin and tonic "Gin and Tonic Festival' advert.
What a time to be online!
Pay day came our way and lead us straight to the gates of 16 Viljoen street (aka Victoria Yards) wherein we were welcomed by none other than our well-known Gordons Dry, Beefeater and a newfound local, Autograph, gins. With an ambiance of melodious and rejuvenating performances by our favourite artists K$, Jackie Queens, Si'Noir and Housecatz, to briefly name a few who gave us a burst of flavour kickstarting our Dezemba festive!
Onstage: Jackie Queens
Chroma Gin- Local
The Botanist- International Gin
SugarBird Cape Fynbos Gin- Local
Alongside the daytime drinking came the thought:
                            "Is it safe to be drinking THIS much gin?"
And to that I answer briefly, in enlisting 5 Health Benefits of drinking Gin!
1) Main Ingredient: Juniper Berries
Seed cones derived from the Juniper tree "Juniperus Communis"- often flavourfully described as 'woody' or 'tarty', J berries are high in nutrients such as Vitamin-C, which aid in boosting the Immune system, blood vessel functioning and collagen synthesis. 
Juniper berries also contain 'Anti- effects', as volatile oils in the berries contain Monoterpenes which are shown to provide anti-inflammatory, anti-oxidant, anti- cancer and anti-bacterial properties.
2) More Gin (in moderation) = fewer wrinkles
Switching up that skin-care routine with a bottle of local Autograph gin might not be a bad skin-care plan. Taken in moderation, gin boosts cell regeneration as the J berries are highly rich in antioxidants that reduce cell damage.
3) Mpintshi, it's a low-calorie SPIRIT! (or whatever Kwesta says)
According to Drink Aware, a 25ml of gin and tonic (single shot) contains ONLY 97 calories, exclusive to any sugary mixers! This low-calorie effect is again brought by the J berries' ability to increase enzymes that break down food particles, thus aiding in food digestion. In accordance to its low in calorie nature, bear in mind that gin is not an alternative for nutritious foods or a substitute for water- stay hydrated!
4) Helps fight coughs
You've guessed it, Juniper berries. J berries help fight coughs by eradicating mucus build up in the throat that aid in lung congestion. So mixing yourself a glass of gin with an ingredient such as ginger will help soothe and rid your s'cough'hlelas (phlegm)!
5) Longevity
Imbibing, in moderation, can surprisingly prolong your lifespan.
Due to the antioxidants in J berries, free radicals that cause diseases such as cancer are easily killed. Furthermore, free radicals decrease bacterial build up, thus prolonging your beautiful gin loving life!
There you have it, 5 facts centred around the benefits of sippin' on Gin and juice!
So, the next time you order your 2nd glass or shot glass of gin, remind yourself that the moderation is going towards a good cause- benefiting your body and cravings MODERATELY!
REMEMBER: DO NOT DRINK AND DRIVE- CALL AN UBER OR A FRIEND OR DECIDE ON A DESIGNATED DRIVER!
Sources: "how many calories in a shot glass" https://www.drinkaware.co.uk/alcohol-facts/alcoholic-drinks-units/units-and-calories-in-gin/
International Gin & Tonic Day: 7 surprising health benefits of drinking ginhttps://www.standard.co.uk/lifestyle/foodanddrink/is-gin-good-for-you-7-surprising-health-benefits-of-drinking-gin-for-world-gin-day-a3268481.html (Pathak,S. 19/10/17)
Content created and supplied by: viewsnblues (via Opera News )