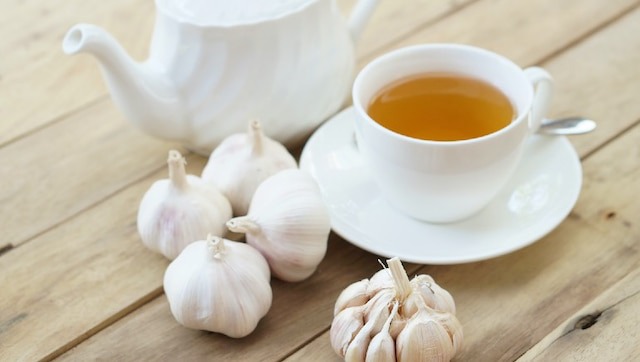 Garlic has been popular for its medicinal properties. For years it has been used for adding flavor to food, and for treating digestive distress. Besides this, garlic is known for its abilities to fight infections and controlling blood pressure. Now you can add grated or diced garlic to your food, but there's another way of including garlic in your diet. You can drink garlic tea. Yes, drinking garlic tea every day is another great way of making the most of its benefits.
Here are all the health benefits that garlic tea has to offer you: 
It improves the functioning of the respiratory system
If you have a cold, cough, sinus infection, fever, congestion, or sore throat—garlic anti-inflammatory properties can come to your aid. Because of this reason, garlic is also considered to be beneficial for people with asthma, though more research is needed on that front. 
Boosting immunity
Garlic, scientific name Allium sativum, contains the active compound Allicin. Allicin comes packed with antibacterial and antifungal properties and is known to strengthen the immune system significantly. Thus, a cup of garlic tea can help shield the body from various harmful infections and pathogens.
Anti-Cancer Properties
Research suggests that garlic has anti-carcinogenic properties. Thus, drinking a cup of garlic tea early in the morning (on empty stomach) can work wonders to prevent different types of cancer.


Weight loss benefits
Because garlic contains allicin, drinking some garlic tea can help you shed that unwanted belly fat. Garlic has proven medical benefits for helping keep your gut healthy. It is a huge part of getting your body working at its best and keeping weight off and shedding it as well.


Regulation of stomach function
Allicin facilitates the secretion of gastric juices by stimulating the mucous membranes of the stomach; besides, it interacts with proteins that can reduce the excessive activity of the stomach.
Allicin controls the stomach's action by stimulating the large intestine and thus cures both constipation and diarrhoea.
Its part in dismissing harmful microorganisms is remarkable. It ensures not to disturb the friendly organisms in the intestine but then terminates the harmful ones.It does not only improve digestion but as well as supports the discharge of abdominal gas.
Keeps your liver healthy
Drink a cup of garlic tea daily and your liver will thank you for long. Garlic contains Allicin and Selenium, both of which play a pivotal role in keeping the liver healthy.
Content created and supplied by: Priiya (via Opera News )