1. Dosa
Known as one of the most popular local chain restaurants in the San Francisco area, Dosa has made a name for itself thanks to its healthy take on South Indian food.
You will find nine Dosa locations throughout San Francisco and the surrounding area, but it all started in 2005 at its original Mission District location.
Aside from the fact that this tasty restaurant can be found all throughout the city, there are a variety of other reasons that it has become one of the best local chains.
For starters, Dosa was the very first South Indian restaurant to ever open its doors in the bustling city of San Francisco and the only one of its kind that has a strong focus on local ingredients.
Dosa prides itself on the use of locally sourced ingredients gathered from farmer's markets all over the city to ensure that every meal is fresh.
Even though Dosa is known as a chain, it is the furthest thing from your typical fast-food restaurant, thanks to an executive team of chefs from South India.
The menu focuses on a variety of different states in South India, like Andhra Pradesh, Goa, and Telangana, but they are constantly expanding their menu.
Some of the most popular items include Chicken Tikka Masala, Spicy Butter Chicken, Samosas, Rice Pulao, and so much more.
And when you aren't swooning over the flavorful food, you can be enjoying a drink at the bar where they have won guests over with their gin-centric menu.
Plus, the restaurant has one of the very first wine lists that was created specifically to pair with the Indian cuisine they are serving.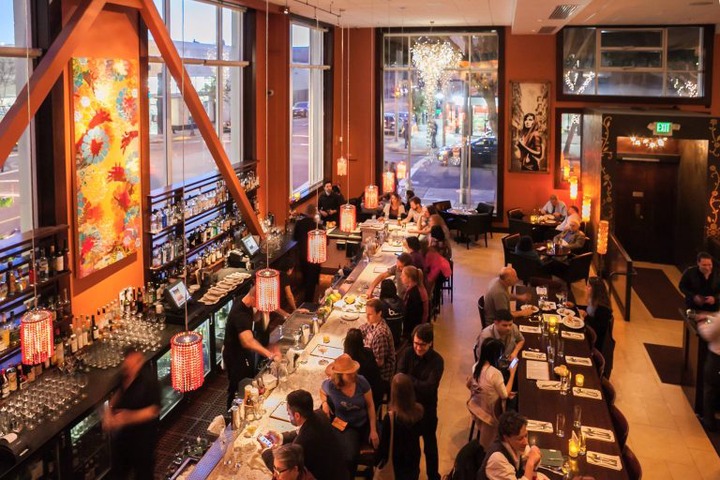 2. Gott's Roadside
First established in Saint Helena back in 1999, Gott's Roadside quickly made a name for itself as one of the best local chains in California.
Gott's manages to put a twist on classic fast-food items in the best way possible, and their seasonal items take their menu to the next level.
Gott's ability to create all of these tasty dishes using products from local businesses such as Osprey, Niman Ranch, Greenleaf, and Panorama, really sets this restaurant apart from its competition.
Panorama is a bakery that originally started in the city of Petaluma before it rooted itself in Northern California as a result of a growing restaurant fan base.
Now Gott's uses this fan-favorite bakery to supply their buns and specialty bread. Another popular, local purveyor for the San Francisco restaurant industry is Greenleaf, which prides itself on the freshness of its produce.
All of Gott's meats come from Niman Ranch, which has been growing in popularity since it opened its doors in the 1970s with more than seven hundred local farms working towards the same goal of sustainability.
And of course, we can't forget about Osprey, with their outstanding selection of freshly caught seafood that makes them one of the best suppliers in the area.
There is no shortage of Gott's locations, with nearly ten establishments located across San Francisco, Palo Alto, Napa, and more.
Burger lovers will swoon over the extensive menu, offering twelve different types ranging from the western bacon burger to the kimchi burger.
Those with special diets will be happy to know that Gott's also offers impossible burgers, veggie burgers, and turkey burgers to suit all diet types.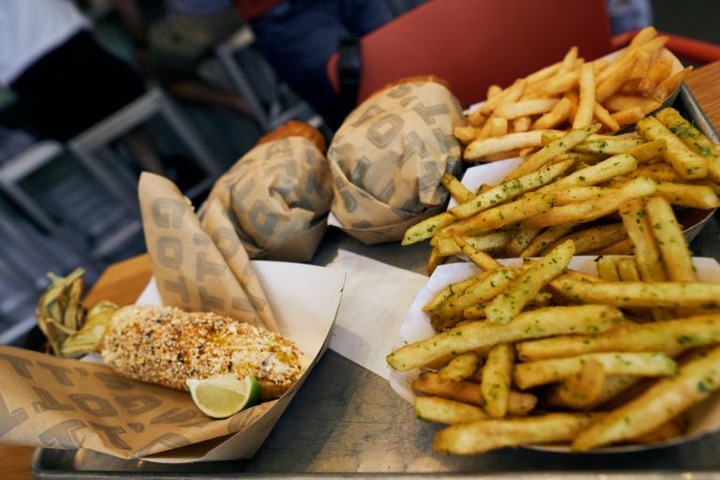 3. Henry's Hunan
Built off of homesickness, Henry and Diana Chung started Henry's Hunan back in 1974 when they felt a longing for the flavors they grew up with within their hometown.
Since then, Henry's Hunan has become one of the best local chain restaurants in all of San Francisco, with multiple locations spread out around the area.
Although all of the locations are not owned by the original family who started the business, the Henry's Hunan that is located in Natoma is actually run by the grandson of the original owner.
And while you can enjoy classic Chinese dishes like Chicken and Broccoli or Hunan Spareribs, the real gems lie in the "kitchen specials" portion of the menu.
You won't find another Chinese restaurant in town that serves up Pickled Chili with Fish Fillet, Pork Belly Cooked with Green Chili, Smoked Ham with Spiced Bean Curd, and more unique, tasty bites.
So do yourself a favor, skip your basic order of dumplings and go right for a choice that you can't find anywhere else, like Diane's Special, which is fried meat pie doused in meat sauce, parmesan, lettuce, and onions.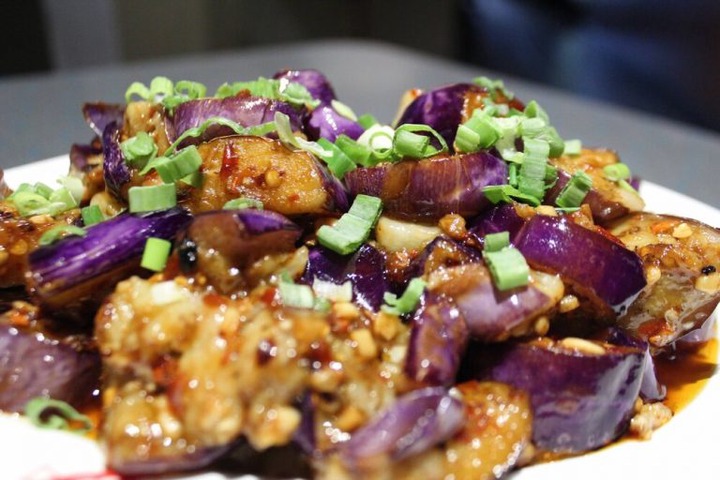 4. Lers Ros
Translated to "excellent taste of the food" from Sanskrit to English, Lers Ros has become one of the best local chain restaurants in San Francisco.
The beauty of this chain is that although it can be found in multiple locations, each establishment boasts similar high-class menus.
This chain is not even closely related to a fast-food restaurant, so be prepared to appreciate its sleek design and luxurious feel.
Lers Ros has dedicated their menu to Thai cuisine but does so with a twist to provide exciting options and mouth-watering classics.
Have your pick between their Larkin Street, Hayes Valley, and 16th Street locations, and be prepared to stay awhile.
Be sure to make reservations in advance, because regardless of the fact that there is more than one location to choose from, this chain fills up fast.
Start your night with a savory Thai Curry Puff before making your way over to a delicious dish like Garlic and Pepper Rabbit or Prawns Pad Sator.
Don't forget to check out the daily specials for all locations to get a feel for the rotating selection of unique, mouth-watering options.
And just when you think it can't get any better, you will be blown away by the flavorful coconut milk curries and extravagant soups served up in flaming hot pots.
Their dessert menu is equally divine and will have you struggling to decide between sticky rice with mango, fried banana with ice cream, and crystal chestnuts.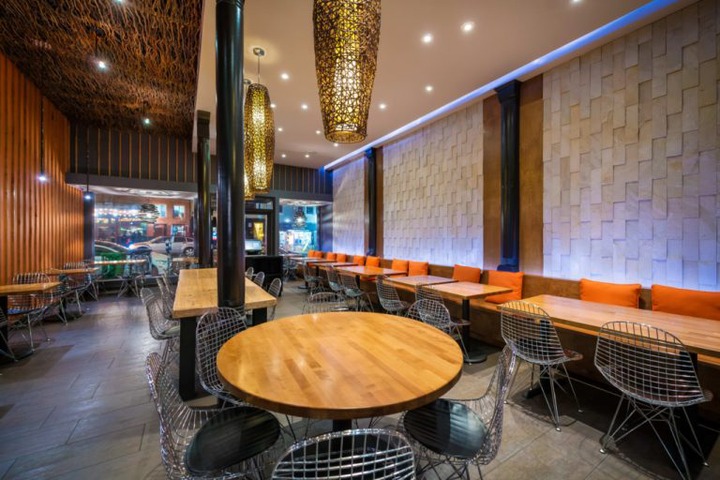 5. Little Star Pizza
With sister locations known as The Star, Little Star Pizza has expanded throughout northern California with more than five locations to choose from.
But this is not your typical pizzeria. Little Star Pizza is one of the only establishments of its kind that has earned a REAL certification for its commitment to sustainability.
This means that a meal at one of Little Star Pizza's locations can be enjoyed with the peace of mind that all ingredients are fresh and natural and responsibly sourced.
Part of what makes this chain so great is its ability to adjust for and accommodate all kinds of dietary needs and restrictions.
And unlike many other pizzerias in the area, all of Little Star's locations offer a full bar so you can enjoy a glass of wine or a pint of beer with your meal.
Start your meal off right with any of their tasty appetizers like sourdough and roasted garlic, burrata and garlic crostini, and crispy Brussel sprouts.
Then have your pick between deep dish and thin crust pizzas with fan favorites including the pesto chicken, the California, the Mediterranean, and the BBQ chicken.
But if all else fails, you can always build a pizza of your own with more than fifty toppings to choose from, ranging from classics like pepperoni to special touches like goat cheese.
Plus, the menu is always changing to feature seasonal twists like autumn's fennel sausage and broccolini thin crust pizza.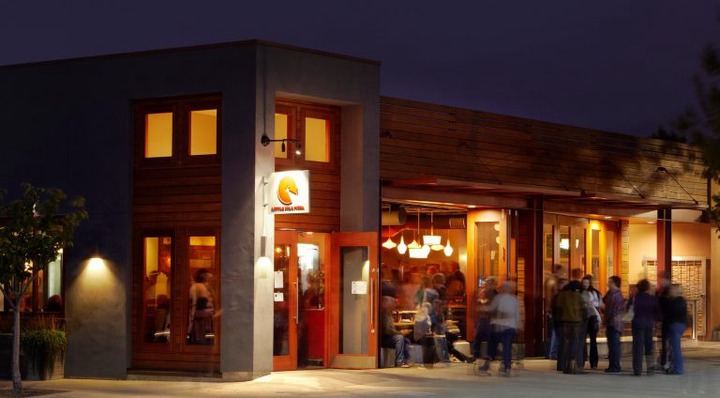 6. Mary's Pizza Shack
Another pizza joint that will be sure to get your mouth watering is Mary's Pizza Shack – and the great news is that there is always one nearby.
With nearly twenty "shacks" located around San Francisco, you are never too far away from a slice of tasty pizza created with one of Mary's family recipes.
Since 1959, Mary's has made it their mission to provide quick-service Italian food that is not only convenient but enjoyable.
They pride themselves on their use of fresh ingredients, so you never have to worry about your pizza being made with frozen dough or canned tomatoes.
And just to further express their dedication to an honest meal, each and every Mary's Pizza Shack follows an open-style kitchen so diners can see how it's all done.
Although the original owner of Mary's passed away in 1999, her legacy lived on as the business is still family-run and her special recipes remain the highlight of every visit.
The recipes are such a big hit that they have even released a cookbook filled with some of the local favorites so that visitors can attempt to make the same tasty meals right from home.
You will be intoxicated by the lingering smell of freshly cooked bread and tomato sauces, so prepare to order more than your stomach can handle.
Besides, there is nothing wrong with taking a plate of chicken parmigiana or classic lasagna back home with you to enjoy later.
Just make sure you get your hands on one of their iconic pizza pies because there really isn't anything as good as a piping hot slice or calzone.

7. Original Joe's
With a grand opening year of 1937, it's obvious that Original Joe's is one of the most loved restaurants in San Francisco.
The owners know a thing or two about traditional Italian cuisine and made a name for themselves serving up just that.
Part of what makes this Italian restaurant so popular is its family-size portions at affordable rates, all without jeopardizing the quality of the food.
And when the original establishment fell victim to a fire back in 2007, the family dedicated all their time and effort to bring Original Joe's back into its glory.
This is why you can enjoy the vintage feel of leather seats and an open kitchen design while also enjoying the comfort of modern amenities.
Once the family realized how easy it was to recreate their grandfather's vision, they opened a second establishment to make it easy for people all over San Francisco to enjoy their hearty dishes.
There is something for everyone to enjoy, with a fine selection of steaks, chicken, veal, seafood, pasta, and more, all served up in sizable portions.
Not to mention a weekend brunch menu that will have you sipping mimosas and munching on a chorizo scramble the moment you wake up.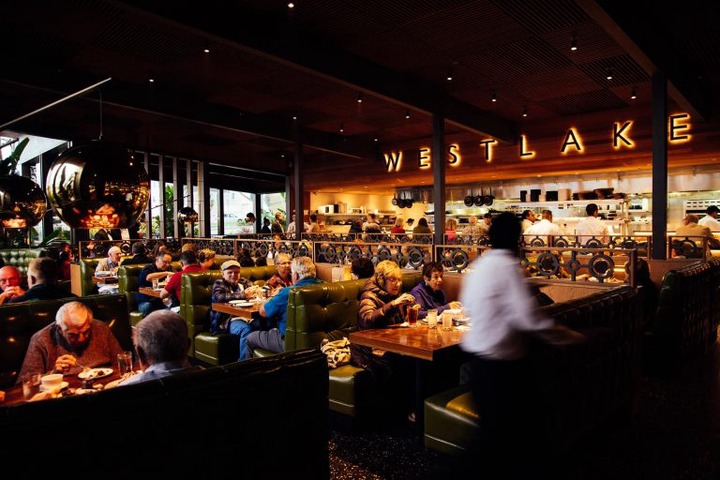 8. Super Duper Burgers
Leave it to a bustling city like San Francisco to have their very own burger joint chain with more than ten locations scattered around the Bay Area.
Super Duper Burgers will change your entire view on what makes a delicious fast-food burger and have you craving one of its milkshakes the second you cross into San Francisco.
Aside from the fact that you will always have a Super Duper nearby, you can take pride in knowing that everything about this popular chain is locally sourced.
For starters, the burgers knock the socks off of any other fast-food joint in town thanks to its use of fresh meat sourced from local farmers.
That means you never have to worry about eating a frozen meal and can rest easy thanks to the commitment Super Duper has to its community.
Take the day off from your diet because there is nothing quite like taking a bite of their Super Burger, which is about as juicy as it gets.
Make sure to pair it with a side of their garlic fries and feel free to splurge on a variety of their house-made sauces to really spice things up a bit.
And don't forget about dessert. Everybody raves about their hazelnut milkshake, but you can't go wrong with any of their frozen treats.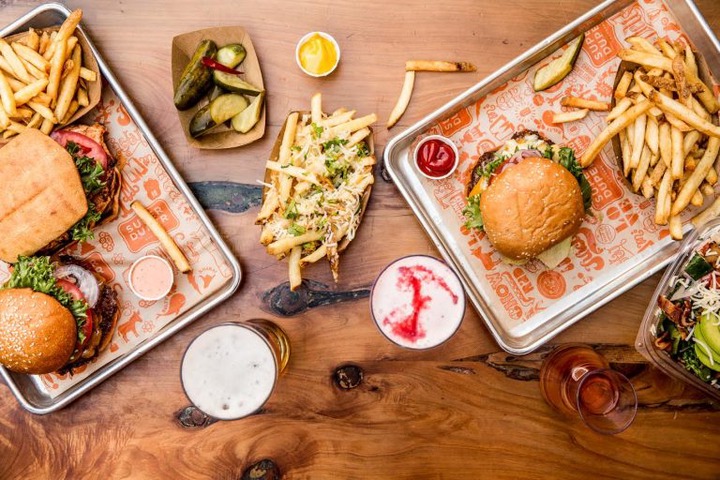 9. Sushirrito
As the name suggests, Sushiritto takes the traditional world of sushi rolls and transforms it into something completely new to create a trend that will only continue to grow.
Although this innovative restaurant only came to be in 2011, it quickly made a name for itself as the first restaurant of its kind to serve sushi in burrito form.
And in an area like San Francisco where these two types of food thrive, Sushirrito was an immediate hit that only seems to be growing by the year.
But what makes this chain restaurant really unique is that it not only combines sushi and burritos but also Japanese and Latin cuisine.
Each burrito on the menu has its own interesting combination of flavors influenced by two very different cultures and brought together to create extraordinary dishes.
A local favorite across Sushiritto's many locations is the Latin Ninja, which is made up of salmon poke, plantain chips, lettuce, Bubu, and a mango citrus sauce.
This is just one example amongst nearly ten exciting burrito choices and if all else fails, there are plenty of bowls to choose from as well.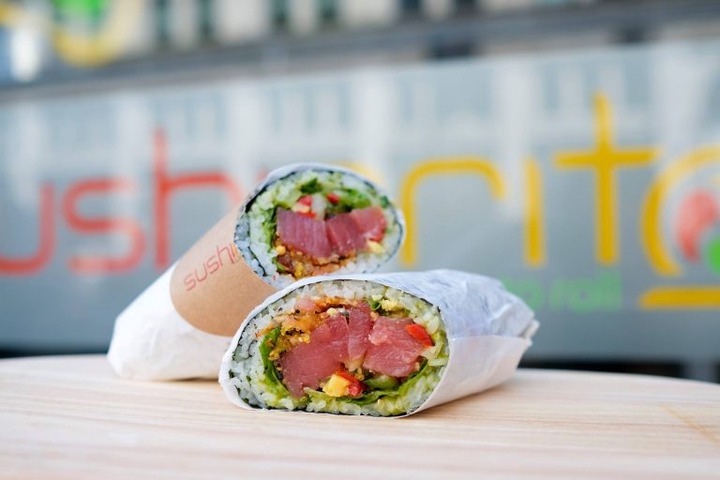 10. Tacolicious
First established in 2009 by a duo who felt the need to bring their food journey through Mexico back to the Bay Area, Tacolicious is undoubtedly one of the best restaurants of its kind in San Francisco.
Tacolicious started as a simple stand at a Bay Area farmers market, but it didn't take long for the owners to realize that the people of San Francisco were obsessed with the food it was serving up.
Soon after, Tacolicious opened up its first storefront and has seen continuous growth throughout the community ever since.
Although you won't see them flashing any sustainability certificates, they sure know how to make the locals laugh with menu items like "Mike's Cheese Dip. sustainable? no. local? nope. delicious? yep."
If that isn't honest enough for you, head straight to their taco section for options ranging from sweet potato and kale to carne asada.
And since you have to add a bit of San Francisco flair to the menu, you will find some more American options like pastrami tacos and marina girl salads for when you're in the mood.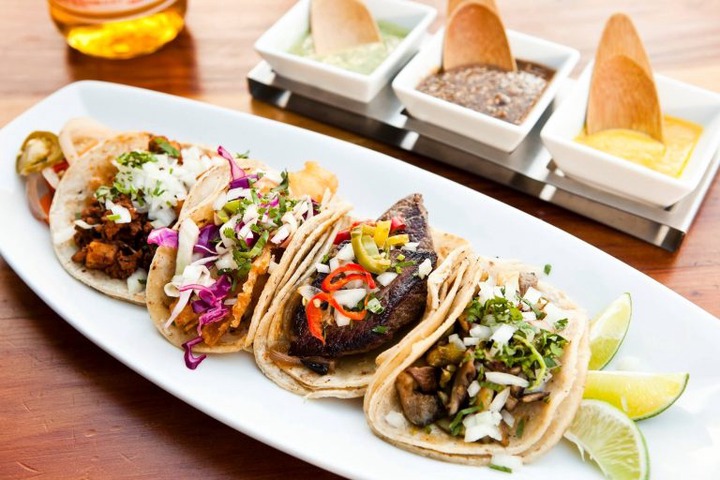 Content created and supplied by: Alberto010 (via Opera News )
Opera News is a free to use platform and the views and opinions expressed herein are solely those of the author and do not represent, reflect or express the views of Opera News. Any/all written content and images displayed are provided by the blogger/author, appear herein as submitted by the blogger/author and are unedited by Opera News. Opera News does not consent to nor does it condone the posting of any content that violates the rights (including the copyrights) of any third party, nor content that may malign, inter alia, any religion, ethnic group, organization, gender, company, or individual. Opera News furthermore does not condone the use of our platform for the purposes encouraging/endorsing hate speech, violation of human rights and/or utterances of a defamatory nature. If the content contained herein violates any of your rights, including those of copyright, and/or violates any the above mentioned factors, you are requested to immediately notify us using via the following email address operanews-external(at)opera.com and/or report the article using the available reporting functionality built into our Platform See More