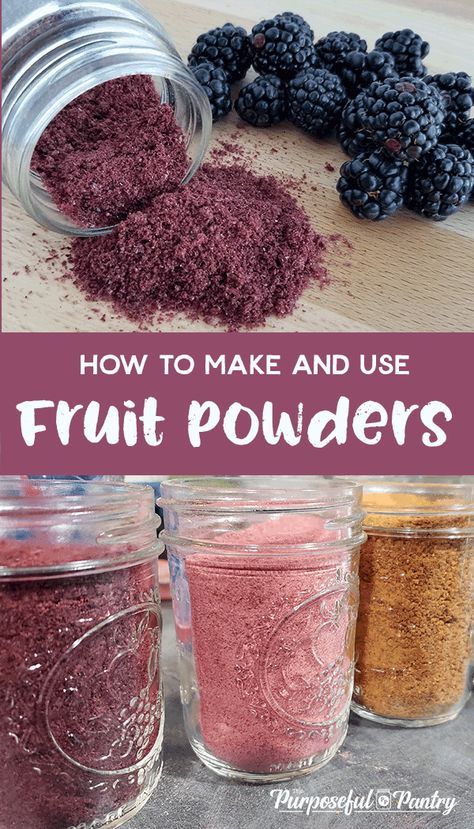 HOW TO MAKE FRUIT POWDERS
Just in case you've never experienced the magic of creating fruit powder from dehydrated fruit or fruit leathers, here's how to do it:
Dry your fruit completely (and even more than you think you might need) - usually at 135°F / 52°C using your dehydrator. If you don't own one, you can use an oven with these tips.
Use a high powered blender, a bullet type blender, or even a coffee grinder to blend into a powder.
Sift powder with a fine mesh strainer if you have lumps and seeds
Repeat if necessary.
Store in an airtight container, use desiccant packs if desired
Additional Tips:
If using fruit leather to make a powder, tear into small pieces before starting the process
Remember that fruit powder does have all the sugar that is in fruit. If you have a diet that requires restricted sugar intake, keep that in mind.
Don't have fruits in season to powder? Try powdering freeze-dried fruits, instead! This is an especially great tip if you have a project you want to do but don't have the dehydrated variety available.
HOW TO USE FRUIT POWDERS
Fruit powders can be used in so many ways to extend flavor and nutrition to everyday foods and elevate foods to a new flavor and style status.
BREAKFAST MEALS
You can add the intensifying flavor of fruit powder to:
Oatmeal: sprinkle on top of oatmeal. One of my favorites is apple powder. Added sweetness plus apple flavor with a dash of cinnamon!
Yogurt: mix with plain yogurt for color change and added flavor.
Yogurt: mix with plain yogurt for color change and added flavor.
Flavored Milk: add to milk to change color and flavor. This doesn't make super sweet milk if your kids are used to it, but you can add a tiny dash of sugar to help out with that if you need to wean them off flavored powdered mix flavors.
Cereal: adding a little extra fruit powder to cereal can give a new flavor profile to your bland cereals.
Granola - add fruit powder to create a new flavor profile. Apple cinnamon granola with added apple powder gives you a nice sweetness plus an intense apple flavor. Add some coconut powder and dried mango to a granola mix for a tropical flavor (if you are like me and dislike the texture of dried coconut)
CONDIMENTS
Salad Dressing - mix into homemade salad dressings for a fruity twist on salads of all kinds.
BREADS AND BATTERS
Make sure to experiment with the addition of powder into a baked item. You may need to add a little extra moisture as the powder will use some to hydrate itself.
Quick Bread: add an extra burst of flavor in quick breads by including fruit powders instead of more bulk. Imagine the intensity of flavor in banana bread by adding another tablespoon or two of banana powder!
Pancakes: Not just for breakfast! Extend the nutrition of your favorite pancake recipe like dessert pancakes, crepes, waffles, etc. Add some extra fruit powder to flavor to your favorite taste!
Muffins & Scones: As with quick breads, you can add an extra burst of flavor by adding to your favorite mixes to bring extra flavor without creating extra bulk. Imagine creating little blueberry muffins that were actually blue for a fun afternoon tea treat!
SNACKS
Granola Bars - when making granola bars or energy bites, add a little fruit powder to the mix, or sprinkle on top for some added flavor.
Marshmallows - if you love making homemade marshmallows, use fruit powders to color and add flavor without adding extra fruit bulk. If you want to take a huge step up - dehydrate marshmallows, powder, and mix with a little fruit powder of your choice to add to hot chocolate or sprinkle on cupcakes.
Crispy Rice treats - those marshmallowy, gooey treats can be elevated with the addition of fruit flavor to make YUMMY treats!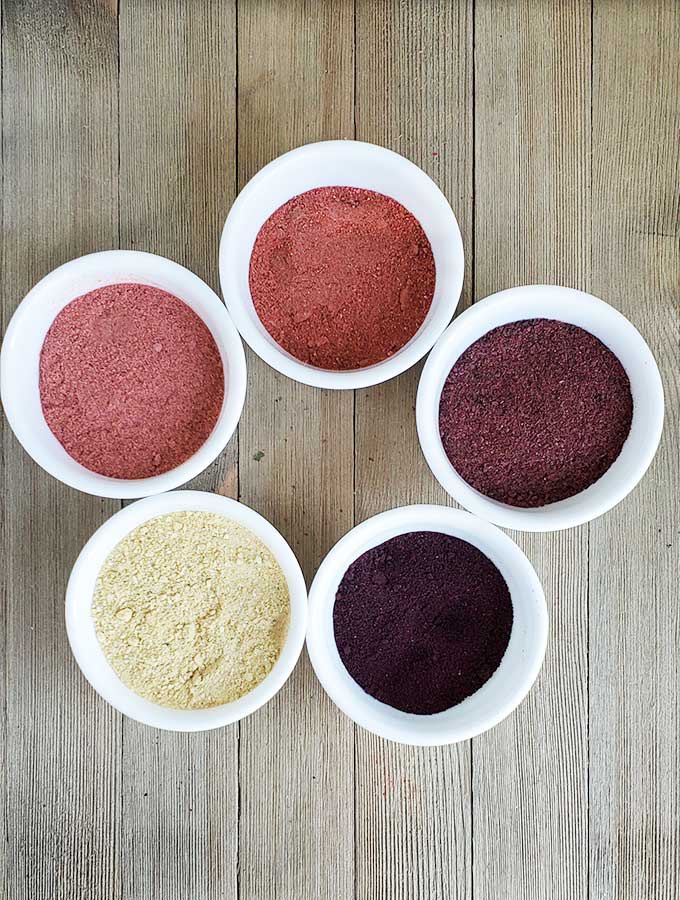 Content created and supplied by: Shanelize (via Opera News )