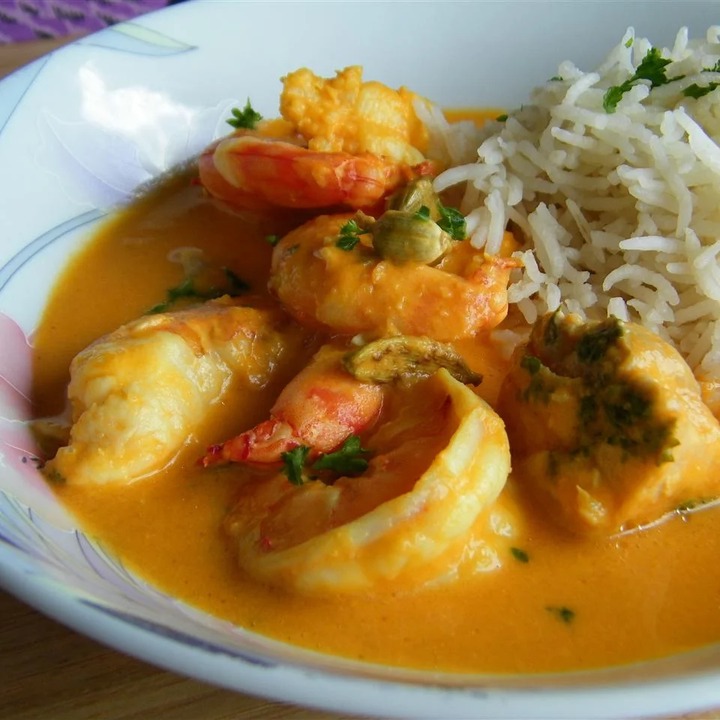 This is a subtle yet richly flavored curry that complements shrimp perfectly. A very authentic taste, and a very easy meal to prepare when you are in a hurry. Make sure you pop the shrimp tails off before adding to skillet. Serve with rice.
Ingredients
2 tablespoons peanut oil
½ sweet onion, minced
2 cloves garlic, chopped
1 teaspoon ground ginger
1 teaspoon ground cumin
1 ½ teaspoons ground turmeric
1 teaspoon paprika
½ teaspoon red chili powder
1 (14.5 ounce) can chopped tomatoes
1 (14 ounce) can coconut milk
1 teaspoon salt
1 pound cooked and peeled shrimp
2 tablespoons chopped fresh cilantro
Directions
 Step 1
Heat the oil in a large skillet over medium heat; cook the onion in the hot oil until translucent, about 5 minutes. Remove the skillet from the heat and allow it to cool slightly, about 2 minutes. Add the garlic, ginger, cumin, turmeric, paprika, and ground chile (see Note) to the onion and stir over low heat. Pour the tomatoes and coconut milk into the skillet; season with salt.
Step 2
Cook the mixture at a simmer, stirring occasionally, about 10 minutes. Stir the shrimp, fresh cilantro, and dried cilantro into the sauce mixture; cook another 1 minute before serving.
Note:
Use Indian-style chile powder or ground red chiles for this recipe, not the Mexican spice blend.
Nutrition Facts
Per Serving: 416 calories; protein 23g; carbohydrates 10.9g; fat 32.1g; cholesterol 146mg; sodium 930.4mg.
Content created and supplied by: Shanelize (via Opera News )