Grilled Potato Salad With Chiles and Basil
INGREDIENTS
4 servings
2 kg baby Yukon Gold potatoes
½ cup kosher salt, plus more
⅔cup unseasoned rice vinegar
3 Tbsp. fish sauce
1Tbsp. honey
¼ cup plus 3 Tbsp. extra-virgin olive oil, plus more for drizzling
2 red Fresno chiles, thinly sliced
1 large red onion
3 garlic cloves
2 cups basil leaves
2 Tbsp. toasted sesame seeds
METHOD
Step 1
In a large saucepan, cover potatoes with 3 quarts water. 12 cup salt, stirred in Over medium-high heat, bring to a simmer. Reduce heat to medium-low and continue to cook for another 12 minutes, or until potatoes are just cooked when poked with a skewer or paring knife. Drain and set aside to cool.
Step 2
Meanwhile, preheat the grill to medium. In a small bowl, combine the vinegar, fish sauce, honey, and 3 tablespoons oil. Add the chiles and mix well. Set aside the dressing after seasoning it with salt.
Step 3
Cut the onion in half through the root, then cut each half into 5 wedges, keeping the root in place.
Step 5 Grill the potatoes and onion wedges for 12–15 minutes, turning regularly, until browned all over. When the potatoes and onions are done grilling, wipe off the bowl you used to toss them in, then return them to it.
Step 6
Toss the potatoes in the dressing to coat them. Add basil and sesame seeds, breaking any large leaves in half. Taste and adjust the seasoning with salt if necessary, then mix to blend.
Step 7
In a serving bowl, place the potato salad. Drizzle some oil on top.
Classic Cookout Potato Salad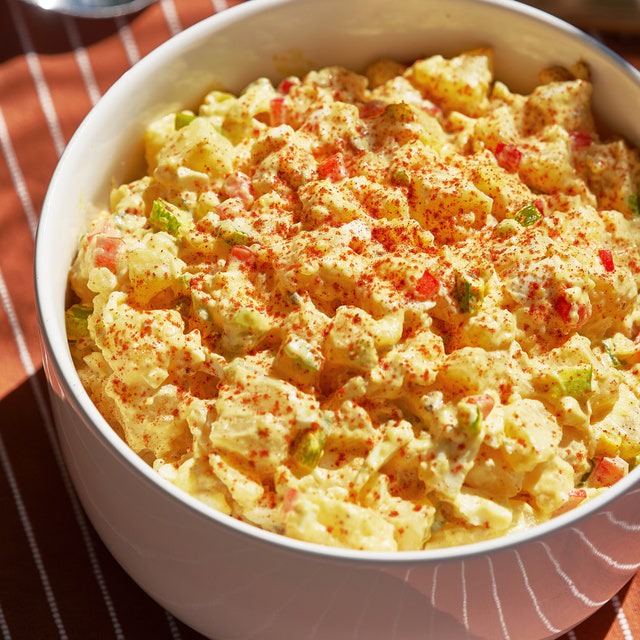 INGREDIENTS
8–12 servings
10 medium Yukon Gold potatoes (about 3 lb.)
1 cup plus 2 Tbsp. Diamond Crystal or ½ cup plus 2 Tbsp. Morton kosher salt
4 large eggs
1 cup mayonnaise
¼ cup sweet relish
3 Tbsp. yellow mustard
2 Tbsp. Dijon mustard
1 medium red bell pepper, ribs and seeds removed, cut into ¼" pieces
½ medium red onion, cut into ¼" pieces
2 celery stalks, sliced ¼" thick
Barbecue Seasoning or paprika (for serving)
METHOD
Step 1
In a medium pot over medium heat, bring potatoes, 1 cup Diamond Crystal or 12 cup plus 1 tablespoon Morton kosher salt, and 3 quarts water to a simmer; cook until cooked, 18–22 minutes.
Step 2
Meanwhile, carefully lower eggs into a large pot of boiling water with a slotted spoon and simmer for 10 minutes, increasing heat as needed to maintain a gentle boil. Place the eggs in a bowl of ice water and set aside to cool until just warm, about 2 minutes.
Step 3
Take the eggs out of the ice water. Peel and gently crack all over; discard shells. In a medium bowl, cut eggs in half lengthwise and scoop out yolks. Set aside egg whites that have been coarsely chopped. To get the yolks smooth, mash them with a fork. Combine mayonnaise, relish, both mustards, and the remaining 2 tablespoons in a mixing bowl. 1 tbsp. Diamond Crystal Morton kosher salt; combine thoroughly. In a mixing bowl, combine the bell pepper, red onion, and celery.
Step 4
Drain potatoes and let them to cool for 5 minutes. Cut into 12" pieces after peeling using a paring knife. Toss gently with the dressing, then fold in the saved egg whites. Refrigerate for at least 1 hour and up to 3 days after covering.
Step 5
Before serving, season with salt and pepper.
Sour Cream and Onion Potato Salad
INGREDIENTS
4 SERVINGS
2 lb. baby Yukon Gold potatoes
1 cup kosher salt, plus more
¾ cup sour cream
¼ cup mayonnaise
1 Tbsp. onion powder
2 tsp. Dijon mustard
1 tsp. freshly ground black pepper
1 garlic clove
1 bunch chives
¼ small red onion
½ cup sour cream and onion potato chips
METHOD
1. In a large pot, combine 2 lb. baby Yukon Gold potatoes, 3 qt. water, and 1 cup kosher salt, and bring to a boil over medium-high heat. (Yes, this is a lot of salt, but it's exactly what you need.) Because potatoes are big and dense, it takes a lot of concentrated water to make sure they're seasoned all the way through. (Plus, think about how much of that ends up in the water you pour out!) Reduce heat to maintain a simmer once the water has to a boil, and cook potatoes until fork-tender, 15–20 minutes.
2. Prepare your dressing in the meantime. In a large mixing bowl, combine 34 cup sour cream, 14 cup mayonnaise, 1 tablespoon onion powder, 2 teaspoons Dijon mustard, and 1 teaspoon black pepper. 1 garlic clove, finely grated, is added to the dressing and stirred in. 1 bunch chives, thinly sliced Half of the chives should be added to the dressing; the rest should be saved for serving. 14 tiny red onions, carefully sliced through the root end (We're trying for shallow arcs rather than chunky quarter-moons, which may not be how you generally cut an onion.) Rinse for a couple of seconds in a fine-mesh sieve (this eliminates some of that astringent raw onion flavor). Using paper towels, pat dry. Half of the onion should be added to the bowl with the dressing; the remaining onion should be saved for serving.
3. Scoop out 12 cup potato cooking liquid when the potatoes are tender; we'll use it to thicken the sauce, warm up the cold dairy, and flavor the potatoes later. Drain potatoes in a colander and set aside to cool for 10 minutes or until they are safe to handle. Crush each potato gently with your hands (it's easier to do this if you put them on a baking sheet or large plate first) and toss with the dressing in a mixing bowl.
4. Combine potatoes, dressing, and 14 cup potato cooking liquid in a large mixing bowl. This should be done while the potatoes are still warm to ensure that they absorb all of the spice. Don't worry if the dressing appears to be a touch slack and watery at first; it will absorb and become smooth and creamy. Taste and season with extra salt or a drop of potato cooking liquid if the dressing is too thick.
5. Add the reserved chives and onion to the top of the potatoes. Crumble 12 cup sour cream and onion potato chips over the top, either in large chunks if you just want to devour a bag of chips, or in little chunks if you want a more bread crumb impression.
Smashed and Loaded Crispy Potatoes.
INGREDIENTS
4 SERVINGS
2 lb. fingerling or other small (1½"-diameter) potatoes
Kosher salt
12-oz. piece Parmesan
1 large bunch chives
½ cup sour cream
2 Tbsp. hot sauce
5 oz. bacon
4 Tbsp. extra-virgin olive oil, divided
Freshly ground black pepper
METHOD
1. Fill a large pot halfway with water and add 2 pounds of potatoes. Heat 3 heaping fistfuls of salt over medium-high heat. Try some of the water! It should have a strong saltiness to it, almost like seawater. If you don't have enough, go ahead and add some more. Bring to a low boil, then reduce to a low heat. While you're waiting for the water to simmer, get some work done on the kitchen.
2. Using a Microplane, finely grate 2 oz. Parmesan into a medium bowl.
3. Transfer 1 large bunch of chives to a small bowl and thinly slice.
4. In a separate small bowl, combine 12 cup sour cream and 2 tablespoons hot sauce. To thin it out to a drizzlable consistency, add a teaspoon or two of water.
5. Place paper towels on a plate. In a large 12" cast-iron pan, arrange 5 oz. bacon in an equal layer and heat over medium. (We like to start the bacon in a cold pan and slowly cook it up—less sputtering, more crisp.) Cook for 3–4 minutes on one side until crispy. Cook for 3–4 minutes more, turning with a fork until very crisp. Drain on a platter lined with paper towels. Save the bacon-y skillet—and all of that fat!—for later, when you're ready to cook the potatoes.
6. It's time to see how those potatoes are doing. Once the potatoes have reached a simmer, cook for 6–10 minutes, or until a fork or paring knife can easily glide into one without much resistance. This will vary greatly depending on the size and type of potato you're cooking, so keep an eye on them to see if they're done. (If you're not sure, cut one open and taste it!) If you cook them for too long, they will become waterlogged and fall apart. Drain the potatoes and place them on a chopping board or a big rimmed baking sheet. Allow 3 minutes to cool somewhat.
7. Gently smash each one with the bottom of a measuring cup or a flat-bottomed mug, pressing down evenly—you want them to have flat surfaces so they crisp nicely, but you also want them to stay mostly intact. (Some will shatter into many pieces).
8. In a medium skillet, heat the bacon that has been set aside. Add a nice sprinkle of oil if the pan isn't thoroughly covered with bacon fat—you want to make sure there's enough fat in the pan at all times so that each potato gets a piece of the action. In a skillet, arrange half of the potatoes in a single layer. Season with salt and cook, stirring occasionally, for 6–7 minutes, or until golden brown and crisp beneath. 5–6 minutes more on the opposite side, flip with a metal spatula, add 2 Tbsp. oil, and continue to cook until golden brown and edges are crisp. Place on a serving dish. In a pan, heat the remaining potatoes and 2 tablespoons oil over medium heat. Season with salt and continue browning and turning, adding extra oil as needed if the pan becomes dry.
9. You can start loading your potatoes while the second batch cooks. Scatter half of the bacon over the potatoes, crumbled with your fingers. Half of the Parmesan cheese should be sprinkled on top. Pour the sour cream sauce on top. Half of the chives should be evenly distributed.
10. Transfer the second batch of potatoes to a platter and repeat the loading process with the remaining bacon, Parmesan, sour cream, and chives. Serve with a pinch of black pepper.
Content created and supplied by: Xiya (via Opera News )
Opera News is a free to use platform and the views and opinions expressed herein are solely those of the author and do not represent, reflect or express the views of Opera News. Any/all written content and images displayed are provided by the blogger/author, appear herein as submitted by the blogger/author and are unedited by Opera News. Opera News does not consent to nor does it condone the posting of any content that violates the rights (including the copyrights) of any third party, nor content that may malign, inter alia, any religion, ethnic group, organization, gender, company, or individual. Opera News furthermore does not condone the use of our platform for the purposes encouraging/endorsing hate speech, violation of human rights and/or utterances of a defamatory nature. If the content contained herein violates any of your rights, including those of copyright, and/or violates any the above mentioned factors, you are requested to immediately notify us using via the following email address operanews-external(at)opera.com and/or report the article using the available reporting functionality built into our Platform See More