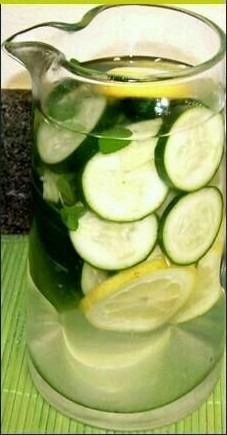 Sometimes it can be a very hard to get a flat belly. Because of all the sweet goodies. That is available on the market. Plus it's easier to just sit and watch movie then to go out and do exercise.
Plus this recipe is very to make. You do not have to use expensive products to make this recipe of detox water for your flat belly diet.
All the ingredients are very inexpensive so you do not have to go out and buy expensive products to lose weight.
So you will be needing the following ingredients?
2 litres of water.
One teaspoon of grated ginger.
One medium cucumber sliced.
One medium lemon sliced.
Also 12 small spearmints leaves or mint leaves.
You need to put all the ingredients in a large pitcher. Let it stand overnight. So it can be ready for you to drink the water right through the course of the day.
So I hope you will try this out.
Stay safe and healthy.
Sources: Google and Pinterest.
Content created and supplied by: Julliesjennilee (via Opera News )