As well as machine knitting and crafting I have all the gardens to prepare for the year, living a self sufficient lifestyle permaculture gardens are very important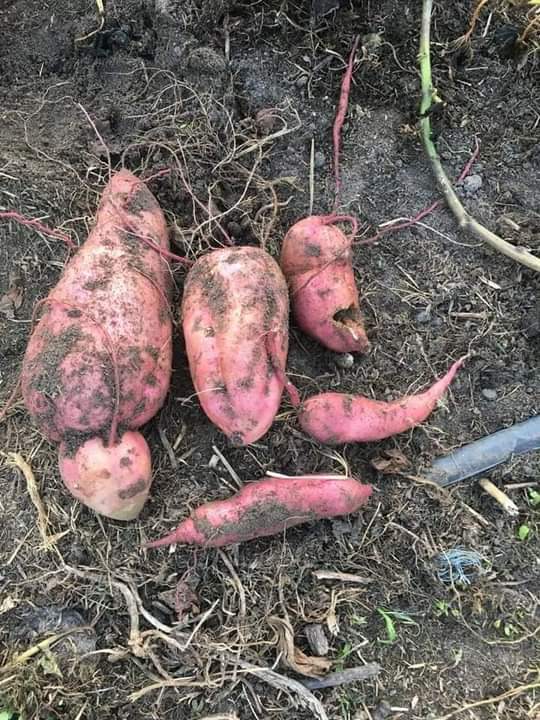 I thought I'd share the sweet potato journey with you. Did you know sweet potato is a very versatile veg. I grow them and extract the flour or startch from them, to make my own glass noodles, prawn crackers and chinese noodles too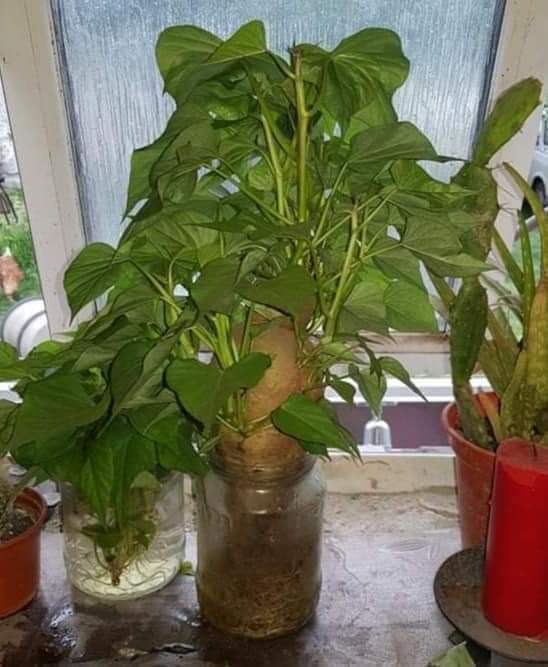 4Here's how, in spring we either use some of our sweet potato or buy in some local farmers produce, and put them laying in water, in a warm place in the house but shop bought has a chemical sprayed on them to stop you doing this. They then start growing young shoot or slips
When about five inches tall we break them off carefully, and put the slips in water to root, leaving the tuber to create more slips. Once rooted we put them into rich beds and let them grow
They grow really quickly and spread. Before the frosts they are harvested to extract the flour
Grate or use a good processor to puree them using lots of water. Put the wet pulp through a jelly cloth, or old clean pillow case to drip. The liquid is left to stand min four hours or over night
A separation occurs, pour off the liquid, then mix in fresh water and stir to wash the white statch. Let it sit and separate, pour the water off and put the flour to dry or dehydrate. Once dry powder up in a food processor or between your hands
This statch once rehydrated makes noodles. Drizzled into boiling water to cook and chill in ice water when cooked. These are then put to dry on a cool day and dry stored for all year use
Other recipes
Sweet potato and carrot soup is delicious. Sweet potato half n half with mash potatoes top off a lovely fish pie. Baked sweet potato topped with butter cheese and peanut butter
It's a great plant it feeds our family well. The plant tops also feed our piggies. Then the pigs go onto the plot to dig and clean up any forgotten roots to get the plot ready for next year's planting
Pigs are also used to prepare the ground for them, and animal bedding is also used to mulch them in the growing season. My husband is in charge of getting the slips growing this year. So when I get back to him, i will have them ready to plant.
What are you gardeners up to this year. ?? Any fancy crops ?? 
Out staples are onions, tomatoes and pootato. 
We also grow huge rhubarb plants, poppies for bakery seed, paprika for paprika powders
Chillies. 
Turmeric. 
Ginger. 
Let's see your gardens in the comments. Love to you all keep happy and well
Content created and supplied by: YourNews (via Opera News )