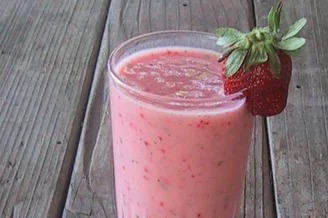 Grapefruit is a citrus fruit with a flavor that can range from bittersweet to sour. It contains a range of essential vitamins and minerals. People can consume the fruit whole or as a juice or pulp.
Grapefruit is low in calories but very rich in nutrients. It is also an excellent source of vitamins A and C.
Grapefruit is low on the glycemic index. This means that it provides nutrients but does not have a significant negative impact on a person's blood sugar levels.
A great, delicious way to cool off in the summer! Who knew fruit could taste so good?
Prep: 15 mins
Total: 15 mins
Servings: 2
Yield: 2 servings
Ingredients
1 ⅓ cups fresh red grapefruit juice
8 large strawberries
2 medium bananas, sliced
1 (8 ounce) container strawberry-banana yogurt
2 tablespoons honey
1 cup crushed ice
Directions
 Step 1
Place the grapefruit juice, strawberries, bananas, yogurt, honey, and ice into a blender. Cover, and blend until smooth.
Nutrition Facts
Per Serving: 361 calories; protein 7.2g; carbohydrates 85g; fat 1.8g; cholesterol 5mg; sodium 74.4mg. 
Content created and supplied by: Shanelize (via Opera News )