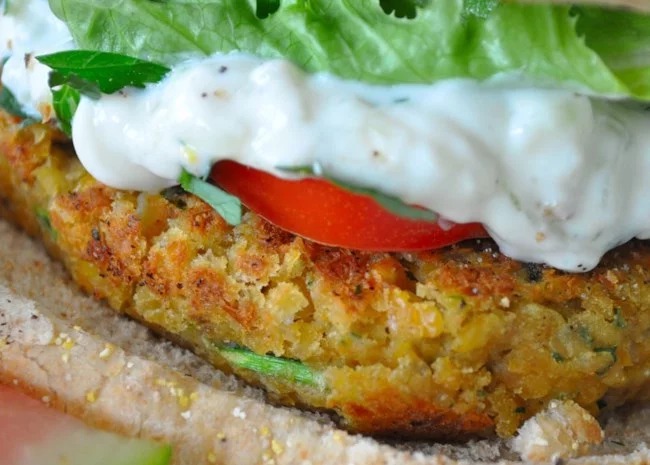 An easy, yummy way to make falafel. Serve with pita bread and your favorite tzatziki.
Ingredients
¼ cup chopped onion
1 (15 ounce) can garbanzo beans, rinsed and drained
¼ cup chopped fresh parsley
3 cloves garlic, minced
1 teaspoon ground cumin
¼ teaspoon ground coriander
¼ teaspoon salt
¼ teaspoon baking soda
1 tablespoon all-purpose flour
1 egg, beaten
2 teaspoons olive oil
Directions
 Step 1
Wrap onion in cheese cloth and squeeze out as much moisture as possible. Set aside. Place garbanzo beans, parsley, garlic, cumin, coriander, salt, and baking soda in a food processor. Process until the mixture is coarsely pureed. Mix garbanzo bean mixture and onion together in a bowl. Stir in the flour and egg. Shape mixture into four large patties and let stand for 15 minutes.
Step 2
Preheat an oven to 400 degrees F (200 degrees C).
 Step 3
Heat olive oil in a large, oven-safe skillet over medium-high heat. Place the patties in the skillet; cook until golden brown, about 3 minutes on each side.
 Step 4
Transfer skillet to the preheated oven and bake until heated through, about 10 minutes.
Nutrition Facts
Per Serving: 281 calories; protein 11.4g; carbohydrates 39.3g; fat 9.3g; cholesterol 93mg; sodium 909.4mg. 
Content created and supplied by: Shanelize (via Opera News )