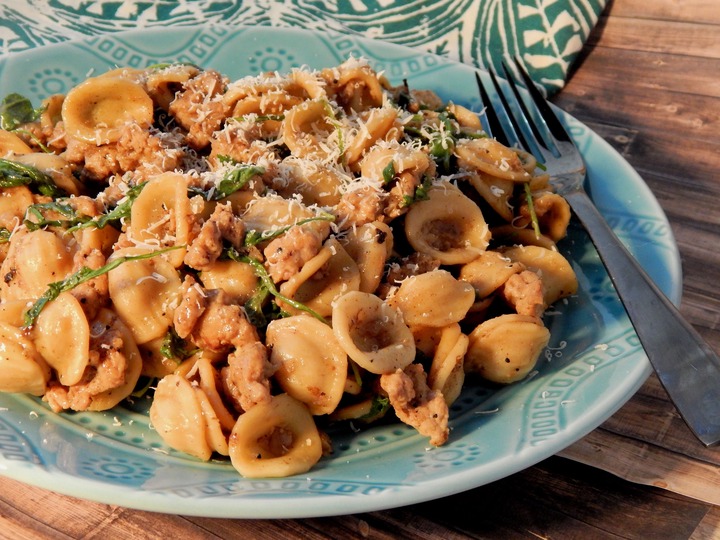 This delicious orecchiette pasta recipe only has a handful of ingredients, is very cheap to make, and most importantly: only uses one pan or pot for the entire procedure.
Ingredients
2 tablespoons olive oil
½ onion, diced
salt to taste
8 ounces spicy Italian sausages, casings removed
3 ½ cups low-sodium chicken broth, divided, or as needed
1 ¼ cups orecchiette pasta, or more to taste
½ cup roughly chopped arugula, or to taste
¼ cup finely grated Parmigiano-Reggiano cheese, or to taste
Directions
 Step 1
Heat olive oil in a large, deep skillet over medium heat. Cook and stir onion with a pinch of salt in hot oil until onion is soft and golden, 5 to 7 minutes. Stir sausage into onions; cook and stir until sausage is broken up and browned, 5 to 7 minutes.
Step 2
Pour 1 1/2 cups chicken broth into sausage mixture and bring to a boil while scraping the browned bits of food off of the bottom of the pan with a wooden spoon. Add orecchiette pasta; cook and stir pasta in hot broth, adding remaining broth when liquid is absorbed, until pasta is cooked through and most of the broth is absorbed, about 15 minutes.
Step 3
Stir arugula into pasta-sausage mixture until arugula wilts. Ladle pasta into bowls and dust with Parmigiano-Reggiano cheese.
Nutrition Facts
Per Serving: 662 calories; protein 31.2g; carbohydrates 46.2g; fat 39.1g; cholesterol 59.7mg; sodium 1359.8mg.
Content created and supplied by: Shanelize (via Opera News )