Everyone probably assumes that Mageu is for people who are bed ridden and can't chew, but there are a few benefits that come with Mageu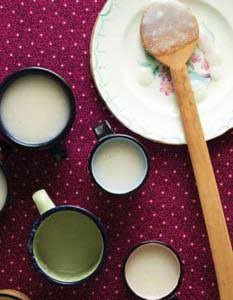 (Image from EpersianFood)
Mageu has been a huge product within the black community and it deserves a class of its own. 
What is mageu?
Mageu is a traditional South African drink that is made by fermenting mealie pap. It is non-alcoholic and is extremely popular especially among traditional groups. Wheat flour is added to the thin mealie pap, which creates the lactate-producing bacteria essential for the fermentation process.
It is gluten-free and non-acid forming. It strengthens bones, is antioxidant, slows down digestion and has a low glycemic index (which controls blood sugar levels), and it naturally relaxes body and mind. It is recommended for people with liver disorders, blood pressure, anxiety, depression, asthma and a weak heart.
It's also a great breakfast, quick and easy, optimal for growth of children. Protein also builds and repairs tissues and helps to produce hormones, enzymes, and other bodily chemicals essential for optimal health.
Comes in great flavors, from original to strawberry and banana. Mageu is enriched with additional vitamins and minerals essential for optimum health. It contains Vitamins A, B1 (thiamine), B2 (riboflavin), B6 (pyridoxine), B12 (cobalamin), C (ascorbic acid), D, E, and K.
Mageu Recipe: (taken from African Food Network)
INGREDIENTS
25 gram Creamed Sweetcorn
500 gram Maize Meal
125 gram Sugar
17 Liters Water
INSTRUCTIONS
Boil the water in a pot.
Add sweetcorn, maize meal and a little salt to taste.
Stirring occasionally, cook for 20 minutes.
Turn off heat, add sugar and leave to cool.
Pour in a container, cover tightly and leave to ferment for two days or till sour.
Before serving, taste and dilute with water if need be.
Source references: 
www.power-supply.co.za 
karmacultures.com
EpersianFood 
Content created and supplied by: ErnestRens (via Opera News )