First and Foremost, Methylated spirits are highly flammable substances that should be used with great care and as they easily consumable,especially by babies and children , they must be stored in a safe space that is not easily reachable by children.
Methylated spirits can be mixed with any body lotion or oil that one uses to moisturize their body.
Just a small amount would be enough, because, you most definatly don't wanna walk around your workplace, school , home or even the mall smelling like spirit, its smell can be quite sensitive to others.

Methylated spirit has many wonderful benefits when applied on skin.
These include :
skin brightening
skin lightening
removal of stretch marks
lighting of stretch marks
removal of marks
In some cases of acne it can be helpful ( safe to consult with your doctor first)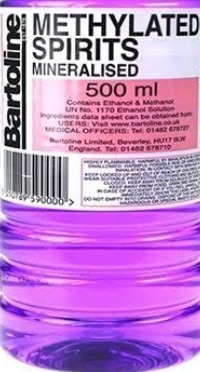 dark marks
dark inner thighs
dark spots
Preferably, as methylated spirits may dry up the skin , it so paramount that you mix it with a strong oiled moisturizing agent, so the your skin can have the necessary amount of mosture.
Content created and supplied by: TsholoXulu (via Opera News )