"Who Says Nudity is beauty" - Beautiful lady got unexpected reactions from angry Nigerians
Another beautiful Nigerian lady has gotten the best reactions after she made a tweet on Twitter which has the attentions on hungry angry Nigerians on the Media platform.
You know in Nigeria and on social media platforms people always your post against you.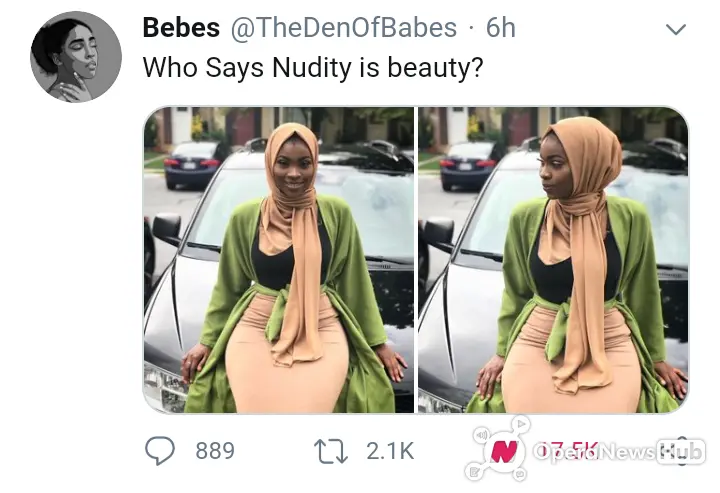 She goes by this username on her Twitter handle @TheDenofBebes, posted an innocent update with photos of her good figures and shape saying.
"Who Says Nudity is beauty"
She have no idea that this would be used against her. Some felt she's using this to get peoples attention on Twitter but others think she's against those posting with bad dress on social media platforms and showing some sacred parts on their body to people unnecessarily.
Photos of her

Come to think of it this lady have not done any wrong by saying those words. The way we dress our bed is how we will lie on it. Letting our body to be exposed just to look good doesn't make any sense. So ladies this is time you wise up.
Nigerians reactions of her post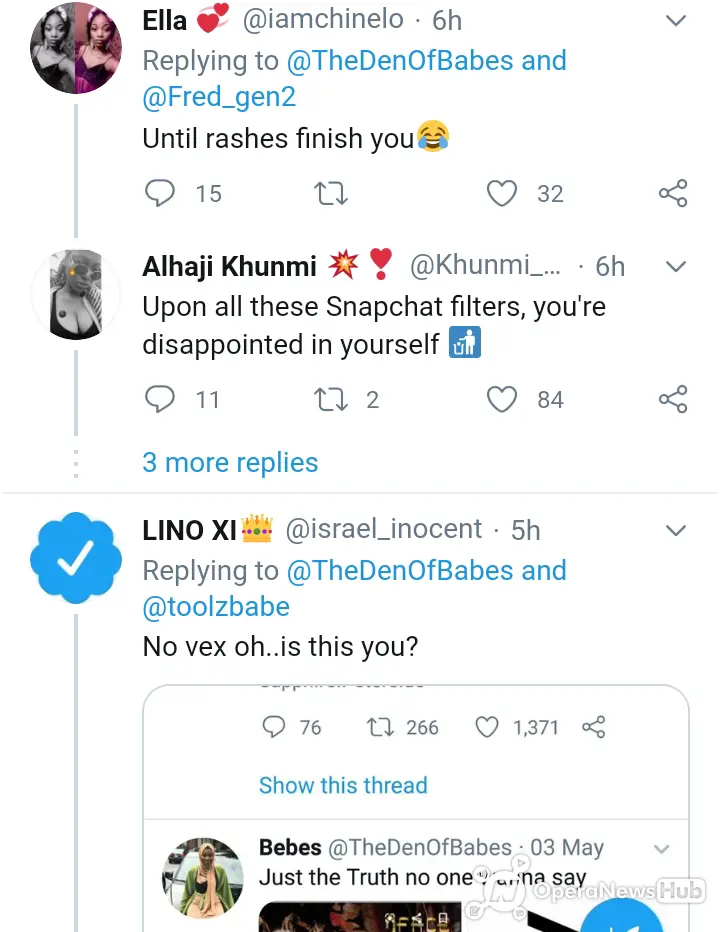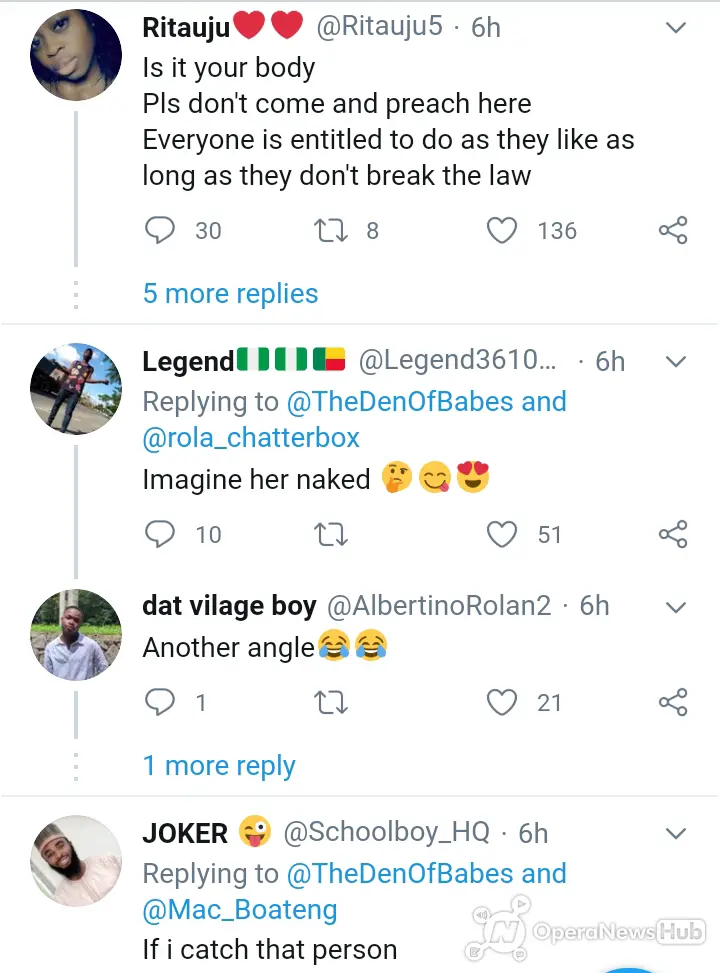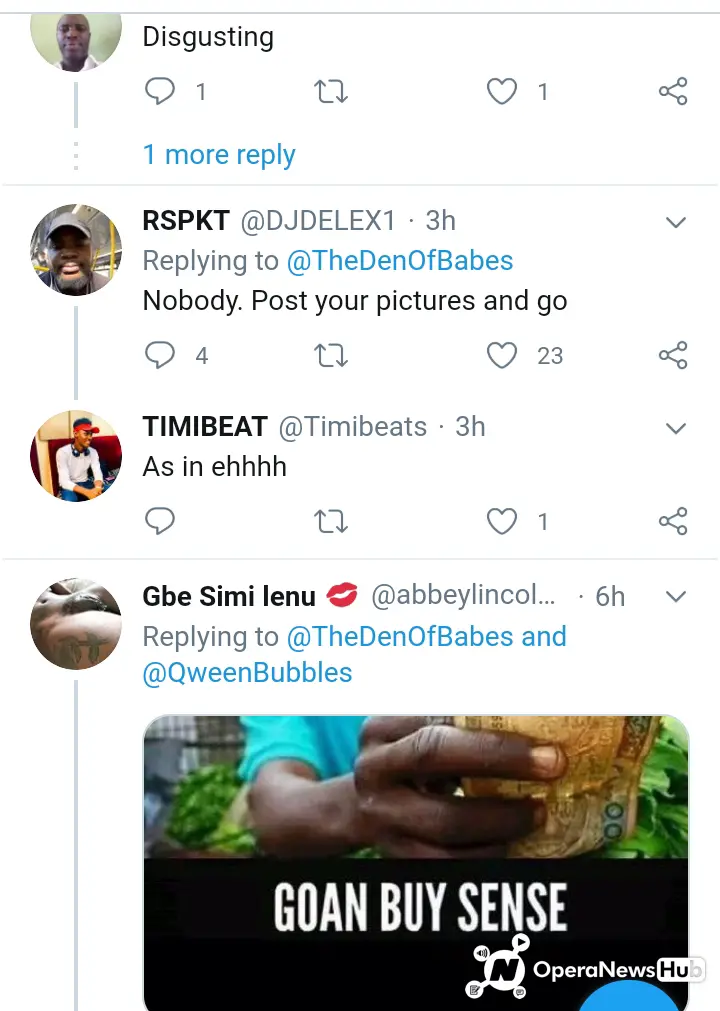 What you wear is how you present yourself to the world, especially today, when human contacts are so quick. Fashion is instant language. I firmly believe that with the right dressing code one can rule the world.
Drop your comments below on the comment box.
Always remember to share and like.
Stayed tune for more update.
Related News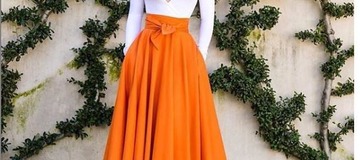 Remember The Girl With Heavy Makeup? See How Pretty She Looks Without Make Up + Reactions
2020-07-05 19:46:34
Continue reading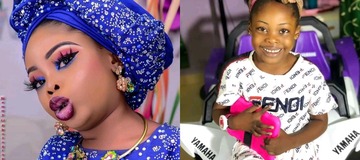 See photos of a lady who claims to be the most beautiful girl on Twitter - See what her fans told her
2020-06-29 06:37:04
Continue reading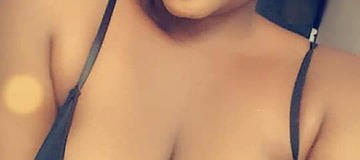 Winter Looks Inspired By 5 Insta Influencers
2020-07-09 04:38:47
Continue reading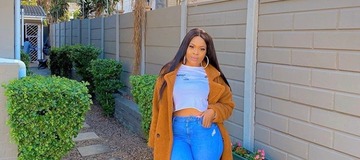 Bobrisky Flaunts Her Beauty in New Stunning Photo - See Her New Photo
2020-07-09 19:12:04
Continue reading