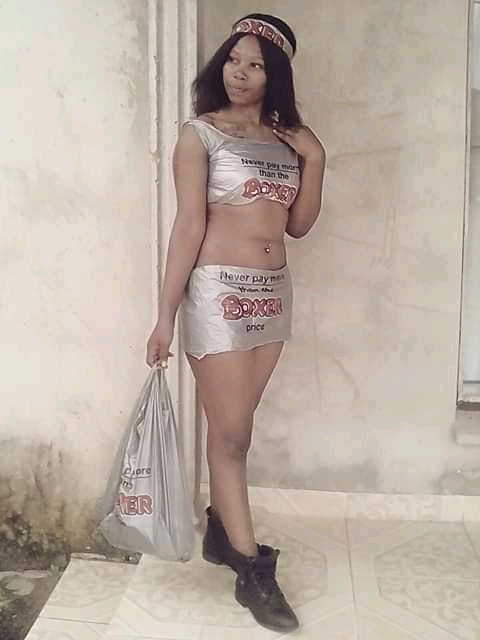 image source : Facebook
This lady went so far to create her own sense of fashion. Fashion can be confusing sometimes and many people around the world won't understand what goes in the mind of fashion designers. This lady's outfit is nothing compared to what Lady Gaga wore someday to the MTV Video Music Awards ceremony. She wore a dress made out of raw meat, yes real meat you can go to the shop and buy from the shop seller after that go home to cook the raw meat. You heard us right, Lady Gaga once wore a meat dress made out of raw meat. In fact, we will attach a picture of Lady Gaga wearing a meat dress because our readers might find it hard to believe us. As for this young SA woman, she is really pushing fashion to the limit and she is taking her fashion to places were people never go before. We think Boxer superstore won't be happy after they see this young lady's dress because she made it out of Boxer's plastics from the small dress all the way to the head band. We don't want to take anything far because if we would show the readers pictures of the famous fashion shows, they will be amazed but their fashion is not made out of raw materials such as plastics and raw meat, their fashion is made out of processed materials such as cotton wool, leather and so on. As we promise check out Lady Gaga's dress below :
Lady Gaga's meat dress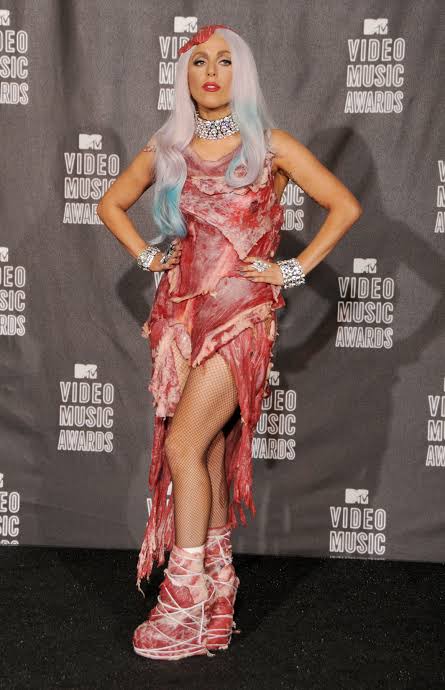 image cred : cosmopolitan.com
Source : facebook.com
Source : cosmopolitan.com
Thank you for taking your precious time to read our article.
Please don't forget to share, like, comment and follow us for more articles.
You can also follow us on our social media accounts at News Flash Gordon on Facebook and @NewsFlashGordo1 on Twitter.
Content created and supplied by: News_Flash_Gordon (via Opera News )