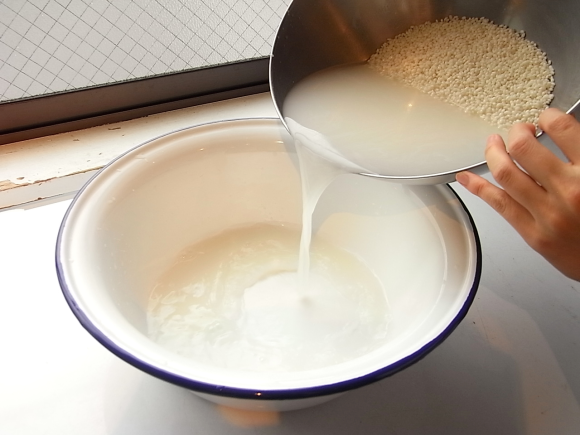 Many of us may not aware of the amazing health and beauty benefits of rice water which we just throw like any other kitchen waste. According to the ancient Asian secret, the water remaining in the pot of boiled rice has been used for centuries by women as a hair and skin treatment and even taken internally for health benefits. As per scientific research, the rice water is beneficial not only for skin or hair but solves many digestive issues, eye problems and gives protection from sun damage.  
Let's know about the amazing health benefits of rice water and how we can take out the best out of it. 
Prevents constipation
It is rich in fibre and facilitates smooth bowel movements. Also, the starch stimulates the growth of useful bacteria in the stomach promoting healthy bowel movement.
Helps stay hydrated
Rice water is one of the most effective ways of rehydrating in the hot summer months.It is a good natural oral rehydration solution, so it also prevents dehydration. Since it is a good rehydration with energy-giving fluids, it can be used when you have any kinds of infection such as vomiting or fever. Simply take the rice water in a tall glass and drink up the healthy decoction!


Regulates body temperature
Rice water is a very effective remedy for regulating your body temperature. With summer season around the corner, it is very important for you to come up with techniques to keep your body cool at all times. Rice water can be your solution for the same. It can help you beat the heat.
Helps in Booting Immunity and Metabolism
Rice water is great for improving immunity and thus keeping various kinds of infections and diseases at bay. Also, ample amounts of vitamins and minerals help in increasing aerobic metabolism. Thus, rice water is great for overall health and well-being.
Clearer skin
An important skin care step, rice water is rich in vitamin B and has a component called 'inositol' that helps promote cell growth. It also smoothens the blood flow, which in turn helps in clearing the skin.
Soothe Sunburns
Rice water can help reduce inflammation and redness in cases of sunburn. To make it extra soothing, take your rice water out of the fridge and apply it the sunburn immediately using a cotton pad.
Content created and supplied by: Priiya (via Opera News )