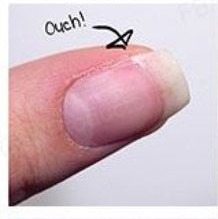 Don't you just hate it when got your nails done. Then all of a a sudden your nail just instantly start to break.
So what is the solution to this problem.
You need a medium fine buffer.
A small piece of white stretchy fabric.
Regular nail glue.
Apply some nail glue on the year. Place the piece of fabric you have on the glue. Put some more nail glue on the nail.
Place the fabric you have over the nail. Place it on the edge but not over the nail tip.
Now you let the glue dry completely.
After that start buffing the fabric piece into the shape.
File all the nail edges first.
Then gently buff the rest of the piece until it's smooth.
There you saved your own nail. Because sometimes you spend a lot of many on your nails then they just start to break instantly.
I hope it works for you.
Stay safe and healthy.
Sources: Google and Pinterest.
Content created and supplied by: Julliesjennilee (via Opera News )