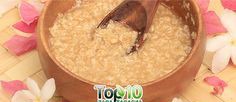 So oatmeal has many benefits. It's not only just for breakfast. No it's more than that you can eat it. And you can also use it on your skin.
Because it has antibacterial properties to heal to you make sure that you exfoliate your skin. Also get rid of it all the dead skin on your body.
That will start causing breakouts and leave your skin all oily.
So for this recipe you will be needing a few ingredients to make sure you mix a constant paste for you skin.
You will be needing the following ingredients?
Two tablespoons of honey and Oatmeal.
A half a teaspoon of lemon juice.
A few drops of tea tree oil.
Mix well to make a paste.
Make sure that you leave it on for a few minutes.
Then after that you can wash it off with lukewarm water.
I hope you try this out and this recipe works for you.
Stay safe and healthy.
Sources: Google and Pinterest.
Content created and supplied by: Julliesjennilee (via Opera News )