Snakes are no doubt scary animals, feared by many people. However sometimes that fear is unjustified. Not all snakes are harmful or venomous, some of them may actually be friending. Still finding snakes in situations that just scare you are not uncommon. Like the man in this next case. Involving a man who found a snake in his home, that was in the mood for some seafood.
In Sandton a man starts to realise that the gold fish population in his home pond is starting to decline, not knowing why this is happening, he decides to investigate. However what he comes across is scarier then he ever imagined.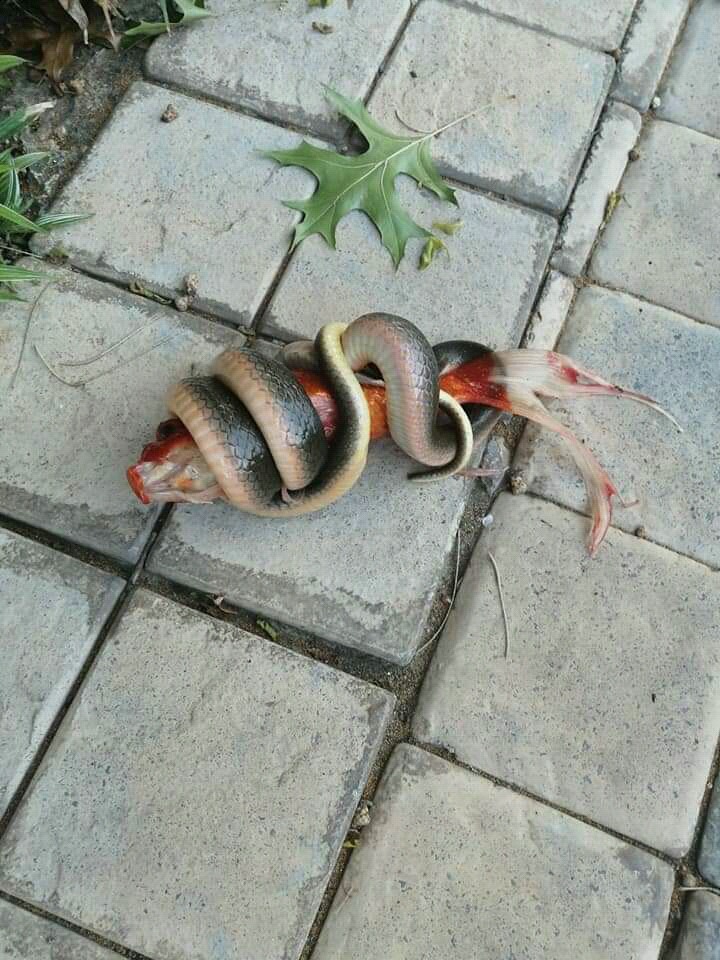 The image above was shared to a Facebook group called snakes of South Africa earlier today, in the image we see a snake coiled around a very large gold fish. The snake had attacked and then dragged the gold fish out of the water before trying to constrict it to death. This strange case shocked hundreds of people in the Facebook group and inspired many comments.
However this is just one of many scary sights we see everyday in South Africa. So I wouldn't suggest you gain inspiration from it. If you ever come across a snake in the wild do not approach. Rather call an expert to deal with it. Tell me what you think of this amazing sight and follow for more news as it happens.
Source :
https://www.facebook.com/groups/snakesofsouthafrica/permalink/10158842744091043/?app=fbl
Content created and supplied by: The_Fifth_Estate (via Opera News )