Eminem burst onto the music scene with his single "My Name Is" from the album "The Slim Shady LP" in 1999. The song and the album both went on to win Grammy Awards. This started a long-running career, and by 2021, Eminem earned 15 total Grammys. Plus, an Academy Award. His song "Lose Yourself" won Best Original Song for the film "8 Mile," Variety reported.
One of the features that most notably stood out for Eminem was his race — a white rapper. But his lyrical content also intrigued and disturbed listeners. Eminem's "obscenity-strewn, gleefully violent, spastic, hilarious and demented rhymes" led him from Detroit to working with Dr. Dre in California, per Rolling Stone. And while his shock rap created plenty of controversies, fans loved Eminem's skills. "It could all be considered attention-grabbing for the sake of maintaining a fruitful career — if it weren't so technically impressive," Billboard noted. For this reason, the publication considered Eminem to be the third-best rapper of all time.
As shocking as Eminem's lyrics are, the details of his personal life are just as surprising. From a traumatic experience as a kid to the unbelievable rise through rap's underground, Eminem jumped from the amateurs to the pros like few others. But along the way, the rapper struggled with the pressures of fame, both personally and against other musicians. This is the untold truth of Eminem.
Inside Eminem's early childhood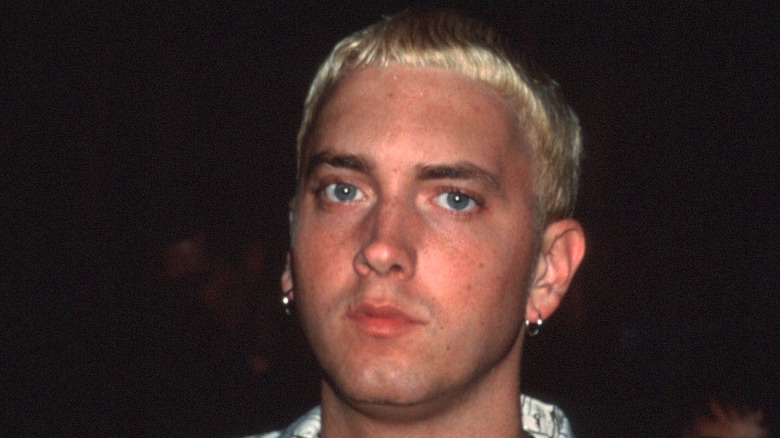 Eminem's birth name is Marshall Mathers III, after his father Marshall Mathers Jr. His dad and mom, Debbie Mathers-Briggs, married when she was 15 years old. And the couple welcomed their first child and future rapper nearly three years later. According to Salon, Eminem's mom "almost died delivering her first son at the end of a 73-hour labor."
 Eminem was born in St. Joseph, Missouri, but the family relocated to North Dakota. His parents were also musicians. The two played "in a band called Daddy Warbucks, playing Ramada Inns along the Dakota-Montana border," per Rolling Stone. But things weren't working out well between Eminem's parents, and Mathers-Briggs returned to Missouri with her son when he was two years old. Allegedly, Eminem's father displayed so much "erratic behavior" that he and his mom left "in a rush, leaving their clothes and car behind," Salon described.
Then as a young boy, Eminem grew up with just his mother and with other family members, like his father's aunt. Reportedly, young Eminem tried to stay in touch with his dad — who lived in California — by writing him letters. But his mom admitted that every letter the boy wrote bounced back, unreceived, per Rolling Stone. Eventually, Eminem and his mom moved to Detroit.
Eminem's traumatic experiences as a child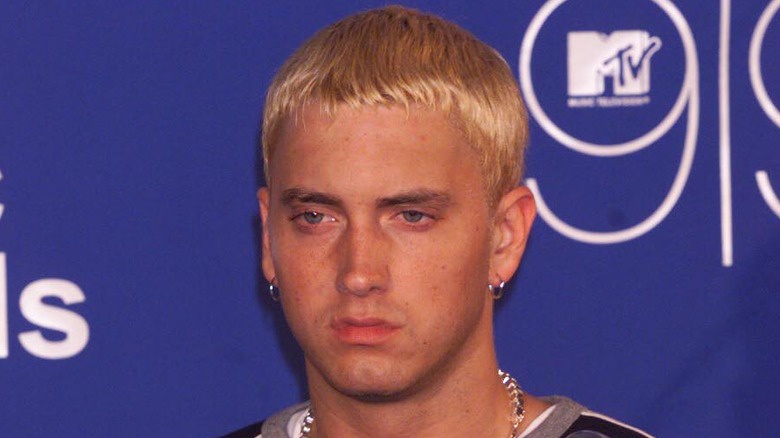 As a young man, Eminem for a time "was the only white teen in a Black neighborhood of otherwise white and middle-class St. Clair Shores," Salon reported. He was supposedly "a bit of a loner," which also made him stick out. And sadly, Eminem was the victim of brutal bullying when he was in elementary school. Allegedly, DeAngelo Bailey, one of his classmates, beat up the future musician so badly that it left Eminem in a coma at the age of nine. As a result, his mother filed a lawsuit against the school. Reportedly, this wasn't a one-time incident with Bailey. The classmate allegedly assaulted Eminem multiple times over a four-month span. And according to the lawsuit, "Bailey beat her boy so badly that he suffered headaches, post-concussion syndrome, intermittent loss of vision and hearing, nightmares, nausea and a tendency toward anti-social behavior." Sadly, the case was ultimately dropped.
In the song "Brain Damage" on his debut album "The Slim Shady LP," Eminem talks about his former bully. While many of the artist's songs are fictional stories, Eminem specifically calls out DeAngelo Bailey in the lyrics. The rapper talks about Bailey beating him up so bad that Eminem broke his nose. And outside of school, he rapped about troubles with his vision and temporarily going deaf.
Why did Eminem pursue rapping?
The first time young Marshall Mathers III heard hip-hop was thanks to his uncle Ronnie. The two listened to the movie soundtrack for "Breakin'" — a 1984 film about breakdancing. The last song on the album is called "Reckless," which features Ice-T rapping, via IMDb. This started the young boy's infatuation and Eminem was officially hooked on rap. "As soon as my mom would leave to go play bingo, I would blast the stereo," he told Rolling Stone. "I just loved hip-hop growing up as a kid … It spoke to me more than any other music I had ever heard before," he explained in an interview for "Hotboxin' with Mike Tyson." Eminem remembered that in addition to listening to Ice-T, some of his early favorites were The Fat Boys, Run DMC, and the Beastie Boys. 
"First I was a fan of the music before I even thought about rapping," Eminem explained. But his love of another artist sparked the idea to begin creating his own lyrics. "LL Cool J was the one who made me first start writing rhymes," Eminem said. "And I was like 12, 13 maybe. And it sucked. I wasn't good," the rapper admitted. Discouraged, the teenager gave up writing raps. But when he was around 15 years old, Eminem picked up writing again and fortunately stuck with it.
Sadly, Eminem's uncle Ronnie committed suicide before seeing the rapper's career play out. "I didn't talk for days," Eminem told Rolling Stone.
Eminem dominated the rap battle circuit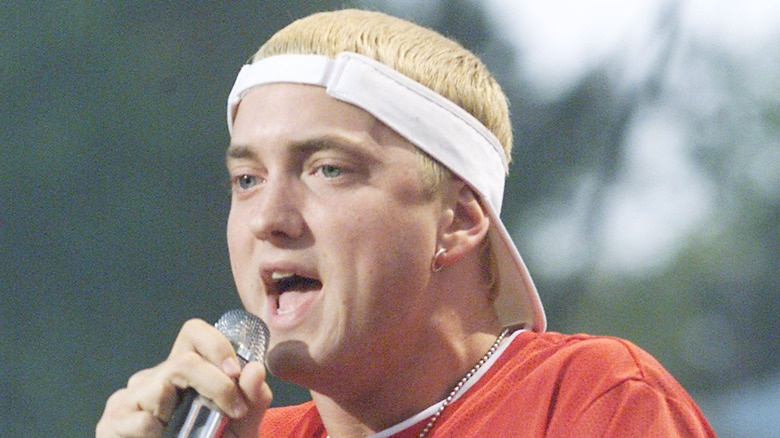 As Eminem started to write more and more raps, his friend Proof felt it was time to put his lyrical skills to the test. Proof had been making connections in the hip-hop community, while Eminem was working in "factories and stuff like that," Eminem said in an interview for "Hotboxin' with Mike Tyson." Proof invited his friend to a place called the Hip-Hop Shop and promised a crowd of about ten people to watch him try rapping. "I got some people jumping around" Eminem remembered of his first performance. The Hip-Hop Shop then started having regular rap battles and Eminem won the first competition held at the venue. The format was simply picking names out of a hat to see who his opponent would be. And this started the rapper's impressive hustle in the underground rap scene. In his early '20s, Eminem recalled performing at least three times a week at different venues.
After success throughout Detroit, Eminem started to compete outside the city he grew up in. One of Eminem's first big events was the 1997 "Scribble Jam" held in Cincinnati, Ohio. That year, Eminem made it all the way to the finals but lost the rap battle to a rapper named Juice. Though he lost, Eminem met a woman named Wendy Day who asked him to compete in the Los Angeles Rap Olympics. Once again, Eminem made it all the way to the final battle. And once again, he lost.
The start of Eminem and Dr. Dre's relationship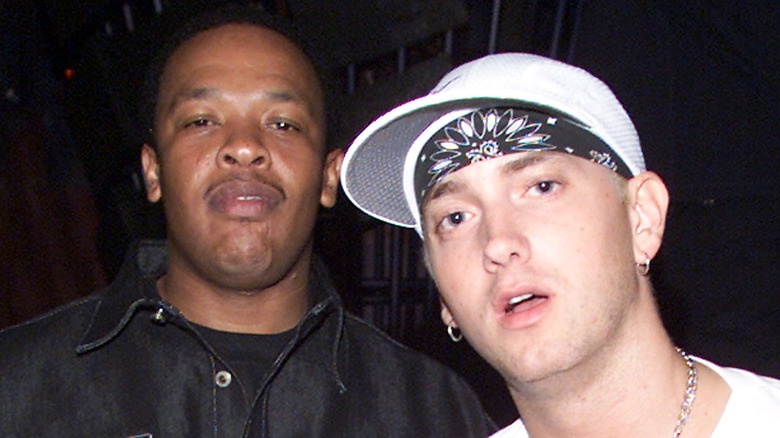 After losing the rap Olympics, "this kid Dean Geistlinger walks up to him" and asked Eminem for his CD, the rapper recalled during "Hotboxin' with Mike Tyson." Geistlinger worked with Jimmy Iovine, a record executive in Los Angeles. After receiving Eminem's CD, Iovine passed along the demo to the rapper and producer Dr. Dre. While this was going on, Eminem returned home to Detroit, devastated from losing his second big rap battle. And to make matters worse, Eminem didn't even have a home to return to. The day before flying out to Los Angeles for the Rap Olympics, Eminem found out he was evicted. But luckily, soon after returning from California, Eminem received the call that would change his life. "This is about to happen," Eminem recalled, while appearing emotional to the point of tears in the interview.
As a collaborator and mentor, Dr. Dre invited Eminem over to his home studio to start working on music together. Dr. Dre played Eminem a beat he was working on, and the new rapper immediately dreamed up a signature hook. In a clip from "The Defiant Ones," Dr. Dre recalled, "maybe two or three seconds went by and he just went, 'Hi! My name is! My name is!'" This of course referencing Eminem's future lead single "My Name Is." In another interview, Eminem described a similar take on his first studio session and remembered, "the beat started talking to me."
Eminem's frightening health scare
From the early days in Eminem's career, he rapped about substance abuse. His debut album "The Slim Shady LP" is filled with lyrics about hallucinogens ("My Fault"), alcohol, and sleeping pills ("If I Had"). And while it's difficult to determine what's based on reality versus fantasy in the rapper's lyrics, Eminem later admitted drug use in his personal life. "I used to get pills wherever I could," he admitted to The New York Times. "I was just taking anything that anybody was giving to me," the rapper added. The abuse continued and as Eminem explained in another interview with The New York Times, "I was the worst kind of addict, a functioning addict." According to the rapper, "I was so deep into my addiction at one point that I couldn't picture myself being able to do anything without some kind of drug." Then in 2007, Eminem reached rock bottom with his substance abuse and overdosed on methadone.
Reportedly, one month after the overdose Eminem started taking more pills again. But to his credit, Eminem checked himself into a hospital for rehab. As part of his journey towards recovery, Eminem revisited concert videos and interviews during the peak of his drug use. "I want to see what I looked like when I was on drugs, so I never go back to it," the rapper explained. According to Eminem, staying sober to care for his children was also the main reason for self-improvement (via The New York Times).
The beef between Eminem and Machine Gun Kelly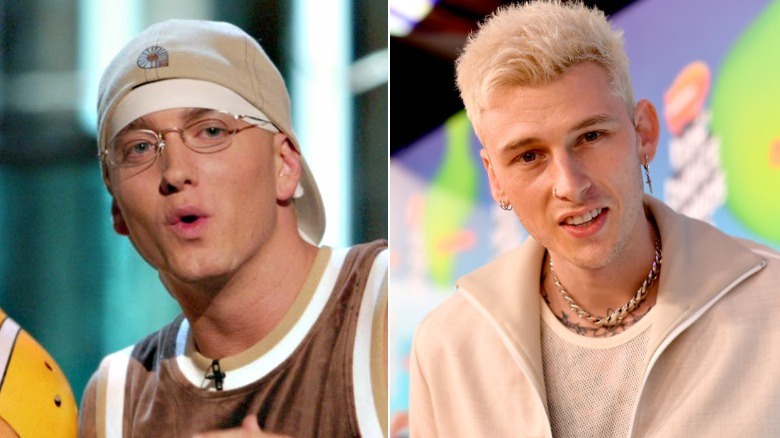 Eminem paved the way for many white rappers after him — like the late Lil Peep and Louisville rapper Jack Harlow. But Eminem publicly feuded with rapper and punk musician Machine Gun Kelly. As detailed by Vulture, the issue started partly from a 2012 tweet by MGK. He referred to Eminem's daughter Hailie as "hot as f***" when she was only sixteen years old. On Eminem's song "Not Alike" from his album "Kamikaze," he mentions MGK by name and the incident with Hailie. To counter, MGK wrote a song called "Rap Devil." In the song, MGK said that Eminem "tried to sabotage his career early on." MGK claimed that Eminem, his favorite rapper, banned him from "Shade 45," Eminem's hip-hop channel on SiriusXM radio. 
In fact, Eminem later clarified in an interview with Sway that while the comments about his daughter annoyed him, it was this alleged sabotage that prompted him to write the "Not Alike" verse. Eminem denied the claim and specifically said that he didn't care enough about MGK's music to allegedly "hinder his career." MGK said in a tweet that he was standing up for himself against Eminem to "defend [himself] from someone [he] called an idol."
Eminem then released the song "Killshot," with artwork from the single featuring MGK's cartoon face. According to Billboard, the video for the single was viewed 38.1 million times "in its first 24 hours, making it the biggest hip-hop debut and third biggest overall debut in YouTube history."
How did Eminem get his name?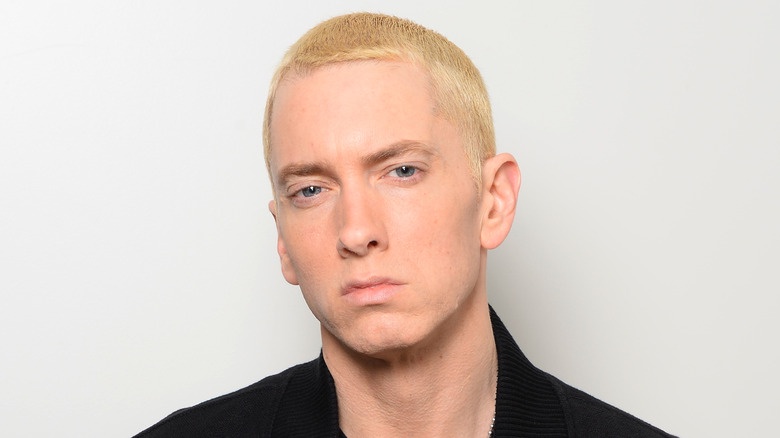 Eminem can go by many names, but his first was Marshall Mathers III. One of his earliest projects as a musician was as a member of the group New Jacks. According to Genius, the rapper appeared on the album as MC Double M — likely referencing his own initials. Around 1990, the young man began to record with one of his friends, Jay Fields. According to Fields, the white rapper began to call himself M&M, via Salon. Then this two-letter stage name elongated into Eminem.
While his artist name was Eminem, the rapper also referred to himself as Slim Shady. Two of his earliest singles, "My Name Is" and "The Real Slim Shady," both show how important the moniker is to the artist. Bizarre, one of Eminem's friends and fellow groupmate in the band D12, explained in an interview with "Vlad TV" the origin of Slim Shady. The premise of the group was for each member to have an alter ego. After Eminem's first recording project "Infinite," he reportedly received criticism of being too soft on the album. As a result, Eminem chose the name "Slim Shady" to be his alter ego.
"After that record, every rhyme I wrote got angrier and angrier," Eminem told Rolling Stone about "Infinite." And according to the rapper, the name Slim Shady just came to him while using the toilet. "Boom, the name hit me, and right away I thought of all these words to rhyme with it," he said.
Eminem's trouble with the law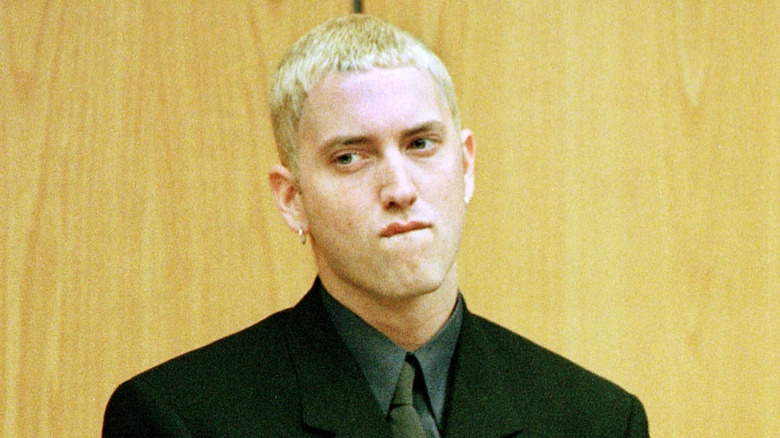 In 2000, Eminem had just released his second album "The Marshall Mathers LP." After its first week in stores, the album sold over $1.76 million units, "making for the biggest one-week sales in SoundScan history for a solo artist," MTV reported. On the album was "an extended oral sex skit" aimed at the Insane Clown Posse musical group. The Insane Clown Posse, who also came from Detroit, previously insulted Eminem on one of its songs. This bad blood between the two artists led to an altercation at an automotive store in Royal Oak, Michigan. Eminem reportedly brandished a handgun after arguing with Douglas Dail, an employee of Insane Clown Posse's record label. That same day, Eminem was involved in another incident at a nightclub, which earned him "felony charges of assault with a deadly weapon and carrying a concealed weapon without a license." Eminem pleaded guilty to the weapons charges from the two incidents and received probation, via MTV.
When looking back at his behavior at the time, Eminem recalled stardom affecting his decisions. "Fame hit me like a [expletive] ton of bricks," he told The New York Times. "I was just being pulled in every direction, doing everything under the sun, two shows a day, touring constantly, nonstop radio interviews, and I just got caught up in the drinking and the drugs and fighting and just wilding out and doing dumb things I shouldn't have been doing," Eminem explained.
Eminem publicly denounced Donald Trump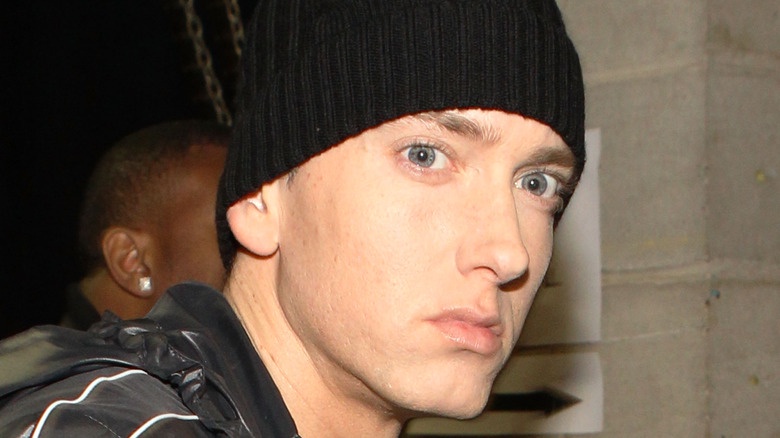 For the 2017 BET Hip-Hop Awards, Eminem recorded a freestyle video for the show. In the clip, called "The Storm," Eminem emotionally criticizes then-president Donald Trump. With no beat, only silence, the rapper condemns the politician for racism and other actions. At the four-minute mark, Eminem says, "Any fan of mine, who's a supporter of his, I'm drawing in the sand a line. You're either for or against." 
As a result of the freestyle, "a number of die-hard fans began to turn on the MC," Billboard reported. As a response, Eminem addressed these fans on his album "Revival" with the song "Chloraseptic." He claimed as a result of his stance, Eminem cut his fan base in half. Speaking with Billboard, Eminem defended his decision to speak out against Trump. "It's my artistic license to express myself," he said. "At the end of the day, if I did lose half my fan base, then so be it, because I feel like I stood up for what was right and I'm on the right side of this," he said.
Later, Eminem was under the close watch of the government. The secret service visited the rapper for "exhibiting inappropriate behavior," BuzzFeed reported. According to documents obtained for the article, an employee for TMZ reported Eminem for lyrics on his song "Framed." According to the employee, the song contained "an inappropriate comment towards President Donald Trump and a threatening comment towards Ivanka Trump."
The paternal side of Eminem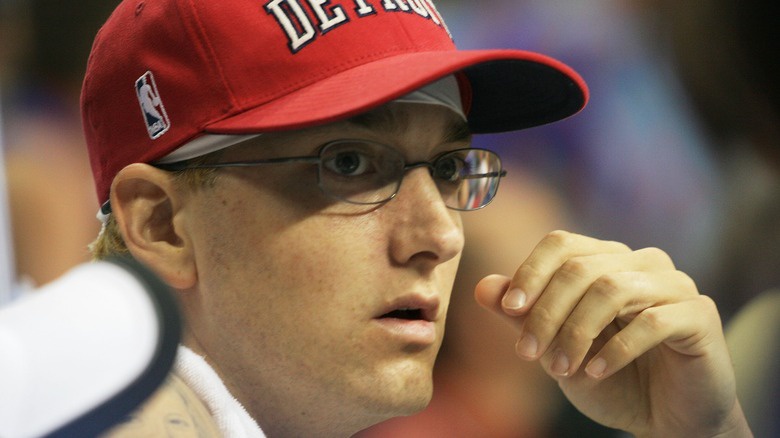 Eminem's oldest daughter is Hailie Mathers, who turned 25 in 2020. He talked about his little girl ever since his debut album "The Slim Shady LP," like on the song "'97 Bonnie & Clyde." A few years later, in 2002, Eminem talked about what it was like to be a father. "My daughter is growing up, and I'm trying to set an example for her," he told The New York Times. At the time of the interview, Eminem claimed she lived a normal life and was like her dad "to the 10th power," adding, "She's got such a personality. She runs around the house and she makes up little sayings and little phrases."
As Hailie grew older, Eminem still adored his first child. "She's made me proud for sure," he admitted in an interview on "Hotboxin' with Mike Tyson." The rapper explained how she graduated from college with a 3.9 GPA. In addition to Hailie, Eminem revealed he helped raise a niece. He said the young woman was "pretty much like a daughter to me" and was 26 at the time of the interview. And the rapper detailed that he also had another daughter who was 17. "When I think about my accomplishments that's probably the thing I'm the most proud of," Eminem said, "is being able to raise kids." He also praised his children for support throughout his career — "they've helped me through so many things," he told The New York Times.
The story behind 8 Mile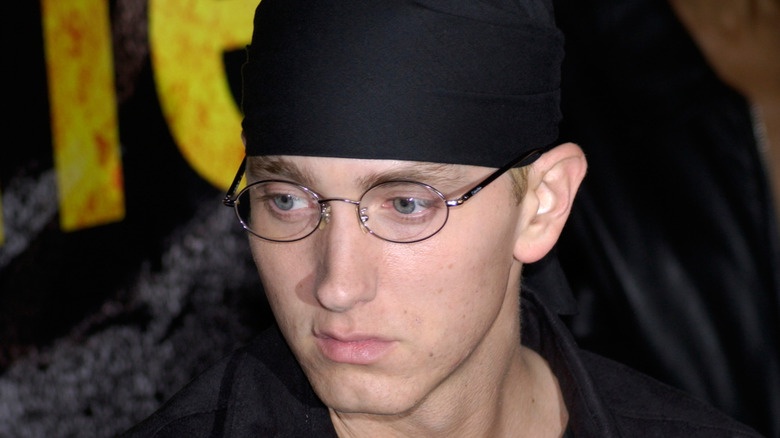 The movie "8 Mile" featured Eminem in his first acting role, playing the role of Jimmy. And "despite protestations from the star and everyone else associated with the film," The New York Times reported the story was "closer in biographical outline to Marshall Mathers III than not." Eminem clarified that he spent his childhood in a melting pot of cultures on the "borderline of what separates suburb from city," in Detroit. The rapper said, "I had the friends who had racist redneck fathers and stepfathers. I had Black friends. It's just American culture.'"
Eminem reportedly wanted to make the story believable while filming, even going as far as to get real rappers in Detroit, no matter the cost. For example, Gerald L. "Strike" Sanders who played Lyckety-Splyt in the film was in trouble with the law at the time. According to the rapper, Eminem "bailed me out on my attempted murder case," he told Grantland. Allegedly, Eminem gave Proof money to aid Strike.
For the rap battle scenes, the crew modeled the venue after the place Eminem used to rap growing up. But he admitted the situation was different with a bunch of cameras around. Eminem said, "not only did I know who I was facing, but I knew the scenario." The rapper added, "In a real battle tournament back then, I wouldn't know who my opponents were. I'd just stack a few punch lines up and mostly freestyle about the guy in front of me."
Eminem's relationship with Brittany Murphy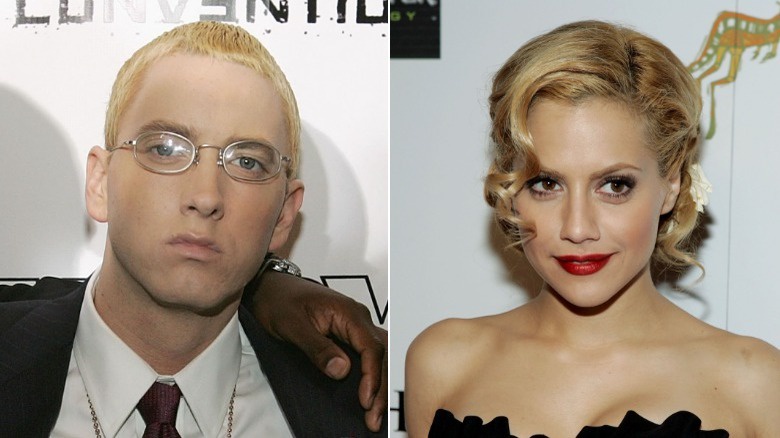 In the film "8 Mile," the late actor Brittany Murphy played the on-screen love interest for Eminem's character. But outside of shooting, the media speculated that the actor and the rapper were involved romantically. "Me and Brittany became friends," Eminem said in an interview for MTV. But when asked if he was involved with his co-star, Eminem said "I'll never tell," in the same voice Murphy used in the film "Don't Say a Word."
In another interview for MTV, Murphy described her side of the story. "Marshall is," she began, "one of the most funny, honest, professional, hard-working actors I've ever worked with, if not the most." She added that in her opinion, the rapper was "Such a hard worker, he blows my mind."
After Murphy suddenly died, Eminem detailed how he felt losing his friend. "It's crazy because at one point we were very close and she was a really good person," he told Vibe. Eminem went on to explain how it was crazy to see her tragedy, plus other similar tragedies in the entertainment industry.
Eminem's softer side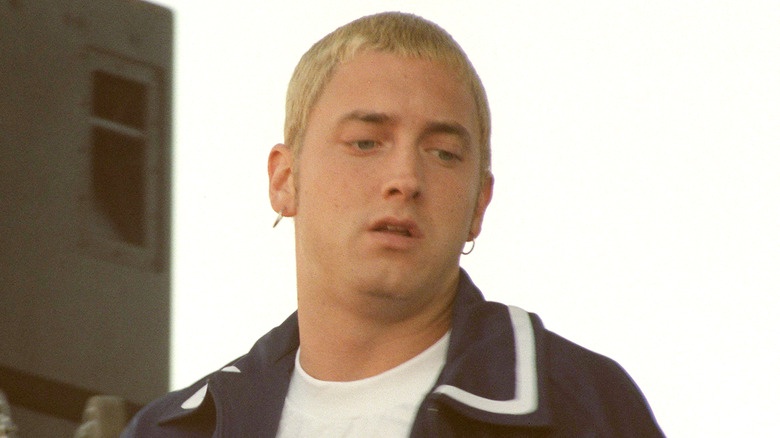 Outside of his public image with graphic lyrics and controversies, Eminem helped others through philanthropic efforts. His most high-profile effort is The Marshall Mathers Foundation. The rapper created the charity organization in 2002 to provide "assistance to disadvantaged and at-risk youth primarily in Detroit, Michigan and its surrounding communities." Almost 20 years later, Eminem enlisted his friend, collaborator, and rapper Royce da 5'9″ to help with the charitable efforts. As reported by The Detroit News, Royce da 5'9″ became the foundation's "director of community engagement and social justice initiatives." 
In addition, both men helped out during the COVD-19 pandemic. Eminem donated meals, which he called "Mom's Spaghetti" referencing a line from the song "Lose Yourself," to hospitals in Detroit. Also, in 2020, Eminem pledged $250,000 to the city of Detroit via The Marshall Mathers Foundation. Twitter founder Jack Dorsey added to this donation, gifting $750,000, The Detroit News reported.
Even early in his career, Eminem helped other organizations raise funds for charitable causes. In 2005, he worked with the Eight Mile Boulevard Association to help children in the southeastern part of Michigan. The rapper autographed and personalized bricks that were then "auctioned on eBay with a copy of the movie 8 Mile and a Certificate of Authenticity," via PR Web.
How much is Eminem worth?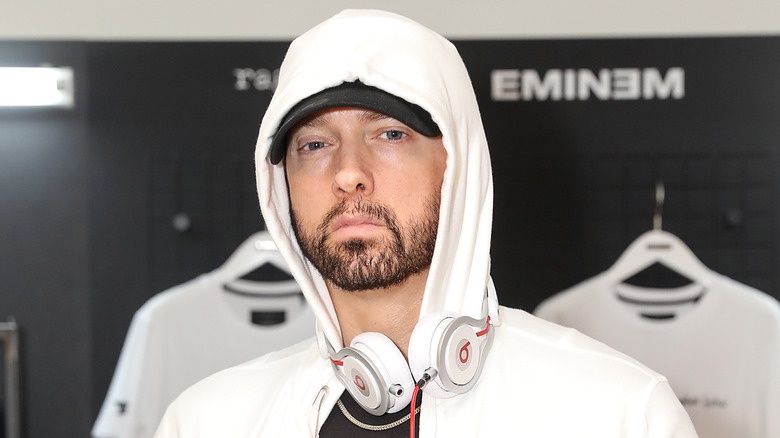 In his long career on the charts, Eminem has been one of the most successful artists ever. As of 2021, the Recording Industry Association of America (RIAA) placed Eminem in the top 30 musical acts in terms of certified units with 46.5 million units. This included two albums, "The Marshall Mathers LP" and "The Eminem Show" that were diamond certified — at least ten times platinum. And in addition to his music, Eminem's acting appearance in "8 Mile" and its smash hit "Lose Yourself" also add to his impressive bank account. According to Celebrity Net Worth, Eminem was worth $230 million as of 2021.
One of Eminem's biggest first purchases was a spectacular mansion outside Detroit. The rapper purchased the home in 2003 from Charles Conaway, the former chairman and chief executive of Kmart, via The New York Times. The rapper purchased the home for $4.8 million, a steal considering the purchase price was $1 million less than the asking price. At the time of the sale, Conaway was under investigation for financial issues while leading Kmart. The home featured a "two-story, 1,500-square-foot entertainment room, rare-wood paneling" in Oakland County, Michigan. And this was quite an upgrade for Eminem, who moved from a "$1.48 million brick colonial." According to CBS, the rapper listed the home in 2017 for just under $2 million.
Content created and supplied by: Ilovemt100 (via Opera News )
Opera News is a free to use platform and the views and opinions expressed herein are solely those of the author and do not represent, reflect or express the views of Opera News. Any/all written content and images displayed are provided by the blogger/author, appear herein as submitted by the blogger/author and are unedited by Opera News. Opera News does not consent to nor does it condone the posting of any content that violates the rights (including the copyrights) of any third party, nor content that may malign, inter alia, any religion, ethnic group, organization, gender, company, or individual. Opera News furthermore does not condone the use of our platform for the purposes encouraging/endorsing hate speech, violation of human rights and/or utterances of a defamatory nature. If the content contained herein violates any of your rights, including those of copyright, and/or violates any the above mentioned factors, you are requested to immediately notify us using via the following email address operanews-external(at)opera.com and/or report the article using the available reporting functionality built into our Platform See More