Trevor Noah is one of South Africa's most talented comedians. He has the capacity to make light of serious real-life issues while yet bringing them to the public's attention. The comedian, who is also a number of other things, is so good at what he does that questions about his background are becoming more popular these days. Trevor Noah's parents ignored the constraints of apartheid-era South Africa at the time, married, and had a child. His parents, who gave birth to him as a crime, as he put it in his book "Born a Crime," are less well-known than he is, but we discovered some interesting facts about them.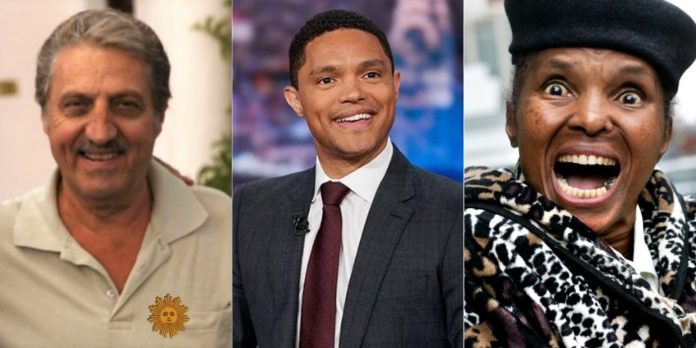 Trevor Noah's Parents Are a Swiss-German Father and a South African Mother
Trevor Noah, now 37, was born in Johannesburg, Gauteng, South Africa, on February 20, 1984, to Robert Noah and Patricia Nombuyiselo. His father, Robert, is a Swiss-German immigrant to South Africa, and his mother, Patricia, is a South African Xhosa woman. Robert was naturally categorised as white under apartheid South Africa, while his partner Patricia was classified as black. Trevor, on the other hand, was classified as a minority.
Trevor Noah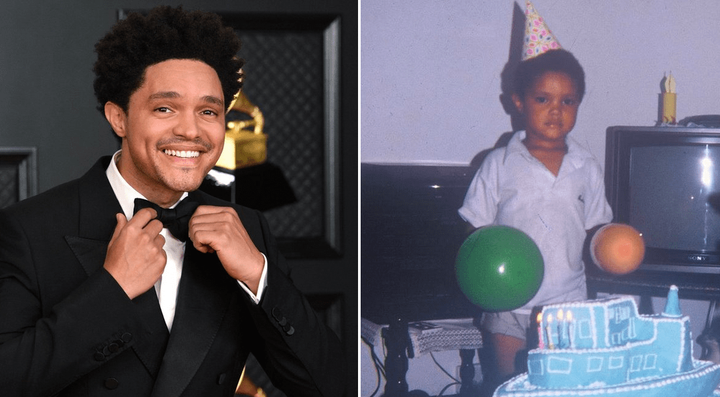 Robert moved in Johannesburg, South Africa, as a 46-year-old to oversee the establishment of a network of Swiss-oriented supermarkets in the country. Patricia, on the other hand, lived and worked in Hillbrow, a varied suburb in Joburg that featured many white inhabitants who were opposed to racism. Perhaps Robert was one of these white individuals.
Trevor Noah's parents were claimed to live in the same building, where they met, became friends, and ultimately fell in love. Because apartheid regulations prevented it, Patricia didn't want to marry Robert outright, but she did want to have a child with him as a way of opposing the rules. Robert, on the other hand, objected because he would have no rights to any (colored) children born as a result of this. With the passage of time, he changed his mind and agreed to Patricia's wishes, resulting in the birth of Trevor Noah.
Facts About Robert Noah, Trevor's Father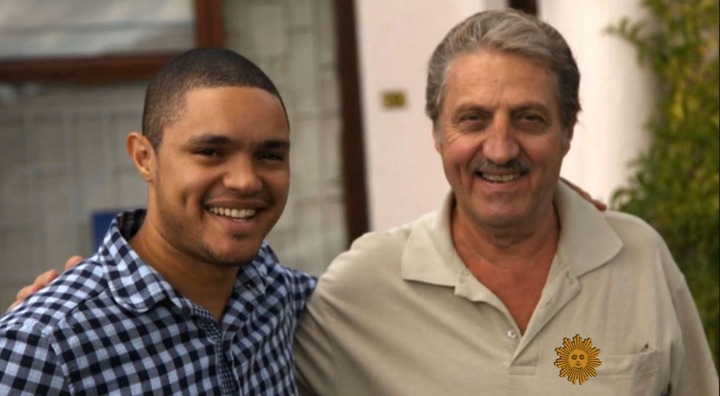 Trevor Noah and his father Robert Noah
Full name: Robert Noah
Nationality: Swiss-German
Date of birth: Unknown
Age: Unknown
Age he met Trevor's mum: 46 years old
Occupation: Businessman
Current marital status: Unknown
Many people in South Africa had never seen a man like Robert Noah before. At the time, many white men would have been hesitant to consent to have a kid with a black woman, but he did. Robert, on the other hand, is a private individual, and little is known about him in the public eye. Trevor's mother, for example, remarried later, but nothing is known about Robert's mother. However, he worked as a chef in Canada and New York before relocating to South Africa to establish a network of Swiss-owned supermarkets, according to what we've gathered.
Later, in Johannesburg, South Africa, Robert opened the first integrated restaurant with a special license to serve black people. The enterprise was a huge success, despite the fact that many whites petitioned the government to shut it down. Initially, it was reported that he failed to maintain the restaurant clean, causing health concerns, however this was not the case. He was subsequently obliged to close the restaurant in order to avoid the apartheid government's disturbances, despite his refusal to create separate restrooms for black and white people.
Meet Patricia Nombuyiselo Noah, Trevor's Mother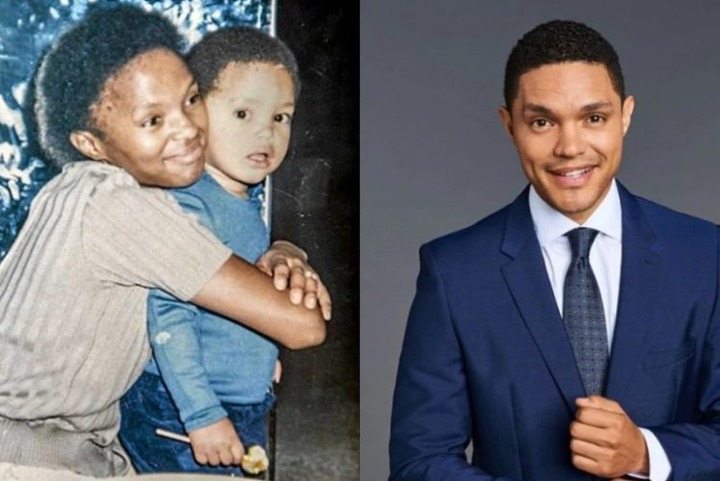 Trevor Noah and his mother Patricia Nombuyiselo
Full name: Patricia Nombuyiselo Noah
Nationality: South African
Date of birth: Unknown
Age: Unknown
Age she met Trevor's father: 24 years old
Occupation: Unknown
Current marital status: Divorced (Ngisaveni Abel Shingange)
Patricia Nombuyiselo is a member of the Xhosa tribe of South Africa. In a Transkei missionary school, she learnt to read and write. She soon got work in a factory, where she earned enough money to buy a daily meal. Knowing she could do better, she traveled to Soweto at the age of 21 in search of greener pastures, enrolling in a secretarial school and gaining the skills she needed to forge a better life for herself.
She illegally borrowed an apartment in Johannesburg from a foreigner while working as a typist for a multinational pharmaceutical firm. Patricia was so good at her job that after a while, she was promoted to the head of the clerical unit. She was able to provide for herself and her son in a quiet manner thanks to her new profession.
Were Trevor Noah's Parents Married and What was the Implication?
Trevor Noah's parents were not married at the time he was born. The two were well aware of the implications of their connection, which frequently placed Patricia in jail. She intended to conceive and have a child for her white partner, Robert, as a method to rebel against the apartheid system.
Which of Trevor Noah's Parents Had More Impact on His Upbringing?
Patricia kept her romantic relationship with Robert a secret because she didn't want to get in trouble for breaking the rules prohibiting black women from dating white men. When she found out she was pregnant, she did everything she could to avoid meeting Robert in public, and she continued to do so after Noah was born. Trevor Noah's parents shared a bond with him that is uncommon among today's South African children.
Trevor Noah spent the majority of his childhood with his mother. He stayed with his maternal grandmother, Nomaliza Frances Noah, for weeks at a time when his mother was arrested and imprisoned for breaking one or more apartheid regulations. The youngster was always perplexed as to why his father was rarely there, but when barriers between white and black culture began to crumble, he was able to gain more access to his father, albeit in a subtle manner.
Patricia would often walk down the street with a wide space between herself and her child so that no one would mistake her for Noah's mother. Robert, on the other hand, would meet them in the park, but if little Trevor spotted him and ran up to him, yelling daddy, he would often speed away until they were safely out of sight. At other times, the three family members would congregate in Robert's home, which was the safest place for them to be once inside.
So, while Trevor Noah appeared to spend more time with his mother than with his father, he wasn't completely absent, and when the opportunity arrived, he bonded well with him. However, when he was about 13 years old, his father relocated to Cape Town, and he didn't hear from him for the next 7 years. His mother, on the other hand, once persuaded him to go look for his father, and he did so. When Trevor saw his father, who painstakingly gathered printouts of Trevor's appearances in local newspapers as well as advertisements from his comedy events, he felt at ease.
Patricia Raised Trevor to Be Courageous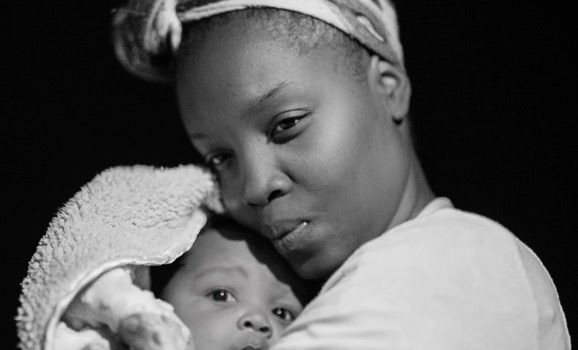 Trevor admitted in his book "Born a Crime" that his mother was the one who molded him into the man he is now. He remarked that she is the most important person in his life and that if it weren't for her, he would have become someone else. To avoid being questioned by the authorities about how she came to have a colored child, Patricia raised Trevor in South Africa's black neighborhoods. Despite this, she led him to the township, albeit secretly, so that he might have a better sense of the situation.
Patricia made sure Trevor spent enough time studying as a child, purchasing numerous books for him and educating and encouraging him to learn a variety of languages. Trevor is now a polyglot who can talk in Xhosa, Zulu, Afrikaans, Tswana, Tsonga, Southern Sotho, and English, among other South African languages. Trevor disclosed in his book that his mother raised him as a white child, not in the cultural sense, but to instill in him the belief that the world is his oyster.
On the other side, Trevor's grandmother, Frances Noah, was an integral part of his upbringing. While Patricia was in prison for breaking apartheid regulations, Trevor was mostly looked after and consoled by his grandmother. He also thanked her for helping to mold him into the man he is today.
Trevor Noah Had an Abusive Stepfather – Ngisaveni Abel Shingange
Trevor Noah's other relatives are Andrew and Isaac Ngisaveni, who were born after his mother divorced Robert Noah and married Ngisaveni Abel Shingange. On the other hand, Patricia's marriage to Ngisaveni was not one that anyone would want to be a part of. Patricia was so violent against Ngisaveni that he once beat her into a coma in front of their neighbors with discarded bicycle frames, which became a common occurrence at their slum house.
She finally summoned the courage to divorce him in 1996 and marry Sfiso Khoza in July 2009, but she had no idea that her struggles were far from over. After being dumped, Ngisaveni chased Patricia down and shot her in the face, piercing her ear, nose, and skull but missing all major nerves. He left her for dead and went in search of Trevor, meaning to shoot him as well, but he couldn't find Trevor, and Patricia managed to flee. As expected, he ended up in prison, and that was the last we heard of him.
While Patricia was healing in the hospital, Trevor was filled with resentment for Ngisaveni, but his mother persuaded him to let it go. He didn't understand why at the time, but over time he has come to appreciate his mother's wise comments. Trevor's relationship with Ngisaveni, on the other hand, is unknown due to the fact that he has been pushed to the side in all of the drama surrounding the famous comedian, his mother, father, and stepbrothers.


Trevor's Current Relationship with His Parents and Extended Family Members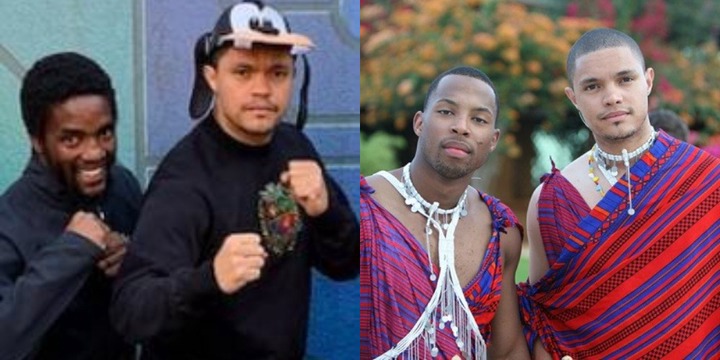 Isaac Shingange, like Trevor Noah, attended Maryvale College in Johannesburg, which is still in operation today. Unlike his abusive father, he was excellent friends with his half-siblings and a loyal brother to them as they grew up. It was impossible to tell that their fathers were different other from their skin tones. Apart from the fact that he appears to be Trevor Noah's stepbrother, not much is known about Isaac.
Andrew, like his brother, was born and raised in Johannesburg. He may have gone to Maryvale College with his siblings, but he didn't go any further. He is now married with children, according to current reports, but little else is known about him. He rose to prominence as Trevor Noah's younger brother, which he has retained.
Trevor's brothers Andrew and Isaac Shingange, according to what we know, live in South Africa and have remained relatively out of the spotlight. Their famous brother, mother, and maybe stepfather (Trevor Noah's father, Robert Noah) are thought to have a pleasant, if not brotherly, relationship.
Despite the fact that their professions have not garnered them the same level of fame as Trevor's, it is believed that they are doing well and have avoided difficulties. On the other hand, little is known about their abrasive father, who was apprehended after shooting their mother and searching for Trevor. Maybe he's changed his mind, but he's been noticeably absent from Trevor's, his mother's, and even his stepbrothers' recent activities.
NOTE:
This Content/ Biography Published here is well researched and 100% from trusted Source.. 
DISCLAIMER!!: This Content Is For Knowledge Reason, Don't Hesitate to Reach Out to Us for Any Correction || Suggestion || Copyright Infringement!!
Share this unique article across all social media platforms and please don't forget to maintain social distance, wear your face masks, wash your hands regularly with sanitizer for prevention is better than cure.
Thanks for reading, the topics covered here are available for positive progress and critical assessments. Please do well to drop a comment below and share the article with as many as possible as possible
Content created and supplied by: josethewriter (via Opera News )
Opera News is a free to use platform and the views and opinions expressed herein are solely those of the author and do not represent, reflect or express the views of Opera News. Any/all written content and images displayed are provided by the blogger/author, appear herein as submitted by the blogger/author and are unedited by Opera News. Opera News does not consent to nor does it condone the posting of any content that violates the rights (including the copyrights) of any third party, nor content that may malign, inter alia, any religion, ethnic group, organization, gender, company, or individual. Opera News furthermore does not condone the use of our platform for the purposes encouraging/endorsing hate speech, violation of human rights and/or utterances of a defamatory nature. If the content contained herein violates any of your rights, including those of copyright, and/or violates any the above mentioned factors, you are requested to immediately notify us using via the following email address operanews-external(at)opera.com and/or report the article using the available reporting functionality built into our Platform See More